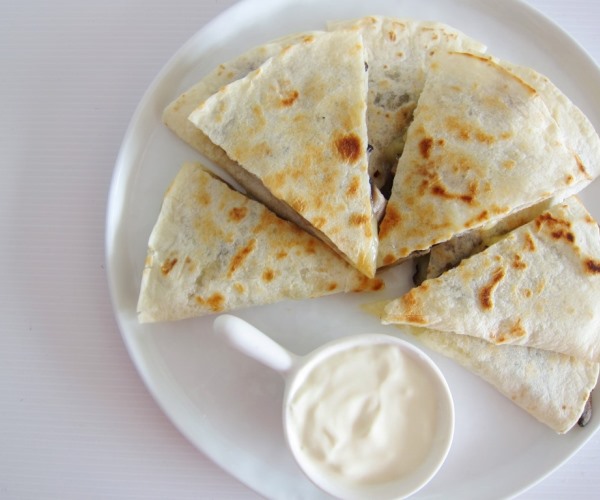 I got pretty sick the past couple of weeks. I had a bad bout of flu and cough, and I lost my taste buds. I was so buried under my blanket that our editor, Charmaine was rather shocked that she had not heard from me for a while.
While I was sick, I could barely cook anything. And because I lost my taste buds, I became drawn to foods that were high in sodium–canned Campbell's soup became my best friend. As I got better, I continued to crave for rich, salty food. For the sake of my blood pressure, I knew that canned soup was not a long term solution.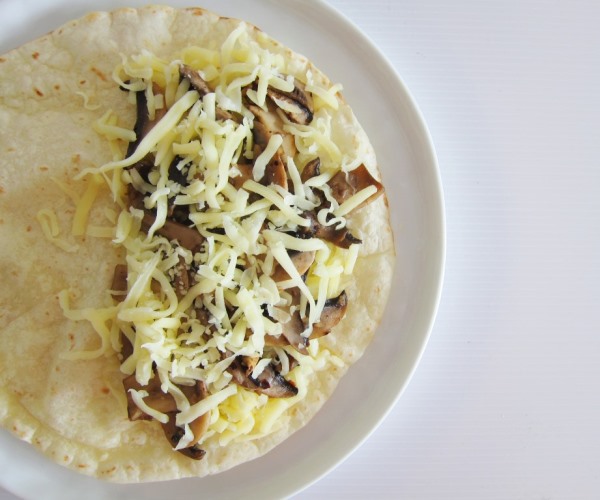 My next best alternative was an easy, cheesy and my all-time favourite comfort food – mushrooms= quesadillas. To me, melted cheese and pan-fried mushrooms wrapped together is just perfection. The beauty of quesadillas is that you do not have to limit yourself to mushrooms. You can use just about any leftovers–roasted chicken, prawns, grilled vegetables and so on. And let's be honest, we can never go wrong when we combine anything with melted cheese (okay, maybe not everything).
Mushrooms quesadillas
Under normal circumstances, I would make my own corn tortillas as I think they add flavour (and also I cannot find any in Singapore). However, flour tortillas are great too and they are so convenient. If you have the time, try making your own corn tortillas. Or, if you are as sick as I was a couple of weeks ago, just use flour tortillas.
Serves 4-6 people
Ingredients
6 flour tortillas
400g Portobello mushrooms, sliced (you can also use Swiss brown)
2 cups of good melting cheese (I usually use Mozzarella. You can use cheddar or pepper jack cheese)
2 cloves of garlic, crushed and finely chopped
2 tablespoons of olive oil
A sprinkle of crush chilli flakes (optional)
A good pinch of salt (optional; if you are using an aged cheese or a cheese that is quite salty, you might not want to add the salt)
A good pinch of crushed black pepper
Sour cream to serve
Using a large frying pan over a medium heat, add the olive oil. Once the oil is heated, add the sliced mushrooms. Using a spatula, spread the mushrooms and do not overcrowd the pan – if need be, stir-fry the mushrooms in two batches (use 1 tablespoon of oil and 1 clove of garlic in each batch). If the mushrooms are cooked in a crowded environment, they will sweat and all the juices (read: flavour) will be forced out.
As the mushrooms begin to brown (it should take around 2 minutes), add in the chopped garlic and crushed chilli flakes (if using) and stir well with the mushrooms. If the garlic is added at the beginning, it might burn and turn bitter. Adding them at a later stage allows them to retain their flavour without being too pungent. After 2 minutes, the mushrooms should start to soften. Then, add salt (if using) and black pepper.
Once the mushrooms are softened and cooked, place them in a large dish and set aside. And clean out the frying pan and set aside.
On a flat surface (I use a chopping board), lay out a piece of the flour tortilla. Sprinkle a handful of cheese on one side of the tortilla. Try not to place the cheese at the edge of the tortilla–when you fold the tortilla, the cheese may fall out. Add the cooked mushrooms on top of the cheese and finish off with more cheese on top of the mushroom. Fold the other side of the tortilla (so you end up with a semi-circle). It is easy to be overzealous and overfill your tortilla. Don't give in to temptation as you might have difficulty flipping the quesadilla. Once folded, place the folded tortilla on a large platter. Repeat for the rest.
Once the tortillas are filled, heat up the large (clean) frying pan over a medium high heat. Once the pan is heated, place the folded tortilla in the pan (I can usually place 2 quesadillas in the pan). Using a spatula, press the tortilla down. It should take 1-2 minutes for the cheese to melt and the tortilla to crisp up. Once the tortilla is crisp, using the spatula, flip the tortilla and repeat.
To serve, quarter the quesadillas and place on a platter with a dollop of sour cream.
Mandy's journey into the culinary world began out of necessity–a means of survival whilst she was at university. She believes cooking should be simple and fun. Besides spending time in the kitchen whipping up hearty meals, Mandy also dreams of having a bottomless stomach that she can fill with all kinds of delicious things.