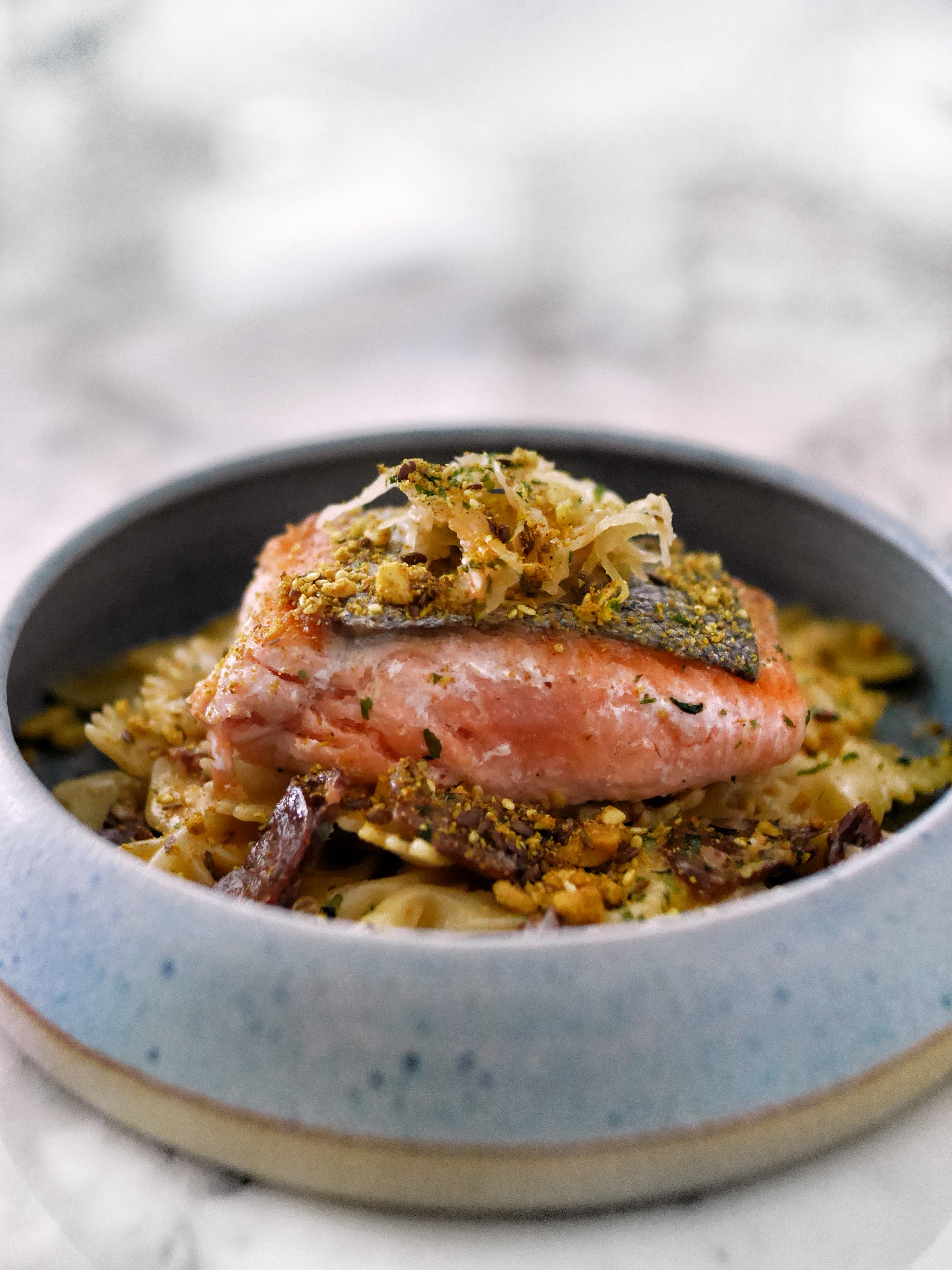 When we became parents, my wife and I started to pay more attention to the food we were cooking at home. We'd always loved great produce, but in the past, our priority was on flavour. Things like provenance, sustainability and health took a back seat to our – okay, my – quest for deliciousness. But once you have kids, things change.
After the birth of our eldest, some eight years back, we began placing a priority on food that is free of antibiotics, growth hormones, or other nasty and harmful additives. And more recently, given the climate crisis (that neither the world's collective governments nor the world's largest corporations seem ready or willing to combat) we've also been paying attention to whether the food products we're purchasing have been farmed, raised or procured sustainably.
One of the F&B entrepreneurs here in Singapore that has been equally concerned with these same issues is former lawyer Sasha Conlon of Sasha's Fine Foods. Sasha moved here in 2008 and, because she was unsatisfied with the selection of high-quality meat and fish being sold to consumers, she decided that instead of whining about the gap she saw in the market (like the rest of us), she'd do something about it. Sasha's Fine Foods launched three years later. Sasha dedicated herself to sourcing food that has been produced and delivered with care and respect for the animals, the environment, and the individuals who bring it to us through the supply chain. Today, Sasha carries meat, fish, plant-based foods, vegetables, healthy snacks, ready-made meals, milk and other groceries from 55 suppliers, all of whom she has met personally.
Her products aren't cheap. But quality doesn't come cheap these days. That's something you need to be prepared for once you log onto her site. The site's easy to use. Orders can be placed until 5pm every day for next day delivery (seven days a week!). Same day deliveries are even available, if you spend at least $150 and order before 3pm.
All of Sasha's seafood and meat products are lovely. In particular, she has built a strong and loyal following for her salmon. Sasha sells Mount Cook Alpine Salmon from New Zealand. In her words, "Selecting Mount Cook Alpine Salmon as my supplier was one of the easiest business decisions I have had to make. It took no more than a visit to confirm what I'd heard, that this was the finest salmon and the most environmentally-minded salmon farm on the planet. In fairness, Mt. Cook has the unbeatable advantage of being located in the most stunning, clean and natural location imaginable in the Southern Alps of New Zealand, a backdrop from nature against which other salmon producers could never compete!"
From what she's told me, the water at Mount Cook is fast flowing glacier fed mineral water, and its location is the highest altitude salmon farm in the world. Only wilderness separates the farm from the mountains, with no agricultural or human run off or pollution. This, she's impressed on me, is the perfect growing environment for King Salmon.
Salmon gets an unfair shake these days. The problem is salmon has become too common. Mid-tier sushi restaurants serve salmon by the bus loads. Caesar salads and a whole host of other dishes offer salmon as a supplement. Open a menu these days and you'll probably see a grilled or roasted or sous-vide salmon dish on the menu. This has given today's eaters the impression that salmon is an inexpensive ubiquitous product.
The reality is that King Salmon is a very different and different quality product from much cheaper and easier to source cousins. Shockingly, a study in the USA that took place between December 2013 and March 2014 uncovered that 43% of salmon in restaurants and grocery stores surveyed in major East Coast cities were mislabeled, with the greater occurrence happening in restaurants. That piece of King Salmon you ordered might actually be a much cheaper slab of Sockeye. Fish fraud is rife within both the restaurant and supermarket industries.
This wasn't always the case. I remember, as a young wannabe gourmand living in NYC in the early 1990s, being taken to really nice restaurants and ordering "the salmon". Both my father and my guardians (a wonderful elderly couple asked to look after me when I was in college) loved good salmon dishes and would often order them when we dined out. Two restaurants that served exquisite salmon dishes back then that I can still remember vividly were Harry Cipriani at the Sherry Netherland and Drew Nieporent's Montrachet. At the former, the salmon was cooked in a white wine sauce and served under a mountain of crisp, incredibly delicious zucchini chips. At the latter, memories of the truffle-crusted salmon, served in a red wine sauce, still makes my mouth water.
Today, if you want a really outstanding salmon dish, expect to pay top dollar. Sadly, more affordable options seem to be universally forgettable. I, for one, can't remember a salmon dish I've eaten in a restaurant in the last few years that stands out as particularly exciting.
Of course, salmon is a rather inaccurate term, because it refers to several species in the Salmonidae family. These fish differ in taste, texture, colour, nutritional value, and quality. Some varieties you may or may not be familiar with include Atlantic Salmon, Chinook (King Salmon), Chum, Coho, Pink (or Humpback), Sockeye, and Steelhead. As mentioned earlier, King Salmon is the most exquisite, with a higher fat content than its cousins, soft silken texture and great taste. It is also the most expensive.
For this article – which is written in partnership with Sasha's – I chose to test out some of the Mount Cook Alpine Salmon filets (with skin on). From the site, I also chose to use some Foley's Australian Raw Organic Kimchi, Singapore Coconut Co's Special Reserve Virgin Coconut Oil, Vasse Virgin's Macadamia Nut Dukkah, Spanish Fermin Chorizo Iberico, and some Farfalle from Liguori. I envisioned creating a nice, slightly spicy, sweet and sour pasta that would be served with a simple salmon, fried until the skin was nice and crisp.
The dish turned out well; the recipe is below. My wife (my number one critic), however, has suggested that a non-spicy sauce would better allow the natural sweetness of the salmon to shine. So maybe next time I will do a variation of a beurre blanc or vin jaune sauce instead.
The salmon itself was delicious. It had a lovely, soft texture and great flavour. Hands down, this was some of the best salmon I've ever worked with and a product I would be happy to order again for myself, family and friends. And I hope you guys know I would never endorse a product if I didn't truly believe in it.
If you do decide to try some for yourself, please use the following discount code on the site: ChubbyHubby10. It will get you a 10% discount.
Seared Salmon with Kimchi and Chorizo Farfalle
Feeds 4
2 packets (2 filets each) of Mount Cook Alpine Salmon, skin on
25g sugar
100g raw kimchi
200g cream
40g dashi
50g chorizo, skin peeled off and sliced thin
2 garlic cloves, minced
3 shallots, minced
200g farfalle
Virgin coconut oil
Macadamia nut dukkah
Salt and pepper
Wash the salmon filets and pat dry with paper towel. Place on a plate and in your fridge while you infuse your cream sauce with flavour.
In a sauce pan, mix your kimchi, sugar, cream and dashi together. Heat over medium-high flame. As soon as the liquid begins to bubble, turn off the heat and cover. Leave for 2 hours and then strain the liquid. You want the liquid, not the kimchi. That you can throw away.
Take your salmon out of the fridge, sprinkle some salt over the skin and set on your kitchen counter. Then get a pot of salted water going. Add in your farfalle and cook for 10 minutes. Around the 5 minute mark, start heating up a large fry/saute pan (should be able to take all 4 filets) on medium heat. Add a tablespoon of coconut oil to the pan. When you feel the pan is hot, place the salmon, skin side down on the pan. Leave for 4 minutes.
While the salmon is cooking, drain your pasta, reserving a little of the pasta water. Grab another pan, heat it up and add a little of the virgin coconut oil. Saute chorizo, garlic and shallots over medium-high heat. Then add the kimchi cream. When it begins to bubble, add the reserve pasta, stir and then turn the fire down low.
Turn your attention back to the fish. If the skin is crisp after the 4 minute mark, carefully turn the fish over onto the flesh, allowing it to cook for 30 seconds to 1 minute (if it isn't crisp, give it another 1-2 minutes). Then turn off the heat and move the fish onto a tray or a cutting board to rest.
Give your pasta a taste. Add salt and pepper if it needs it. Then plate it in a bowl. Place the fish on top. Sprinkle your dukkah over the whole dish and serve.
Aun has always loved food and travel, passions passed down to him from his parents. This foundation, plus a background in media, pushed him to start Chubby Hubby in 2005. He loves that this site allows him to write about the things he adores--food, style, travel, his wife and his three kids!