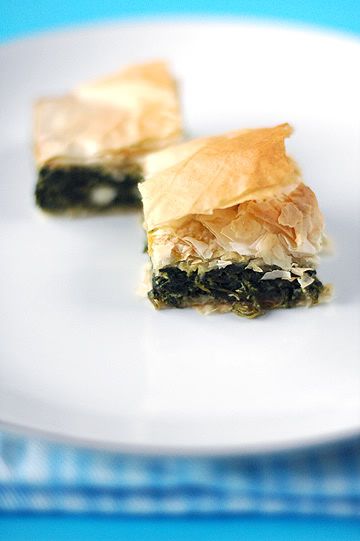 Once upon a time, a sailor with a speech impediment and overdeveloped forearms convinced a generation of kids to eat their spinach. Eating spinach, he told us would make us stronger, faster and give us the ability to save our loved ones from evil… or at least big, ugly bearded guys.
While Popeye was not my favorite childhood cartoon hero, I shared and still share his enthusiasm for this iron-rich, leafy vegetable. As a kid, like so many others, I hated eating veggies. Spinach was one of the few exceptions. Unlike other greens, which I would only eat if disguised in rich creamy sauces or dressed in meat, I enjoyed the taste of spinach 'au naturel'. As I've gotten older, I've continued to enjoy spinach in a variety of styles. I've previously written about my love for creamed spinach, one of if not my favorite way of preparing my favorite vegetable.
Another favorite spinach recipe is spanakopita, a Greek spinach pie made with phyllo pastry. I used to order it religiously at a Greek restaurant around the corner from my university. This rich combination of feta and spinach coupled with crispy, fluffy phyllo is, when done well, simply delicious. Unfortunately, it's hard to get good Greek food in Singapore and until recently I'd gone years without sinking my teeth into a good spanakopita.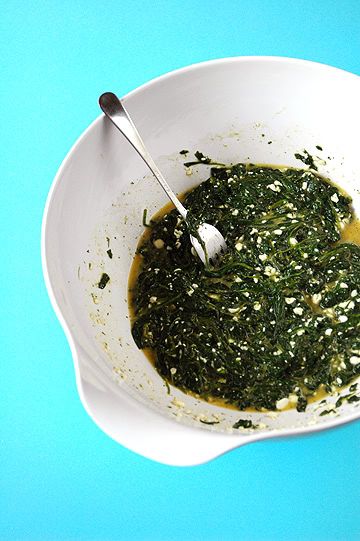 On my recent trip to Vienna, however, I had a fantastic one. My colleague had dragged me into a tiny Greek restaurant around the corner from Karlsplatz for lunch. While she wolfed down what looked like a great slice of moussaka, I happily consumed an outstanding portion of spanakopita.
It was so good in fact that I've been inspired to make my own. After looking at several different recipes in a number of cookbooks, I decided to try the one in Claudia Roden's The New Book of Middle Eastern Food. From what I read, it looked relatively easy. And it was, until I got to the step that involved separating the thawed phyllo sheets and layering them onto my baking tray. It was my first time using phyllo and while I'd watched others (like my darling wife S) use it, I'd never tried it myself. Many of the thawed phyllo sheets were stuck together and when I tried separating them, they broke apart. After a little patience and a lot of help from S (my savior!), I managed to put the pie together properly. Baking gods be praised… it came out well. I'd even say it was above-average. One of the two friends that we fed it to liked it enough to eat his way through half of the whole tray. For my tastes though, I think it needed a little more cheese and maybe some different kinds of cheeses. The pie tasted, well, healthy. Good, but healthy.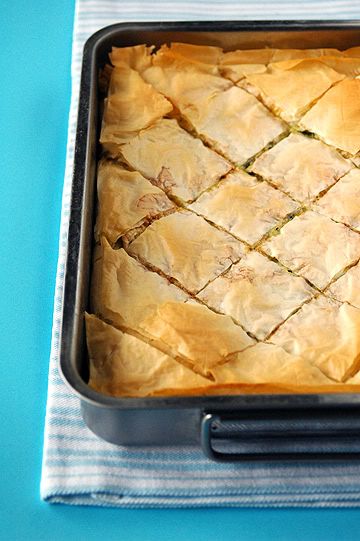 Spanakopita
Adapted from Claudia Roden's The New Book of Middle Eastern Food
2 pounds baby spinach
4 ounces feta cheese
4 ounces cottage cheese
4 eggs, lightly beaten
1/2 cup dill, fine chopped
1/4 teaspoon grated nutmeg
salt and pepper
14 sheets phyllo pastry
1/2 cup olive oil
Preheat the oven to 350ºF/180ºF.
Wash the spinach, drain and then steam the spinach until soft. Press and drain off any excess water. Then put the leaves in a pan and cook over high heat, drying out the spinach. Mash the cheeses together with a fork. Add the egss, spinach, dill, and nutmeg. Salt and pepper to taste.
Find a baking tray or pan a little smaller than the sheets of pyllo. Brush it with the oil. Place half of the phyllo sheets, one on top of the other, at the bottom of the pan, brushing each sheet with the oil, letting the sheets come up along the sides. Spread the spinach mix evenly on top. Then cover with the remaining sheets, brushing each, including the top one, with the oil. With a sharp-pointed knife, cut 2-inch diamonds with parallel lines into the pie, only down to the filling, not right through. Bake for 30-45 minutes, or until crisp and golden. Cut along the cutting lines, this time right to the bottom, and serve hot.
_______________________________________________
I NEED YOUR HELP!

Please take part in the 1st Annual Asia Pacific Best Restaurants List. Help vote on what you feel are the very best restaurants in Asia, Australia and the Pacific Islands. For info, click on the logo above.
Aun has always loved food and travel, passions passed down to him from his parents. This foundation, plus a background in media, pushed him to start Chubby Hubby in 2005. He loves that this site allows him to write about the things he adores--food, style, travel, his wife and his three kids!