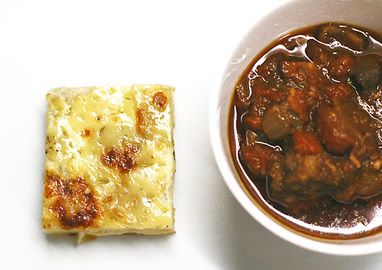 Last night, S and I hosted some friends for dinner. It was a special occasion as one of S's childhood friends, F, was back in town on her first visit home in 3 years. And she had come home with her boyfriend, an extremely charming Brit named Matt that we certainly hope to see more of over the years. Joining us was F's little sister and three other friends—one couple and a bachelor buddy. The couple is getting married in November and had brought along some wines, which they're thinking of serving at the wedding dinner, for us to taste. As usual, S and I split the cooking duties. Since it was a working day, S allowed me to make the easier courses.
We started with a simple dish of San Daniele prosciutto and melon. This was followed by baked butterfish medallions served with angelhair pasta (that had been tossed in an aglia olio spiked with laksa leaves) and a laksa sauce. For our main course, we had a wonderful Italian gulyas (goulash) served with a Gratin Dauphinois. To end the meal, we gave everyone a small bowl of Melissa's chocolate gelato and an amazing ice cream sandwich that S had made using brownie-cookies and mint chocolate chip ice cream (which I will post about later this weekend).
It was S's first time making goulash, a dish I completely adore. When I was in university, I spent a semester studying in a small town on the Austro-Hungarian border, which meant I had the complete pleasure of consuming bowl after bowl of goulash all over Austria, Hungary and a number of other Eastern European countries. S, however, had never had an authentic goulash. Thankfully, the recipe she tried was fantastic and I can happily say it was one of the best I have ever had.
I must add that S and I discussed at length whether to use the picture (above) that I shot of the goulash and the Gratin. Both of us prefer "pretty" food shots, the kinds of images you find in Donna Hay's magazine (and now every other Aussie food magazine), i.e. highly stylized and sensuous. The above, we felt, was more "real", perhaps too real. It reminded us of the sort of gritty realist style that a lot of British cookbooks seem to favor. I'm still not sure if I like this picture, but it was, in the mad frenzy of plating the dishes and serving them to our friends, the best of the few I shot.
A slightly tweaked version of Joyce Goldstein's recipe in Italian Slow and Savoury
Gulyas alla triestina
Beef Stew with Sweet and Hot Paprika from Trieste
Serves 8
3 lb boneless beef chuck or brisket, cut into 2-inch cubes (we used beautifully marbled Australian beef cubes from Meidiya which is meant for Japanese curry)
1 tablespoon sweet paprika, salt and ¼ cup olive oil for marinating
½ cup olive oil
½ lb pancetta/bacon, sliced ¼ inch thick and slices cut into ¼ inch wide strips
3 large brown onions, chopped
2 tbs sweet paprika or pimenton dulce
¼ tsp cayenne pepper
2 tsp freshly toasted and ground cumin
2 tbs minced garlic
1 cup dry red wine
2 cups seeded, chopped canned plum tomatoes with juice
1 each fresh rosemary and marjoram sprig and 1 bay leaf, tied in a cheesecloth sachet
Grated zest of 1 lemon
Salt and freshly ground black pepper
Rub the meat with the paprika, 2 tbs salt and the olive oil. Cover and marinate overnight in the refrigerator.
Preheat oven to 130 degrees Celsius. Bring the beef to room temperature before placing a large sauté pan over medium heat and cover the base of the pan with a little of the ½ cup of olive oil. Add the pancetta/bacon and let it render its fat (about 7 minutes). Transfer pancetta/bacon to a plate.
Raise the heat to high and brown beef cubes, adding olive oil as needed. As each batch is ready, transfer to a Dutch oven. Reduce the heat to medium, add the onions and sauté, add more oil as needed, until softened. Stir in paprika, cayenne, cumin and garlic and cook for 5 minutes to blend the flavours. Add the seasoned onions to the beef along with the pancetta, wine, tomatoes and their juice, herb sachet, and lemon zest. Place over medium heat and stir to combine. Bring to a gentle boil and place a cartouche over the surface of the stew. Cover with lid and insert into pre-heated oven for 3 hours.
Discard herb sachet. Season stew to taste. Tastes best refrigerated overnight, then reheated.
Aun has always loved food and travel, passions passed down to him from his parents. This foundation, plus a background in media, pushed him to start Chubby Hubby in 2005. He loves that this site allows him to write about the things he adores--food, style, travel, his wife and his three kids!