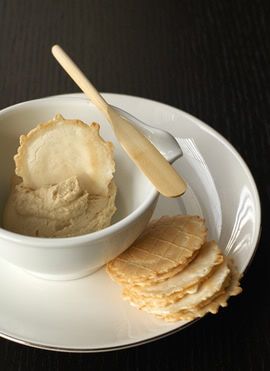 For quite some time now, I've been on a quest to reduce the chubbiness of my hubby. I'll readily admit that he isn't clinically chubby, but I'd still prefer it if he'd eat a little healthier. So whenever he shows enthusiasm for anything that is remotely good for him (you'll notice that his usual gustatory passions are pork belly, cream, duck fat and Strasbourgian foie gras), I try my best to master the dish in the hope that it'll wend its way into our everyday menus. Yes, wives are sneaky and conniving in that way. Recently, we had some lovely store-bought organic hummus which he snacked on with gusto. Subscribing to the homemade-would-obviously-be-even-better-philosophy, I decided to make some myself.
I dipped into husband and wife restaurateur team, Sam & Sam Clark's lovely first cookbook, Moro for a simple recipe. I haven't yet eaten at their restaurant, Moro, in the increasingly trendy neighborhood of Clerkenwell, London. But the tale of their three-month honeymoon spent driving around Spain and Morocco has always drawn me to their recipes. It was exactly what CH and I had planned to do on our own honeymoon but couldn't get enough time-off to do (we ate our way across Paris instead).
Their recipe, which makes roughly 1.5-2 cups, calls for
200g chickpeas, soaked overnight with a pinch of bicarbonate of soda
3 tbs olive oil
juice of 1 lemon
2-3 garlic cloves, crushed to a paste with salt
3-4 tbs tahini
Rinse the chickpeas under cold water, then place in a large saucepan, fill with 2 litres of cold water and bring to the boil. Reduce the heat to a gentle simmer, skimming off any scum as it builds up, and cook for about 1.5-2 hours or until the skins are tender. Remove from heat, pour off excess liquid until level with chickpeas, and season with salt and pepper. Set aside to cool to room temperature.
Drain the chickpeas, keeping aside the cooking liquid, and blend in a food processor with a little cooking liquid to help the chickpeas on their way. When smooth, add the lemon juice, garlic, tahini and olive oil. Taste for seasoning. Add salt and pepper, and some more liquid if necessary.
The bicarbonate of soda helps to tenderize the chickpeas, but will result in a soapy taste. Paula Wolfert, in true slow Mediterranean kitchen-style, recommends cooking the chickpeas in a slow cooker for 8 hours. I just did without the bicarb (Claudia Roden doesn't use bicarb but cooks the chickpeas for 1.5 hours).
The other thrill from making hummus came from getting to use our strapping, relatively new Sumeet Asia Kitchen grinder, a Christmas present from close friends of ours. It took no more than a couple of pulses to get a perfectly smooth texture.
Claudia Roden offers a tempting array of optional garnishes (I'd like to try her hot version which involves topping the hummus with melted butter and pinenuts fried in the same butter, before baking it), but my favorite way of enjoying hummus is to lick it off my finger. — S
Aun has always loved food and travel, passions passed down to him from his parents. This foundation, plus a background in media, pushed him to start Chubby Hubby in 2005. He loves that this site allows him to write about the things he adores--food, style, travel, his wife and his three kids!