Tis almost the season and in preparation of the holiday period, I've been planning what to serve family and friends who come-a-visiting. My own two favourite holiday treats are eggnog and Mexican wedding cookies (pictured above). Another great holiday tradition is Dream Academy's Crazy Christmas show.  
I promised my buddy Selena Tan that I'd do my best to help her plug this year's show. But, you know, with a cast that includes herself, Adrian Pang, George Chan, Robin Goh, Karen Tan, Judee Tan, Michaela Therese, Vocaluptuous, and either Hossan Leong or Kumar performing classic holiday songs, I don't really think she needs any help. I mean, the show pretty much sells itself. Who wouldn't want to spend 90 minutes being entertained by our local theatre-scene's best and brightest with happy, feel-good, toe-tapping, smile-inducing tunes that make you feel all warm and fuzzy inside? It's kind of a no-brainer for anyone who wants to give his/her spouse and family a treat.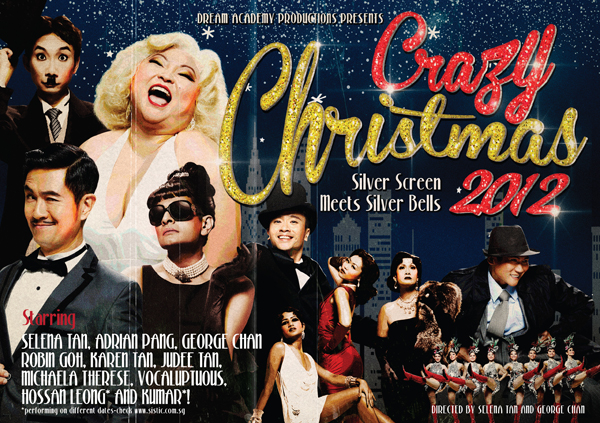 So, instead of interviewing Selena or any of her fellow cast-members, because I am sure this is gonna be a sold-out show, I decided to spend the time I had with them asking them something much more interesting (well, to me at least). Since I've been thinking about holiday treats and what to serve visitors this Christmas, I asked our local stars what their own favourite holiday treats were, hoping to find a few good ideas to steal for myself. Here are their replies.
Selena Tan: "Ngoh Hiang!"
Adrian Pang: "Mulled wine, the more alcohol the better! I don't snack but I do drink."
George Chan: "Ben & Jerry's Chubby Hubby."
Robin Goh: "An entire gingerbread house."
Karen Tan: "Mince pies with loads of mustard."
Judee Tan: Minties… it's a mint candy gum."
Michaela Therese: "Christmas fruit cake. Make sure it has a lot of rum."
Hossan Leong: "Sticky date pudding please. Homemade, of course, with butterscotch sauce."
Kumar: "Marie biscuit dipped in coffee. Damn shiok!"
Crazy Christmas 2012 celebrates the silver screen, so expect some amazing songs from some of your favourite movies. Sounds like a perfect combination. Christmas + Movies + Showtunes = Awesome fun!
The show starts its 2012 holiday run on 28 November (that's THIS Wednesday) and plays until 9 December. Buy your tickets from Sistic by clicking the link here.
Oh, and if you wanted the recipes I use for eggnog and for Mexican wedding cookies, here they are. The best eggnog recipe on the planet comes from Melissa at The Traveler's Lunchbox. And the Mexican wedding cookie recipe I have posted before, but here's the recipe one more time. Happy Holidays!
Mexican Wedding Cookies
from Martha Stewart's Baking Handbook
Makes 6 dozen
106g pecan halves
230g confectioners' sugar
284g all-purpose flour
1/4 teaspoon salt
227g unsalted butter at room temperature
1 teaspoon pure vanilla extract
1/2 teaspoon pure almond extract
Preheat the oven to 350ºF/180ºC, with racks in the upper and lower thirds. Line two baking sheets with parchment paper; set aside. In a food processor, combine pecans with 1/4 cup confectioners' sugar; pulse until nuts are finely ground. In a large bowl, whisk together the sugar-nut mixture, flour and salt; set aside.
In the bowl of an electric mixer fitted with a paddle attachment, beat the butter and 3/4 cup confectioners' sugar on medium speed until light and fluffy, about 4 minutes, scraping down sides of bowl as needed. Beat in the vanilla and almond extracts. Add the flour mixture and beat on low speed until the dough just comes together.
Roll dough into 3/4 inch balls; place about 2 inches apart on prepared baking sheets. Bake, rotating the sheets halfway through, until cookies are pale on top and lightly browned on the bottom, 10-12 minutes. Transfer cookies to a wire rack and cool. Place remaining confectioners' sugar in a shallow bowl and roll cookies in it to coat completely.
Aun has always loved food and travel, passions passed down to him from his parents. This foundation, plus a background in media, pushed him to start Chubby Hubby in 2005. He loves that this site allows him to write about the things he adores--food, style, travel, his wife and his three kids!