It's time once again for Is My Blog Burning?. IMBB #17 is being hosted by A La Cuisine, who has picked tea as this month's theme. It's a great theme. So many wonderful dishes can be made using tea. In fact, S and I had such a hard time choosing what delicious thing to make that we decided to make not just one, but three things. We invited a couple of friends over for a lazy Saturday lunch, and put together a three course tea-based menu. We also chose, for our first two courses, to use recipes from two Singaporean chefs that we admire.
Our first course was an Oolong Tea Steeped Quail Egg and Pork Belly. We adapted this from a recipe in Menu Degustation by Anderson Ho.
Yields 4 portions
Braising liquid
Oolong tea 20g
Dark soy sauce 15ml
Light soy sauce 100ml
Cinnamon sticks 3
Cloves 2
Star anise 2
Chicken stock 1.5 litres
Rock sugar 25g
Quail eggs 4 (you can make up to 15 eggs without increasing the braising liquid)
Pork belly 200g, seasoned with five-spice powder and salt (we used a slab of just under 1kg which made at least 8 portions, also without increasing the braising liquid)
Cornstarch, for thickening
Chives 4-8 sticks for garnish
Add all the braising liquid ingredients into an oven proof casserole or pot and simmer for 20 minutes. Plunge eggs into braising liquid and simmer for 10 minutes. Remove and gently crack shells but do not break. Return into the braising liquid and steep for 1 hour. Peel shells and set eggs aside. Preheat your oven to 130ºC. Sear the seasoned pork. Then put the pork into the pot with the braising liquid, cover it and put it in the oven for 3 hours. (Anderson's recipe calls for the pork to be simmered on the stove for 1 hour.) To serve, remove the pork and slice it. Then thicken the strained liquid with cornstarch. Serve the pork with an egg; drizzle with the sauce and garnish with chives.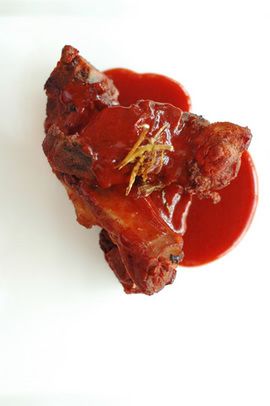 Our second course comes from New Shanghai Cuisine by Jereme Leung. This book is special to me because S helped write it. Jereme, who is chef at Whampoa Club at 3 on the Bund in Shanghai and a good friend, asked S to help him with this, his first book. Working together, S helped this amazing chef turn his ideas and thoughts into beautiful prose. The book just hit the bookstores, but Jereme passed us a couple of advance copies a few weeks ago and I've been dying to try something from it. For this month's IMBB, I chose Jereme's Sugar Cane and Tea-Smoked Pork Ribs.
Serves 4
Pork spare ribs 600g
Cooking oil 250ml
Ginger 5cm knob, peeled and shredded
Spring onions 3
Water 500ml
Shao xing wine 1 Tbsp
Salt to taste
Red glutinous rice wine yeast 50ml
Tomato sauce 5 Tbsp
Sugar 150g
Cornstarch to thicken
for smoking
Aluminium foil
Plain all-purpose flour 5 Tbsp
Tea leaves 1 Tbsp, soaked
Sugar cane 5 sticks, each 5cm, lightly smashed
Cut the ribs into 8cm lengths. Deep-fry in the oil until light golden brown. Drain and set aside. In the same oil, fry half the ginger until light golden brown. Pat dry with paper towels and set aside for garnish later. In the same oil, sauté the spring onions and remaining ginger until fragrant. Add the water, shao xing wine, salt, yeast, tomato sauce and 50g of the sugar. Bring to a boil and add the spare ribs. Lower heat and simmer for 1 hour or until the pork is tender. Remove ribs and strain sauce. (You should probably try to remove the oil from the sauce as well.) Arrange the ribs on a wire rack. Line a dry wok with the foil and add the flour, tea leaves, sugar cane and the rest of the sugar. Mix well and sprinkle some water over the mixture. Cover the work and cook over high heat until yellow smoke appears. Place wire rack of ribs in the wok, over the mixture. Cover and smoke for 2-3 minutes. Meanwhile, thicken the sauce if necessary. Plate the ribs, reheat the sauce and pour it over the ribs. Add the garnish and serve.
For dessert, S made a yummy creme brulée infused with a tea I had picked up in Paris from Betjeman & Barton called A Gentleman of Deauville. This blend has a wonderful delicate floral taste with hints of chocolate. It was a very yummy end to a great meal.
Aun has always loved food and travel, passions passed down to him from his parents. This foundation, plus a background in media, pushed him to start Chubby Hubby in 2005. He loves that this site allows him to write about the things he adores--food, style, travel, his wife and his three kids!