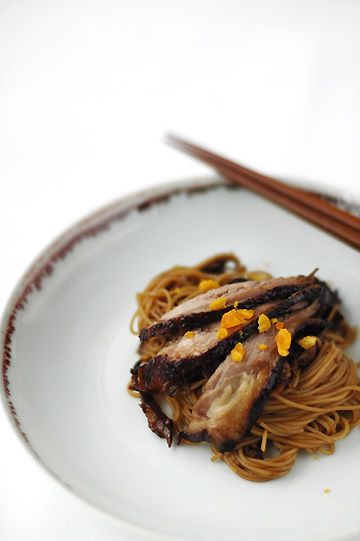 Big thanks goes out to Amy of Cooking With Amy for hosting the 22nd edition of Is My Blog Burning. She's chosen noodles as the theme for this month.
My wife S and I really enjoy making fresh pasta from scratch. We also like putting together delicious sauces to eat with our freshly-made pasta. We'll go to our favorite butcher and vegetable stall, looking out for produce that inspires us to tie on our aprons and spend a few hours cooking away. There's very little as rewarding as enjoying a plate of homemade pasta with a slow-cooked sauce that you've lovingly labored over.
Of course, there are other times when you need a plate of pasta right away. When S and I get those "I need to eat something awesome right now" cravings, we throw together a couple helpings of Roast Duck Pasta. This is one of our favorite almost-instant meals. So long as you can get your hands on an order of roast duck from a nearby Chinese takeaway or roast meats stall, you can whip up this delicious dish in a matter of minutes.
To make this, you'll need, as mentioned, some roast duck. When you buy it, ask for some of the duck sauce. You'll also need some pasta (I suggest angelhair or linguine), an onion, some garlic, a little olive oil and some hoisin sauce. Chicken stock and spring onions are good optional additions. Shred the duck, reserving a few nice slices to place on top of the pasta. Dice the onion and garlic. In a saucepan, heat a little olive oil. Then cook the onion and garlic until soft. In a bowl, mix some of the duck sauce with a splash of olive oil, some hoisin, and if you like the taste, some chicken stock. Pour this over the onion and garlic. Add the shredded duck into the saucepan, stir everything together and cook until the meat is warm. Cook the pasta and when al dente, drain it and stir it into the sauce. Plate the pasta, topping with a few slices of the duck and if you enjoy the taste, some chopped spring onions.
Of course, this dish is highly adaptable. In the pictured version, I've sprinkled some steamed salted duck egg's yolk. It's also great with some chili. The great thing is, from start to finish–given you have all the ingredients–you can make this in less than 10-15 minutes. I'm also purposely not giving any exact measurements here because I believe that everyone has his or her own tastes and should be able to decide for him or herself how much duck sauce or hoisin or stock to use.
Because this dish is easy to make, it's also great to use as a course during a multiple-course dinner. After all, there's no point killing yourself when entertaining friends or family. I find that it's best to plan a couple intricate dishes, interspersed with equally delicious but easy-to-make ones. For Chinese New Year this year, S and I hosted and cooked my family's reunion dinner, as we have for the past few years. We planned a 6 course dinner, of which the duck pasta dish was the 5th course. The entire menu, for the curious, consisted of egg cocotte with foie gras and truffle salsa; a trio of ngoh hiang and foie gras; prawns with a salted duck egg yolk crust, shimeji mushrooms and spinach tofu; shark's fin soup with abalone and crabmeat; Teochew braised duck pasta; and a candied walnut ice cream sandwich, orange-Bavarian timbale and caramelized tangerines. We were also fortunate that a close friend had given us a Teochew-style braised duck, which we used for the pasta (braised duck works just as well as roasted). It was, as it always is, fantastically tasty and a snap to make.
Tagged with: IMBB # 22 + Noodle
Aun has always loved food and travel, passions passed down to him from his parents. This foundation, plus a background in media, pushed him to start Chubby Hubby in 2005. He loves that this site allows him to write about the things he adores--food, style, travel, his wife and his three kids!