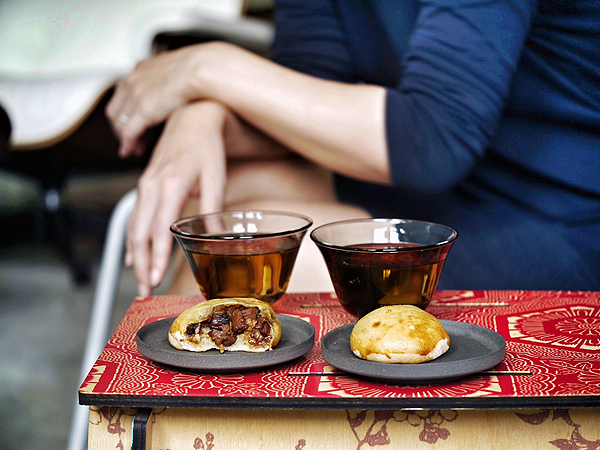 One of the things that my lovely wife S likes me to do is make char siu (Chinese roast pork). It's one of the things I feel I can be immodest about. Over the years, I've really perfected the art of making it. She's always bringing home gorgeous fatty slabs of pork neck from Huber's Butchery for me to turn into yummy hunks of Chinese roast pork. Because we always have char siu in the freezer, I decided recently that I wanted to learn how to make char siu bao. I figured it was something we'd enjoy, and if I knew what went into it, something we could feed our son.
I actually enlisted little T's help in selecting bao recipes. S has a fantastic collection of Chinese cookbooks, including one devoted entirely to Chinese buns, by a Hong Kong chef named Lee Chun Leung. T and I looked at that one, at Ellen Leong Blonder's Dim Sum cookbook and at Murdoch's very large Food of China. I decided that I would test out two kinds of dough. You see, I've never really been a fan of the steamed, fluffy dough style of char siu bao. I know most people prefer it. But I've just never really loved it. What I like most is the baked style that is common in Hong Kong and in the USA, but which you almost never see in Singapore. In fact, S had never even had one before. She kept saying, "you mean char siu sou, right?" Which it is not. Char siu sou has a flaky crust. The char siu bao I like most has a thin "bready" dough, that is baked and usually has a thin glaze on the surface. Some people refer to this kind of bao as a bo lo bao but a true bo lo bao has a sugary, crunchy crumble on top.
So I decided to make a fluffy bao for other people and a baked bao for me. And hopefully S and T.
For the filling, I decided to follow Ellen Leong Blonder's recipe. The recipe in Food of China seemed too thin and not sticky enough and the one in Lee Chun Leung's book called for food coloring and some other oddities, which I wanted to avoid. For the steamed dough, I followed the recipe in Food of China, which turned out to be a mistake. The recipe that this book purports is the correct dough for char siu bao is actually the dough one would use to make buns for, let's say, pork belly burgers à la David Chang. Which means that this dough hardly rises when baked and maintains a smooth skin on the surface. So, while this is actually a great dough to know how to make, it wasn't the right dough for the occasion. (That said, the bao were actually very tasty… they just didn't qualify as proper steamed char siu bao. They're pictured below in case you wanted to see what they looked like.)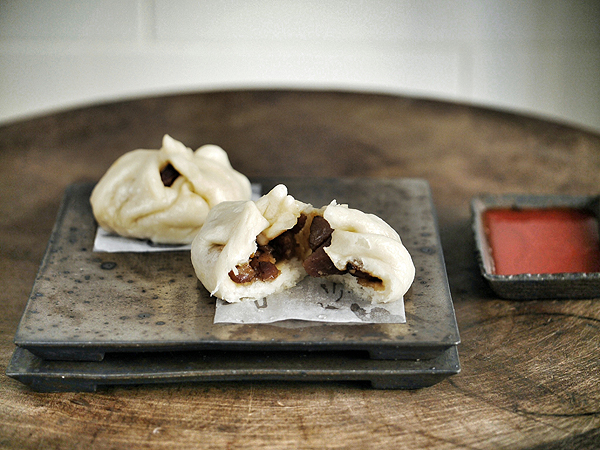 The baked bao turned out much better. I followed a "sweet dough" recipe prescribed by Lee Chun Leung, which was easy to make and only needed to rest for an hour before assembly could begin. The finished product went over very well, not just with S but with her parents and mine–all of whom visit us regularly in order to get as much grandparent time in with little T as possible. He, thankfully, also liked the bao, but I suspect he likes any "adult food" he can get his hands on right now.
Making the bao was both fun, and while a bit time-consuming, wasn't particularly complex. The best thing is these keep well in the freezer and the fridge. Perfect for an afternoon pick-me-up or to serve to a visiting friend.
Baked Char Siu Bao
Chinese "Sweet Dough"
480g strong flour (bread flour)
160g all-purpose flour
4g active dry yeast or 8g fresh yeast
160g sugar
60g lard
1 egg
300g water
If using dry yeast, take 50g of the water and warm it up. Pour the yeast into the warm water. Stir once and let it sit for 5 minutes or until the surface becomes foamy.
Combine all ingredients together and knead into a soft and elastic dough. The texture should be silky and smooth. Pat the dough into a ball. Oil a large bowl and place the dough into the bowl. Cover with cling wrap and place in a warm spot of your kitchen for an hour so that the dough can rise.
Char Siu filling
250g char siu, diced (use this recipe if you want to make it yourself)
1 tablespoon sugar
2 teaspoons soy sauce
1 teaspoon rice wine
1 tablespoon oyster sauce
1 tablespoon hoisin sauce
1 teaspoon toasted sesame oil
1 tablespoon cornstarch dissolved in 1 tablespoon water
In a small saucepan, mix together ⅓ cup of water, the sugar, the soy, rice wine, oyster sauce, hoisin sauce, and sesame oil. Cook the sauce over medium heat until it bubbles. Stir in the cornstarch mixture and cook for 1 minute, stirring. The sauce should thicken considerably. Remove from the heat and add in the diced char siu. Cool to room temperature.
Assembling and cooking the bao
You need the above plus 1 beaten egg and some sugar syrup.
Divide the dough into 20 equal sized pieces. Work one at a time. Take one piece and knead to a round shape then press it flat. You should try and work so that the edges of the dough circle are thinner than the middle of the circle, which you want a bit thicker. Take a heaping teaspoon of the char siu filling and place it in the middle of the circle. Pull the edges over the filling and try to pinch the dough together so that the bao is completely sealed. I find that bringing the edges together, pinching gently and also twisting a little works well. Set aside the bao on either a floured tray or tray with greaseproof paper on it. Place it so that the side with the pinched seal is at the bottom. Do this with all 20 pieces until you have 20 bao.
Set the bao aside for 30 minutes so that the dough can ferment a little more. Preheat your oven at this time to 180° Celsius.
Before you put the baos in the oven, brush the surface of each bao with some of the egg wash (beaten egg). Bake for 20-25 minutes or until golden brown. To check for doneness, tear one of the buns in half and see if the bread is baked through or if it is still doughy.
As soon as they come out of the oven, quickly brush the surface of the bao with a touch of sugar syrup. This gives the buns a lovely glaze. You can eat a couple of these now but if you want to store them, you can keep them in the fridge or freezer. If reheating from the fridge, warm them up at 180° Celsius for 5-10 minutes. If from the freezer, please let them defrost first.
Aun has always loved food and travel, passions passed down to him from his parents. This foundation, plus a background in media, pushed him to start Chubby Hubby in 2005. He loves that this site allows him to write about the things he adores--food, style, travel, his wife and his three kids!