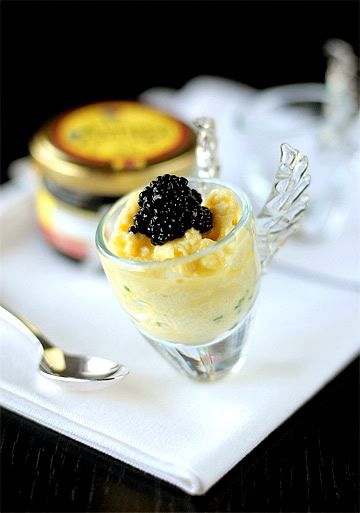 A friend of mine called me the other day. He's a high-end kitchen equipment and food distributor. He had just received a supply of Beluga caviar and was selling it for S$6,000 a kilo, with a minimum order of 100g. "Would I be interested in some?" he wanted to know. Of course, my answer was "no". Not that I wouldn't have loved to have had some. But there was no way I was going to shell out that much money.
Fortunately for those of us with cravings for a little caviar but who aren't willing to mortgage our homes for such occasional gustatory indulgences, there are some substitutes on the market. The best I've tasted to date is Avruga, a Spanish mock-caviar made from herring roe. It's become increasingly popular, both in restaurants and among greedy gourmets, for several reasons. For one thing, it's cheaper. Much cheaper. Around 10 times cheaper. But it also tastes good. And while it doesn't exactly replicate the flavors of top-grade caviar, it has a nice subtle taste. It's also not as salty as real caviar.
Since Avruga is affordable, it means being able to serve dishes that would normally be extravagant on a regular basis. For me, that means a breakfast of scrambled eggs topped with deliciously savory black pearls. I'm a big fan of this classic combination. It's perfect for a slightly fancy weekend brunch and equally magnificent served small as an amuse-bouche at dinner.
Of course, the scrambled eggs have to be made properly as well. They have to be fluffy, rich and not at all over-cooked. They also have to be made with a healthy amount of cream and butter, which means that while they won't be healthy, they'll be quite lusciously delicious. And made even more so topped with the Avruga.
Scrambled Eggs with Avruga
Serves 2 for brekkie or makes 8 tiny portions
3 eggs
120ml cream
salt to taste
1 tablespoon of butter
2 teaspoons of chopped chives
30g of Avruga
Whisk the eggs, cream and salt in a bowl. Melt the butter in a non-stick frying pan over medium-high heat. When all the butter is melted and bubbling, pour in the egg mixture. Wait 20-30 seconds and then lower the heat to the lowest setting. With a wooden spoon, stir the egg mixture continuously until just barely set. Then turn off the heat, toss in the chives, and mix them in evenly. Spoon the eggs onto plates, bowls or small shot glasses and top each portion with some of the Avruga.
Aun has always loved food and travel, passions passed down to him from his parents. This foundation, plus a background in media, pushed him to start Chubby Hubby in 2005. He loves that this site allows him to write about the things he adores--food, style, travel, his wife and his three kids!