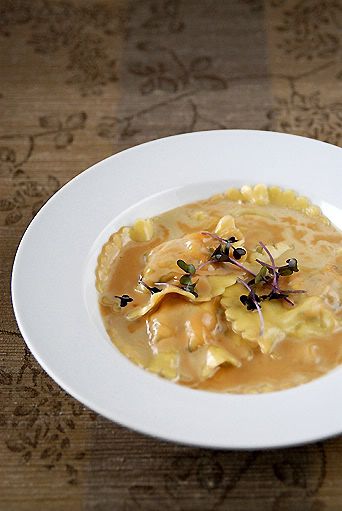 It's always satisfying to create a recipe that wows your friends. For a recent dinner party, I had told my wife S that I wanted to create a lobster ravioli. I was inspired partly by the amazing seabass ravioli, made by Chef William Ledeuil, that I tasted while attending the Four Seasons Hotel Bangkok's World Gourmet Festival. Chef Ledeuil's ravioli was served with two sauces. Under the ravioli, Ledeuil had laid down some pepper compote. Over it, he had spooned some lemongrass-accented foam. It was a gorgeous, subtle, aromatic and delicious dish.
I wanted, for my dinner, to create something a little more rich. And a little more luxurious. For the one and only catering job that S I have ever accepted, we made (among other dishes) Thomas Keller's butter-poached lobster served with a mascarpone and lobster broth enriched orzo. Keller's lobster broth is beautiful. It's thick and full of flavour. I wanted to use Ledeuil's idea of combining two sauces, one stronger and one lighter, and I thought Keller's lobster broth would make the perfect underlying sauce.
Since we'd have to use the shells from 2 lobsters to make the broth, it only made sense then that our ravioli should be stuffed with the lobsters' meat. S used a fish mousse recipe from John Campbell's Formulas for Flavour and tweaked it to produce a delightful lobster mousse. We combined this with more lobster meat and some Thai herbs. Our final touch was a light prawn stock that had been infused with lemongrass and Thai shallots, then flavoured with coconut milk, blended and strained. We drizzled just a touch of this light and fragrant sauce over each dish, giving it a nice subtle Asian flavour.
It's always just a little bit nerve-wracking to serve something that is entirely of our own creation to friends. If a dish comes straight from a cookbook and if it doesn't pan out well, we can always blame the chef whose recipe it is. However, when the dish is something we come up with ourselves, then if the flavours or textures don't gel together, than we are entirely to blame. Fortunately, our friends appeared to really like this dish. They polished off their plates pretty quickly and a couple even asked for extra portions. S and I were thrilled at the results and plan to make this at future dinner parties, including one to celebrate my mother' s 65th birthday in just a few weeks.
I have to admit that the dish is not the easiest thing in the world to make. But it is very tasty and extremely satisfying. I hope you take the time to give it a try.
Lobster Ravioli with lobster broth and a lemongrass-shellfish sauce
Serves 8 (makes 16 ravioli)
Ravioli
body meat from 2 large lobsters
60g Chinese coriander, finely chopped
100g lobster mousse
30g Thai basil, finely chopped
salt
olive oil
1 egg, beaten
32 wonton skins
flour for dusting
Dice the lobster meat and combine with the coriander, mousse, and basil. Drizzle just a touch of olive oil onto the mixture and stir it in. Season to taste with salt. Use 2 wonton skins for each ravioli. Put a small amount of the lobster mixture onto the middle of a skin. Rub a little of the beaten egg around the edges of the skin and place another skin on top of it, sealing it. Dust with flour and store on a tray in a cool area.
Lemongrass-shellfish sauce
3 cups prawn stock (or chicken stock if you can't get or make prawn stock)
1 cup coconut milk
juice from 1 lemon
4 sticks lemongrass
50g Thai shallots
salt
Chop up the lemongrass and shallots and place them in a pan with the prawn stock. Add the lemon juice to taste. Warm the pan up slowly, letting it reach a boil. Then remove from the heat and add the coconut milk. Salt to taste. Blend the mixture until it is as smooth as possible, then strain the sauce into a pan.
Lobster mousse
(makes more than is needed for this dish)
meat from the claws of the 2 lobsters, diced
1/2 teaspoon salt
pinch of ground pepper
150ml cream
Place the lobster meat in a food processor and blend to a fine mince, stopping when needed to scrape down the sides of the bowl. Add the salt and pepper and mix again, ensuring even distribution. Chill for 10-15 minutes. Place the lobster back into the processor, then blend in the cream, adding it in a steady stream. Taste and adjust seasoning as necessary. Cover well and store in the fridge.
Lobster broth
1/4 cup canola oil
2 lobster body shells
1 cup chopped tomatoes
1/2 cup chopped carrots
1 bunch tarragon
2 cups heavy cream
Heat the oil in a large, deep pan. Add the lobster shells and sear over high heat for 1 to 2 minutes, until they turn red. Add the tomatoes, carrots, and tarragon. Cover the shells and vegetables with water and bring to a boil. Skim off any impurities that rise to the top. Reduce the heat and simmer for 1 hour. Strain the stock through a large strainer, smashing the lobster bodies with a wooden spoon to extract all the liquid. Strain again through a chinois into a clean saucepan. Return the strained stock to the stove and simmer until it is reduced to just 1 cup. Add the cream, return to a simmer and cook, skimming occasionally, until the broth is reduced to just 2 cups. Strain again.
To serve, cook your ravioli in boling water. When the ravioli rise to the surface of the water, they are done. Spoon some of the lobster broth into the bottom of each serving dish. Then place 2 ravioli on each dish. Drizzle a little more lobster broth and then a spoon or two of the lemongrass-shellfish sauce.
Technorati tags: lobster, ravioli, recipe
Aun has always loved food and travel, passions passed down to him from his parents. This foundation, plus a background in media, pushed him to start Chubby Hubby in 2005. He loves that this site allows him to write about the things he adores--food, style, travel, his wife and his three kids!