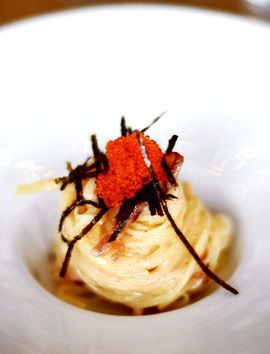 This month's Is My Blog Burning? is being hosted by Seattle Bon Vivant. She's chosen eggs as the theme for this month's challenge.
I decided to make one of my favourite (unhealthy) dishes, mentaiko pasta, this time topped with tobiko. Mentaiko is the Japanese term for spicy cod roe, while tobiko is flying fish roe. Mentaiko pasta is kind of an odd dish. It falls into that rather bizarre category of Japanese-Western food. It's also not "restaurant food". I've never seen a Japanese cookbook that had a recipe for it. I've seen recipes on some personal homepages and a few Japanese friends have told me their own ways of making it, but more or less, I've never seen a real set formula for making it. Which means that over time, I've had the pleasure of tweaking a recipe that works best for me. Of course, much to my wife's dismay, that recipe is as artery-clogging as it is delicious.
Serves 4
1 small onion, diced
100g bacon, thinly sliced
2 tbsp butter
1 packet mentaiko (usually has 3 to 4 sacs)
2.5 tbsp Japanese mayonnaise
1 small packet tobiko
nori
150g angelhair pasta
Put the butter and the mayo in a mixing bowl. Scrape the mentaiko out of the sacs and into the bowl. When the butter is soft, mix the ingredients together. Sauté the onions and the bacon. Mix them into the mentaiko sauce. Boil your pasta. Drain the pasta and mix it with the sauce. Now plate the pasta. Over the pasta, sprinkle some of the nori and spoon some tobiko over the whole thing. Enjoy.
Aun has always loved food and travel, passions passed down to him from his parents. This foundation, plus a background in media, pushed him to start Chubby Hubby in 2005. He loves that this site allows him to write about the things he adores--food, style, travel, his wife and his three kids!