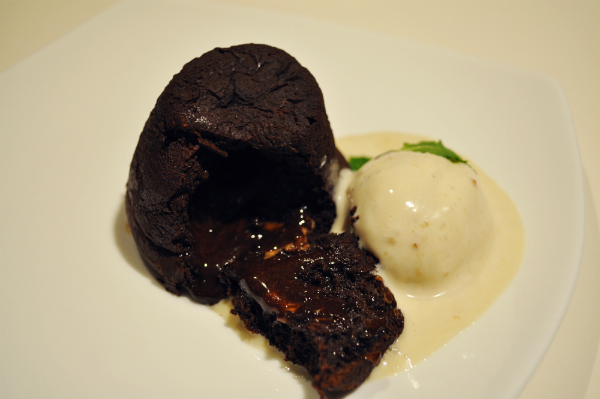 It wasn't until two years ago that La Mother dearest found it necessary to learn how to cook – which was rather odd I suppose, given what a fantastic cook my maternal grandmother is, and how my mum was raised in a very typical Kampung environment in Muar, i.e. great Peranakan and Malaysian food. Prior to her learning how to cook however, she did learn how to bake an exceptionally good molten chocolate babycake (aka chocolate fondant) – in part to save us from the teasing at school that our mum couldn't cook; classmates can be a most unforgiving lot. "Hey, my mum bakes a great chocolate fondant ok? Bet you don't even know what that is, so b****r off." Pardon me.
She got the recipe off an aunt of mine, who probably in turn got it off someone else – this was in the days before any of them knew how to use the Internet. She has modified it since then, like adding my brother's favourite peanut butter right smack in the center of all that chocolatey goodness. It only takes 30min to prep and around 11min to bake (depending on your oven) so it's really not as hard to make as the restaurants make it out to be – which is probably why I don't believe in ordering it when I go out to eat anymore…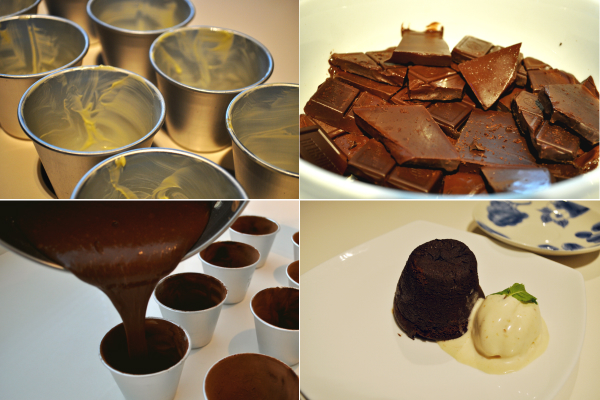 Molten Chocolate Babycakes (with Peanut Butter)
By my mother
Serves 8
Ingredients
Bowl #1
75g brown or castor sugar
½ tsp vanilla extract
50g unsalted butter (plus some for greasing the cups)
Bowl #2
4 large eggs
½ tsp vanilla extract
¼ tsp salt
Bowl #3
350g semi-sweet chocolate
Additional
Cocoa powder (for coating the cups after they have been greased)
50g all-purpose flour
PEANUT BUUUTTTTTEEEERRRRR
First, grease your cups evenly and coat them thinly in cocoa powder – tap off any excess. This is to help the babycake fall out nicely once you're done baking and ready to serve, so don't skip this step!
Melt the chocolate in Bowl #3 over a bowl of simmering water (or in the microwave if you're lazy like me). Set aside to cool. Then mix all the contents of Bowl #2 in an electric mixer until it's nice and fluffy. Following that, mix all the items of Bowl #1 in the electric mixer as well until you achieve a creamy texture – this may take a while as brown sugar can be a real pain to mix into butter.
After you have achieved a creamy consistency, slowly add the contents of Bowl #2 and Bowl #3 into Bowl #1. Mix slowly. I know it's troublesome, but try to alternate between the two when adding the contents into Bowl #1; as I find this helps reduce lumps in the mixture. Last but not least, add in the flour and mix thoroughly. Pour the mixture into your 8 cups and let it sit in the fridge for a day/night.
When you're ready to bake them and show off your amazing baking skills to family, friends or that somewhat annoying guest who keeps talking about how wonderful he/she is in the kitchen, preheat your oven to 180°C and take the cups out of the fridge. Dig a hole right in the centre of your now-firm mixture. Place a generous dollop of peanut butter in the centre and gently mend the hole – making sure no peanut butter is visible. Once your oven is hot enough, place the cups into the oven and bake for approximately 11min (this really depends on the individual oven, do keep an eye out).
Take them out of the oven and gently tip them one by one onto serving plates. I love having mine with ice-cream and in this instance, I devoured it alongside The Inspired Chef's Double Peanut Fudge (you can read more about them here). Serve this immediately – don't leave it lying around as the chocolate will keep cooking thanks to the heat and the insides won't be very molten by the time you get around to it.
If you're not looking to add peanut butter, you don't have to refrigerate it overnight and can actually bake it straight away if you're in a hurry. However, if you've got the time, I would still advise to let it sit for a while in the fridge as I find the lava-like texture comes out better if cooled.

Having lived in Sydney for 4 years, Amy is currently on a quest to find the best coffee joint in Singapore to supply her with her necessary caffeine dosage, as she feels an 8 hour flight on daily basis is taking things a bit too far. When she is not on her quest, she enjoys the more mundane things in life like singing in the shower as she contemplates life, as well as fashion, photography, food, music and the occasional travelling.