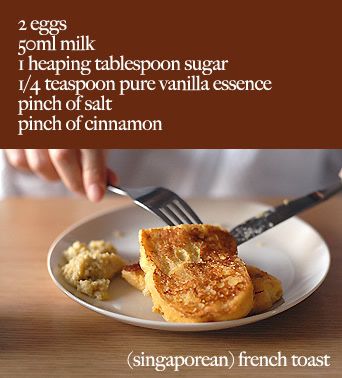 As one faithful reader pointed out in a comment on my last post, one of the very best ways to devour homemade kaya is spread over French toast. Taking inspiration from her very wise words, I whipped up a batch for breakfast and smeared it with the remaining kaya.
I really love French toast (or pain perdu, as the French call it). It's one of the easiest dishes to learn to make. It's also one of the most delicious. It's great for breakfast paired with some crispy bacon and maple syrup. It's also fantastic as a dessert, plated with some fresh fruit and ice cream.
When making French toast, I like to use a soft white bread. The local 7-11 here sells a bread they call "Kopitiam Bread". It's the same bread I used previously with my kaya toast. Because it's so soft, it really soaks up the egg dip that you dunk the bread into before frying.
To make a batch, mix all of the ingredients cited in the picture above in a large bowl. This quantity is enough for 3 or 4 pieces of bread (perfect for breakfast for deux). I like cutting my bread in half in order to get slightly smaller pieces of French toast — which are also easier to handle when cooking. Melt a large pat of butter over medium heat in a large frying pan. When the butter begins to brown, dunk the bread pieces in the egg mixture, then place them, one at a time, on the fry pan. When the sides on the pan turns golden-brown, fip the bread pieces and brown the other sides. Serve with kaya, powdered sugar, or whatever else you might have on hand.
Technorati tags: kaya, french toast, breakfast
Aun has always loved food and travel, passions passed down to him from his parents. This foundation, plus a background in media, pushed him to start Chubby Hubby in 2005. He loves that this site allows him to write about the things he adores--food, style, travel, his wife and his three kids!