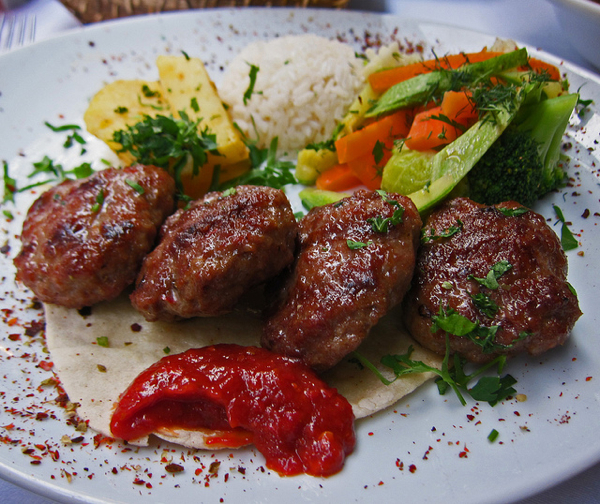 There was a time when I was married to a lovely Turkish man and that meant summers in Turkey. His mother was as obsessed about kitchen arts as I am. As such, I learned how to make a great many wonderful Turkish meals while in their open air kitchen on the Aegean Sea. And among my favorites is her recipe for Kofte – grilled lamb or beef kabobs. This recipe is something between comfort food and the exotic ethnic food that if prepared for friends, never fails to impress.
Mother-In-Law's Turkish Kofte
These are great served with a few sauces/dips. Serve with the homemade tomato sauce below. You can also serve this with a bowl of hummus and a bowl of plain yogurt on the side. This trio of dips is a wonderful and authentic presentation for Turkish Kofte.
Kofte:
¾ cup cubed, stale firm white bread without the crust
1¼ pounds lean ground lamb or beef
1 small onion, grated
¼ tsp ground cumin
salt
¼ tsp freshly ground black pepper
1 egg, well beaten
In a bowl, pour some warm water over the bread cubes and let them soak for a few minutes. Then press out and discard the liquid. Add the meat, onion, cumin, black pepper and salt to taste. Knead with hands until blended. Add the egg to the mixture and knead again until blended.
Divide into 24 equal portions and mold each into a mini hamburger shape. Oil the surface of the kofte and then cover and refrigerate for 4-5 hours. When you are ready to grill the kofte, you can take then out of the refrigerator and cook them immediately, either over a BBQ grill or a with a stove-top grill pan. The refrigeration helps them keep their shape while cooking, so do not skip this step. Cook until medium well to well done.
TOMATO SAUCE
2 tsp olive oil
2 medium tomatoes, peeled, seeded and chopped
1 tsp chopped medium-hot green chili
Pinches of salt and sugar
¼ tsp minced garlic
1 tsp red wine vinegar
Warm the olive oil in a skillet, add the tomatoes and chili and cook over high heat, stirring until thick. Add garlic, salt, sugar and vinegar and bring to a boil while stirring. Set aside to serve as a dip.
I also recommend serving this with either warm pita bread or rice, plus a vegetable side dish such as chopped tomato cucumber salad. Then you have a meal fit for my mother in-law!
Joanna Hutchins is a culinary travel blogger based in Shanghai, China.. In 2009, Joanna founded Accidental Epicurean, a culinary travel blog focused on Asia. Joanna is also a contributor to CNNGo, Look East magazine, SE Asia Globe and Two magazine.