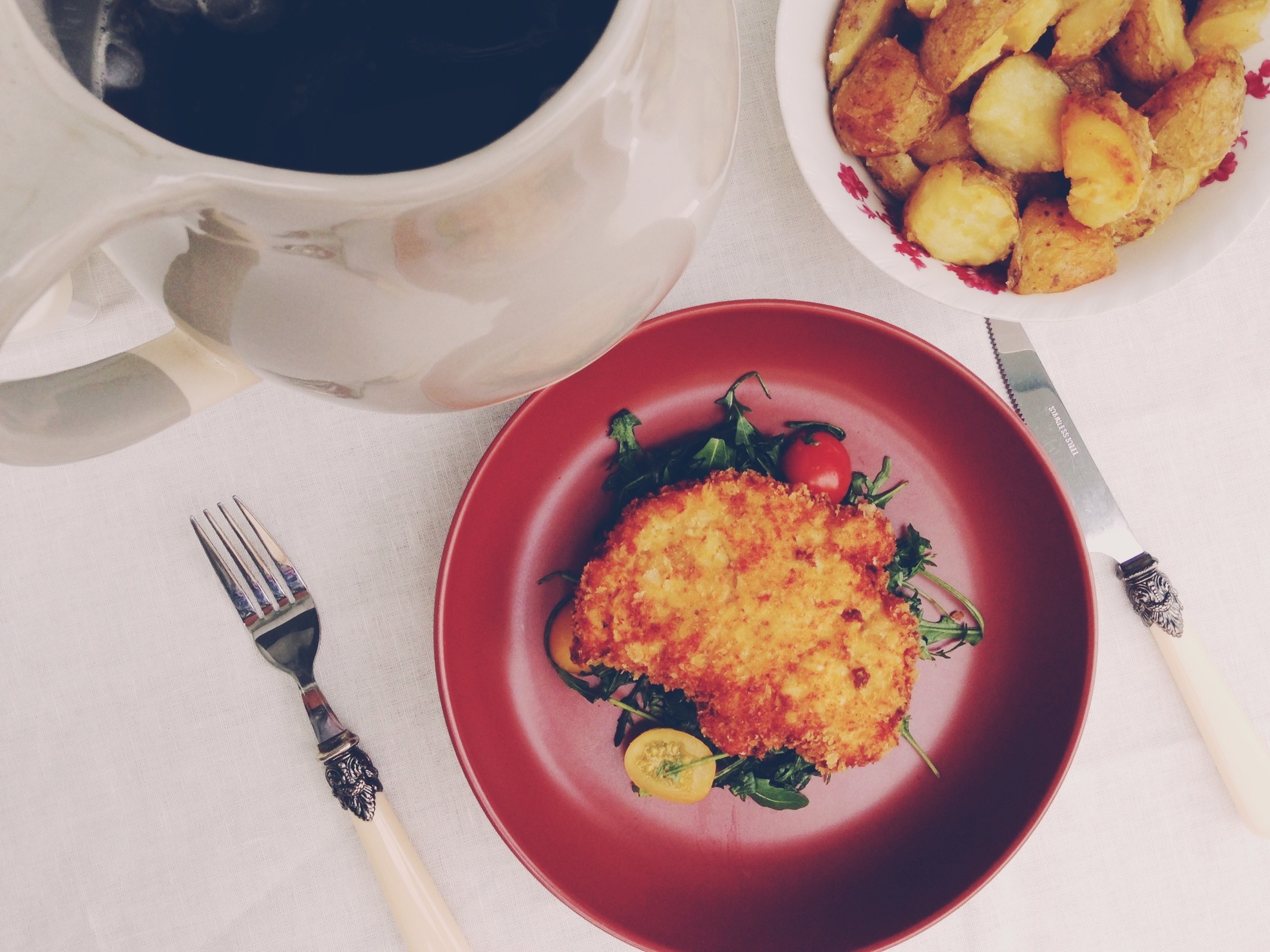 Those who know me will tell you that I am always the girl with a plan. Growing up in a fairly conservative family, I've learnt to think ahead—almost to a fault. Stepping into the year, I had a simple but lofty goal: plan less, do more. Starting with the kitchen.
I'll be honest. It's not often that I make a full meal for more than two people on my own. I generally get help in the form of my boyfriend or mother but not this time. As a one-woman show, planning is key (the irony). Since I needed a tried and tested recipe and because I am an unabashedly big fan of Deb Perelman, I strategically picked this one out. The mustard chicken milanese is something I've attempted twice before, both times in a team and both times a winner.
I know that fried chicken cutlets aren't the sexiest sounding dish but trust me on this one. If you're still hesitating because you've had too many dried-out pieces of chicken in your life, I promise that this time will be different. Pounding the meat thin ensures that you get perfect, tender chicken and the egg white-mustard mixture keeps it super moist. This is also a great make-ahead dish when you're cooking for a large group—just coat the meat then let it rest overnight in the fridge.
Frying it off was simple enough and the results are glorious. I served the chicken on a bed of rocket and cherry tomatoes tossed in my fail-proof honey mustard dressing. This is a great, non-generic dish that you can have over and over. My sister had a friend over and we all enjoyed this in the backyard with a pitcher of iced tea. It was all very idyllic. The best thing about cooking really is the sharing afterwards.
I suppose you can say that my first solo cooking experience for a group (man that is a mouthful) this year was a resounding success. I am excited to do more and also up the ante. Maybe I'll even attempt to make dessert next time. Whatever I decide, I'll be sure to let you know how it goes.
Mustard Chicken Milanese with a Rocket & Tomato Salad
Adapted from The Smitten Kitchen Cookbook
Serves 4
Chicken
Two boneless, skinless chicken breasts
Table salt
Freshly ground black pepper
65g plain flour
1 large egg white
2 tablespoons smooth Dijon mustard
2 garlic cloves, finely chopped
1 teaspoon dried oregano
½ teaspoon freshly grated lemon zest
80g panko bread crumbs
Mix of vegetable and olive oil, for frying
Salad
2 tablespoons freshly squeezed lemon juice
2 tablespoons smooth Dijon mustard
1½ tablespoons honey
80ml olive oil
Pinch of table salt
120g wild rocket leaves
125g cherry tomatoes, halved
Method
On a cutting board, butterfly the chicken breasts and slice them all the way through so that you end up with four thin cutlets. With a meat pounder, pound your cutlets between two pieces of plastic wrap to 0.5cm thickness. Season on both sides with salt and pepper.
Grab three big plates, and line them up on your counter. Pout the flour into the first one. In a small dish, whisk together the egg white, smooth Dijon, garlic, oregano, and lemon zest. Pour half of this mixture into the bottom of the second plate. In the third plate, spread out the panko bread crumbs.
Dredge each piece of chicken lightly in flour, then heavily in the egg white-mustard mixture, and generously in the bread crumbs. Repeat with second piece of chicken, then refill the egg white-mustard plate, and repeat with final two pieces of chicken. Arrange the breaded cutlets on a large tray, and chill them in the fridge for an hour or up to a day (covered in plastic wrap). This helps the coating set.
Meanwhile, prepare the salad. In a small bowl, whisk lemon juice, mustard and honey together then whisk in the olive oil and pinch of salt. Pour half of this into a large bowl. Add rocket and halved cherry tomatoes and mix. Toss. Add more dressing if you wish, but the veggies should be coated and not drenched!
Now to cook the chicken. Pour 1cm of oil—a mixture of vegetable and olive oil—in a large pan and heat over medium-high heat. Test the heat with a flick of water—if it hisses, you're good to go. Cook the chicken until golden brown on both sides, about three to four minutes or the first and two to three minutes on the second. Remove the chicken from heat, and salt and pepper both sides while draining on paper towels.
To serve, put a handful of salad on a plate and arrange one piece of chicken on top. Eat immediately.
Charissa is a constantly caffeinated publicist who plans her vacation itinerary around the availability of restaurant reservations. She likes honest, uncomplicated food, Sadie her Shetland, and alliteration. A regular documentation of her unabashed foodie life: @charissa__g.