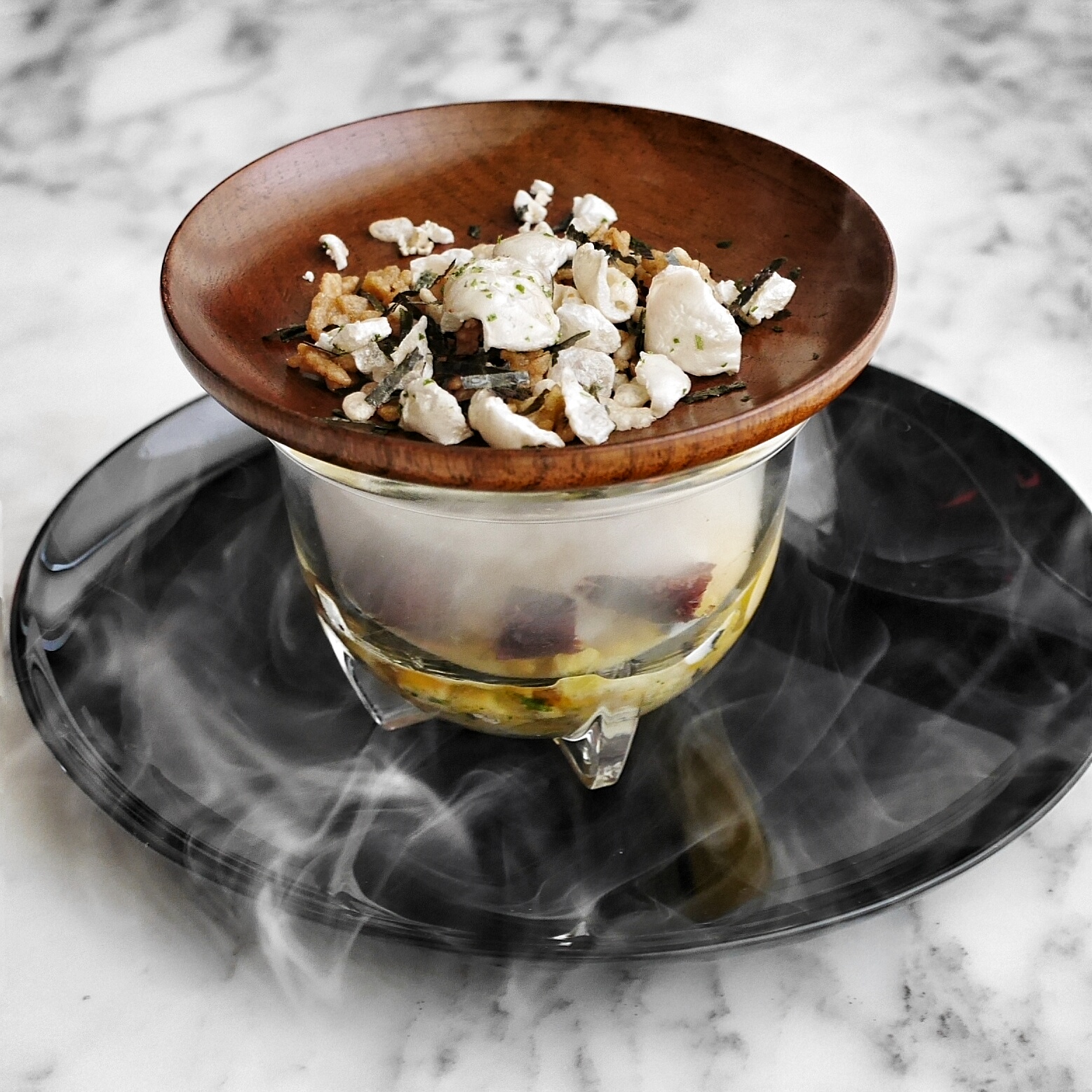 I have to admit that I almost always include a sous-vide egg dish on my menus when hosting dinners these days. I just love the soft richness of a slow-cooked soft-boiled egg and love pairing it with a wide range of ingredients and flavours.
Recently, I had become obsessed with making a modern soft-boiled egg dish inspired by the flavours found in Hokkaido butter ramen… yes, I am just odd that way. The whole idea was sparked when I read a recipe written by a dessert chef who had soaked rice krispies in various liquids, and then used a dehydrator to make them crispy again. The now crispy rice krispy, she reported, tasted like whatever she had soaked it in. Granted, her recipe was for a sweet alcoholic dessert, but I immediately thought about soaking rice krispies instead in tonkotsu ramen broth. How much fun would it be to serve someone a rice krispy that tasted like pork soup?
I started to build the dish in my head (and eventually on paper). Hokkaido Butter ramen is notable because of the addition of corn, a sizeable pat of butter, and (often) a bit of miso. Your average bowl also has charsiu (roasted pork), spring onions and leeks and nori (seaweed).
I decided that the base of my dish should be corn braised in seaweed butter. That would be easy enough. Frozen corn, Hokkaido butter (for some semblance of authenticity), chopped nori, some aonori powder and some saikyo miso. We actually always have all of these, save the butter, in our fridge, so all I had to do was pop over the Meidi-ya.
Over the corn, I wanted to add some pork, so I picked up some nice hunks of fatty pork belly, with the skin on (the reason for that will become clear soon). I cut the skin off, kept that aside, and used my sous-vide charsiu recipe to cook the pork.  The corn and pork would sit in the bowl with the sous-vide egg (64 degrees C for one hour, in case you forgot).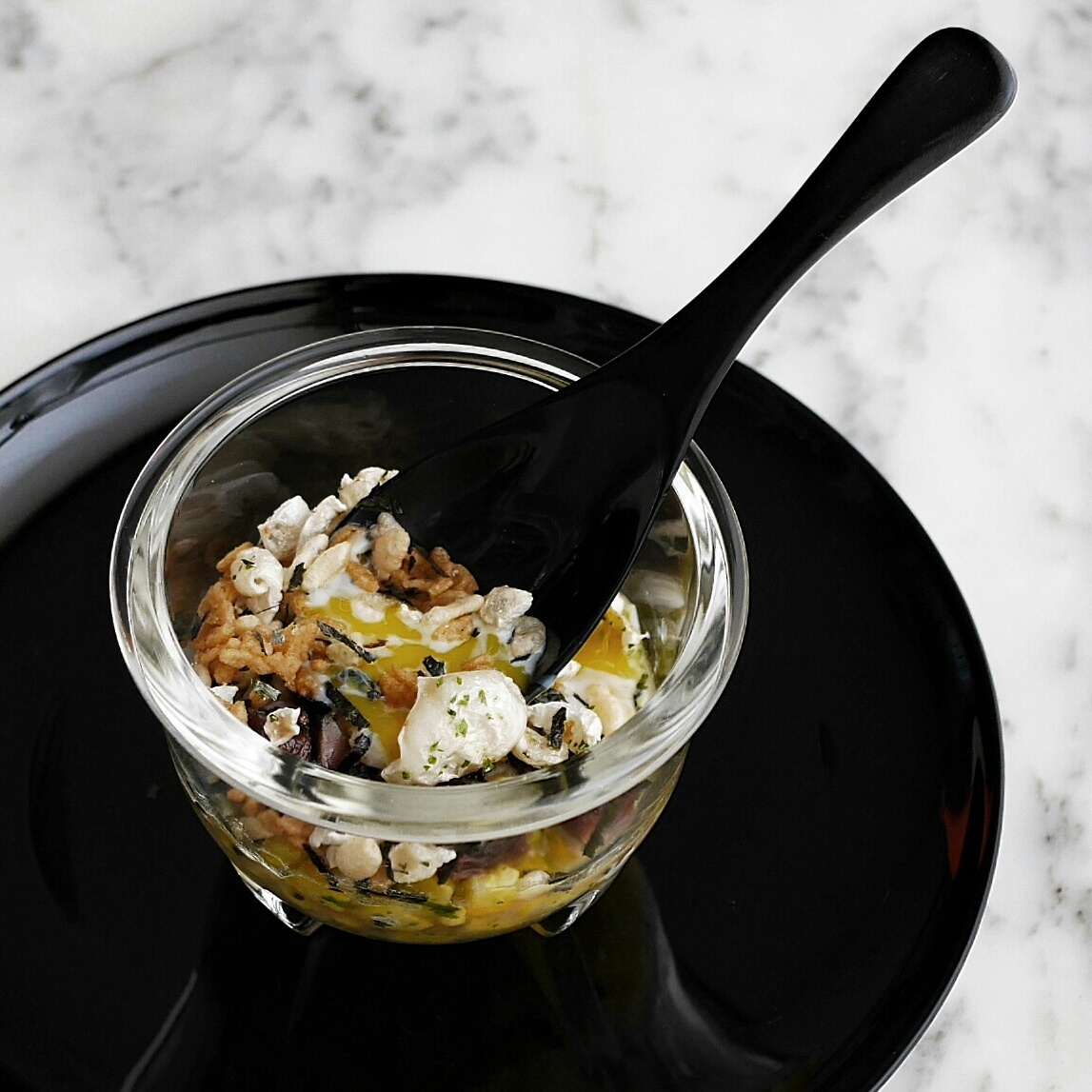 Now, I knew I wanted to add the tonkotsu rice krispies to the dish, but I also thought that rice krispies alone just wasn't sexy. Enter the pig skin, which I could turn into puffed fried pork crackling seasoned with nori salt! Easy peasy Japanesey. You have to boil the pork skin in seasoned water (bit of salt, whichever herbs you think will be nice). When the skin is soft and tender, you have to carefully scrape as much of the fat off of it as possible (use a spoon) without tearing it. You then carefully flatten the pieces out onto a silpat and pop it into your dehydrator overnight. The pieces need to be crisp. Once they are hard and crispy, use a food processor to break the skins up into little tiny pieces. You can also do what I did, which is put the skins in a ziploc bag, cover with a towel and take a hammer to them. A couple of hours before you intend to serve the dish, fry them in very hot oil. The little pieces should puff right up in front of you. Rescue them from the oil, drain them on paper towel and season with a little salt and aonori powder.
Of course, the key piece of equipment required for making the pork crackling and the rice krispies is a dehydrator. I'm lucky enough to have one; it was a birthday gift from my amazing wifey last year.
The rice krispies were fun to make. Cover a tray with a silpat. Spread out the rice krispies and pour the soup on them. Let it soak and pop into the dehydrator at 60 degrees C. Let dry for an hour. Repeat this twice and then leave the rice krispies in the dehydrator overnight or until they are all perfectly crisp again.
With the rice krispies and pork puffs, I mixed in a little nori… well, because I love the taste of nori.
And to give the whole dish a little bit of magic and also because I thought it would enhance the taste of the dish, hit the egg, corn and charsiu with some hickory smoke (oh yeah, my birthday present this year from the #superwife was a smoke gun! Isn't she the best?), and quickly cover the dish with a small plate or bowl. This is where your rice krispies, pork puffs and nori can go. Wait a minute or two to let the smoke penetrate the food and serve. Tell your guests that they need to remove the "lid" and gently tip what's on the plate into the bowl with the egg. When your guests take the lids off, smoke billows up and the aroma hits them. A perfect moment for the eyes and nose. Then stir the ingredients together and hopefully, it'll also taste good too.
Aun has always loved food and travel, passions passed down to him from his parents. This foundation, plus a background in media, pushed him to start Chubby Hubby in 2005. He loves that this site allows him to write about the things he adores--food, style, travel, his wife and his three kids!