Lamb is an interesting meat. I adore lamb but for some reason, I have several friends who, when invited over for a meal, and when I've asked about dietary restrictions, have said, "Oh, I don't eat lamb." When pressed for more details, none have ever been allergic to lamb. There are no religions that allow meat but not lamb. Nosy-parker that I am, I've always asked why. The usual response has been along the lines of "Oh, I don't like the smell" or "The taste of lamb is too strong". My supposition has always been that these friends simply had a bad experience with poor (really poor) quality lamb at some point in their younger days and somehow decided to avoid the meat altogether. And, like Barney Stinson being goaded into an extraordinary pickup, I saw the challenge of converting these friends into lamb-lovers something I simply had to do.
The single most important factor, then, has always been finding great lamb. A beautiful piece of lamb has no offensive smell. In fact, it should be tender, sweet and succulent, with a balanced flavour that never overwhelms but can be enhanced by the spices and aromatics you cook it with. So far, here in Singapore, the best lamb shoulder I've found comes from Sasha's Fine Foods. The meat is firm and white and simply beautiful. There is no foul smell… on the contrary, the raw meat smells fresh and clean. When cooked, the lamb stays moist and tender, and the flavour is simply delicious. I have converted several lamb naysayers into lamb lovers using Sasha's Welsh lamb.
Welsh lamb is incredibly hard to find here. Only 35-40% of available lamb is exported outside of Wales and the rest of the UK, and 92% of that goes to EU countries (of course, that might change after Brexit). It was the only lamb Queen Victoria would serve in her household because she deemed it the most tender.
Sasha Conlan is dedicated to sourcing food that has been produced and delivered with care and respect for the animals, the environment, and the individuals who bring it to us through the supply chain. Today, Sasha carries meat, fish, plant-based foods, vegetables, healthy snacks, ready-made meals, milk and other groceries from 55 suppliers, all of whom she has met personally. While small, her product range is exquisite.
While they may live a very short life (Sasha's lamb shoulders comes off off animals that are less than 12 months old.), it seems a happy one. The lamb roam and feed on lush hills and mountains. Welsh Lamb's distinctive quality has been recognised by the European Union (EU) as having unique regional characteristics and has been awarded the status of Protected Geographical Indication (PGI). The Protected Geographical Indication of Welsh Lamb puts it on a par with other high-end regional European products like Parma Ham or Balsamic Vinegar from Modena.
For this week (27 September – 3 October), all Welsh lamb products at Sasha's are 15% off. Give it a go. I guarantee that your friends and family will all be super grateful.
Need a recipe to go with your lamb? Here's my favourite, using the shoulder: Sam and Sam Clark's roast shoulder of lamb stuffed with saffron rice. The recipe for this stuffed, roasted lamb shoulder comes from their first volume, Moro: The Cookbook by Samantha and Samuel Clark.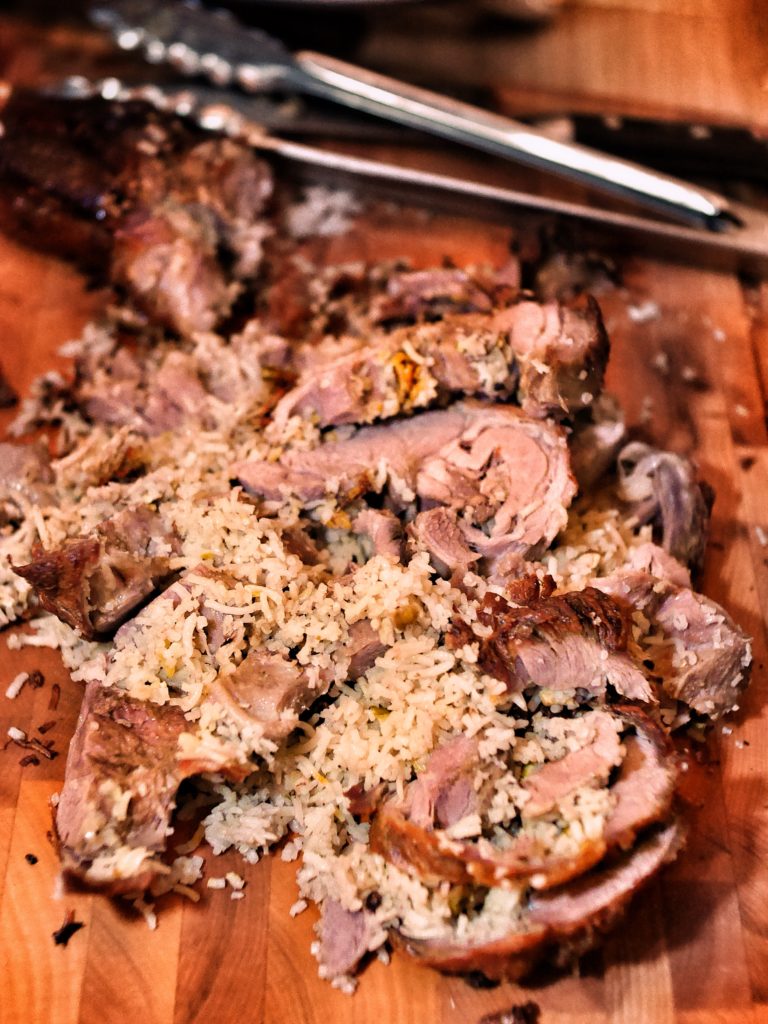 It's a Moorish recipe that asks you to stuff a boneless lamb shoulder with rice that has been cooked with saffron, barberries, pistachios, black peppercorn, green cardamom, cinnamon and a ton of butter. When the dish is finished — it's roasted in the oven for around 90 minutes — you serve the meat and rice with garlic-infused yogurt and a gravy made with pan drippings, orange-blossom water and orange juice. It's a ridiculously delicious dish that friends always swoon over.
For readers unfamiliar with Sam and Sam Clark, they are the husband and wife owners of Moro, the North African and Spanish restaurant that opened in Clerkenwell, London, in the Spring of 1997. One of my food heroes, Nigel Slater, wrote, in a column for the Guardian, about the significance of opening in that area: "The location, in the no-man's-land between Sadler's Wells Theatre and Smithfield meat market, was considered an unusual choice – brave even. Word spread, first of its sourdough bread and then of its extraordinary crab brik – a hot parcel of seafood wrapped in tissue-thin warka pastry – and then of its chargrilled pork. With its simple table settings and wood-fired oven, it was described, not altogether inaccurately, as a Moorish River Cafe. Soon everyone was talking about Moro and the robust and fragrant cooking to be found there."
Twenty-two years on, Moro has managed to maintain its high standards and is still one of the best and most respected restaurants in London. In that time, the Clarks have put out not one, not two, but four cookbooks, all of which I highly recommend.
I've made the Clark's stuffed, roasted lamb shoulder several times now with Sasha's Welsh lamb. And I can honestly say it has never been better. The skin crisped up more beautifully than ever before. And the meat was succulent, tender and oh so good. Friends we have served this dish too have likened it to a gourmet biryani, which I will take as a complement.
This dish is too good not to encourage you all to try making as well. The recipe is below.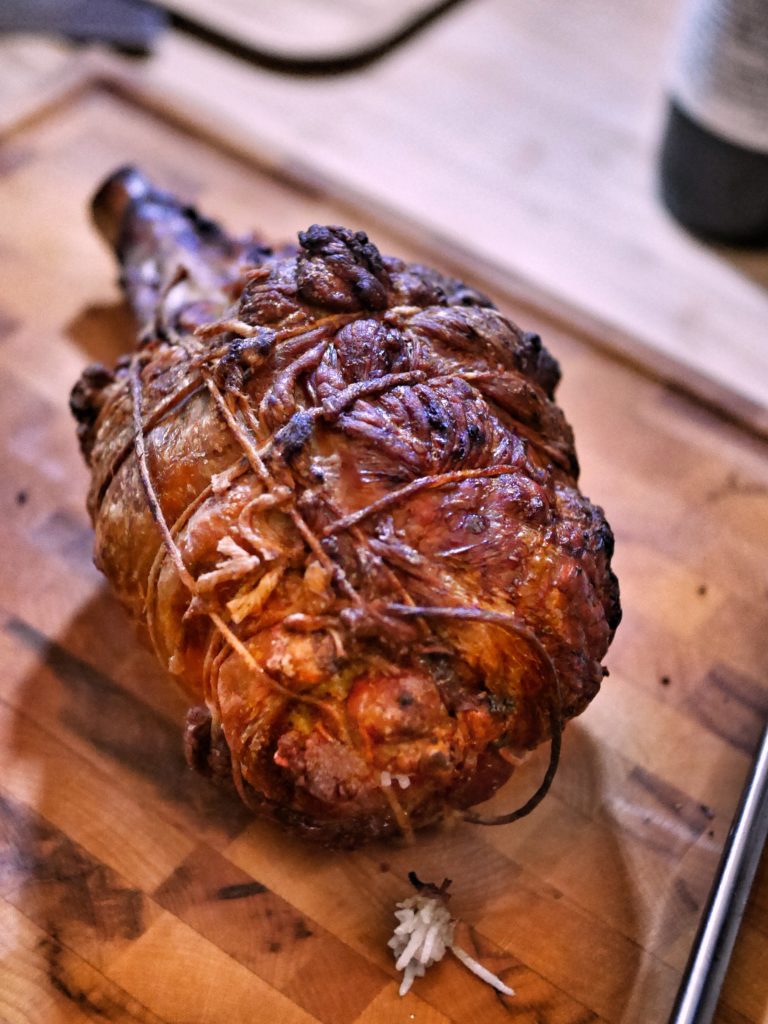 Sam and Sam Clark's roast shoulder of lamb stuffed with saffron rice
Serves 4-6
shoulder of lamb 1, about 1.5kg, boned and trimmed of most skin and fat
olive oil 3 tbsp
water 75ml
orange-blossom water 4 tbsp or finely-grated zest and juice of 1 orange
For the saffron rice
unsalted butter 80g
cinnamon stick ½
green cardamom pods 5 whole, cracked
black peppercorns 3 whole
basmati rice 200g, washed and soaked in salted water for 3 hours
pistachio nuts 2 tbsp, roughly chopped (optional)
barberries 2 tbsp (optional)
saffron threads 1 good pinch (about 100 threads) infused in 4 tbsp boiling water
To serve
home-made or Greek yoghurt 200g, thinned with 2 tbsp milk, with ½ crushed garlic clove and a good pinch of salt
To make the saffron rice, melt the butter in a saucepan over a medium to low heat. Add the cinnamon, cardamom and peppercorns and gently fry the spices until their aromas start to be released (about 4 minutes). Drain the rice well, add it to the butter, and stir to coat for a minute. Turn up the heat to medium to high. If you are using pistachios and/or barberries, stir them in now. Pour enough water over the rice to cover it roughly by 1cm, and season with salt. Rest some greaseproof paper on the surface of the water, then place a lid on the pan, bring to the boil and simmer for 5 minutes. Lift the lid and paper off the pan and drizzle the saffron water evenly over the rice. Replace the paper and lid. Turn down the heat to medium to low and cook for 4-5 minutes. Set aside.
Preheat the oven to 220C/gas mark 7. Place the shoulder, skin-side down, on a board and open out fully. Put half, or as much as will fit, of the saffron rice into all the pockets of the boned lamb, roll up and tie with string. Place a large roasting tray on the hob, over a medium heat, add the olive oil and brown all sides of the lamb until sealed. Season the lamb with salt and pepper, place in the oven and roast for 1-1½ hours or until the meat is pink inside. Remove, transfer the lamb to a board and let it rest for 10 minutes loosely covered with foil.
Meanwhile, make the gravy. Pour off any fat and return the roasting tray to the hob and heat over a medium heat. Add the water and orange-blossom water (or zest and juice) and bring to a gentle simmer, scraping the meat juices off the bottom of the pan. Taste for seasoning, transfer to a small saucepan or bowl and keep hot. Slice the lamb and serve with the orange-blossom gravy over the top, the rest of the saffron rice (warmed) on the side, some braised chard or spinach and a little yoghurt.
Aun has always loved food and travel, passions passed down to him from his parents. This foundation, plus a background in media, pushed him to start Chubby Hubby in 2005. He loves that this site allows him to write about the things he adores--food, style, travel, his wife and his three kids!