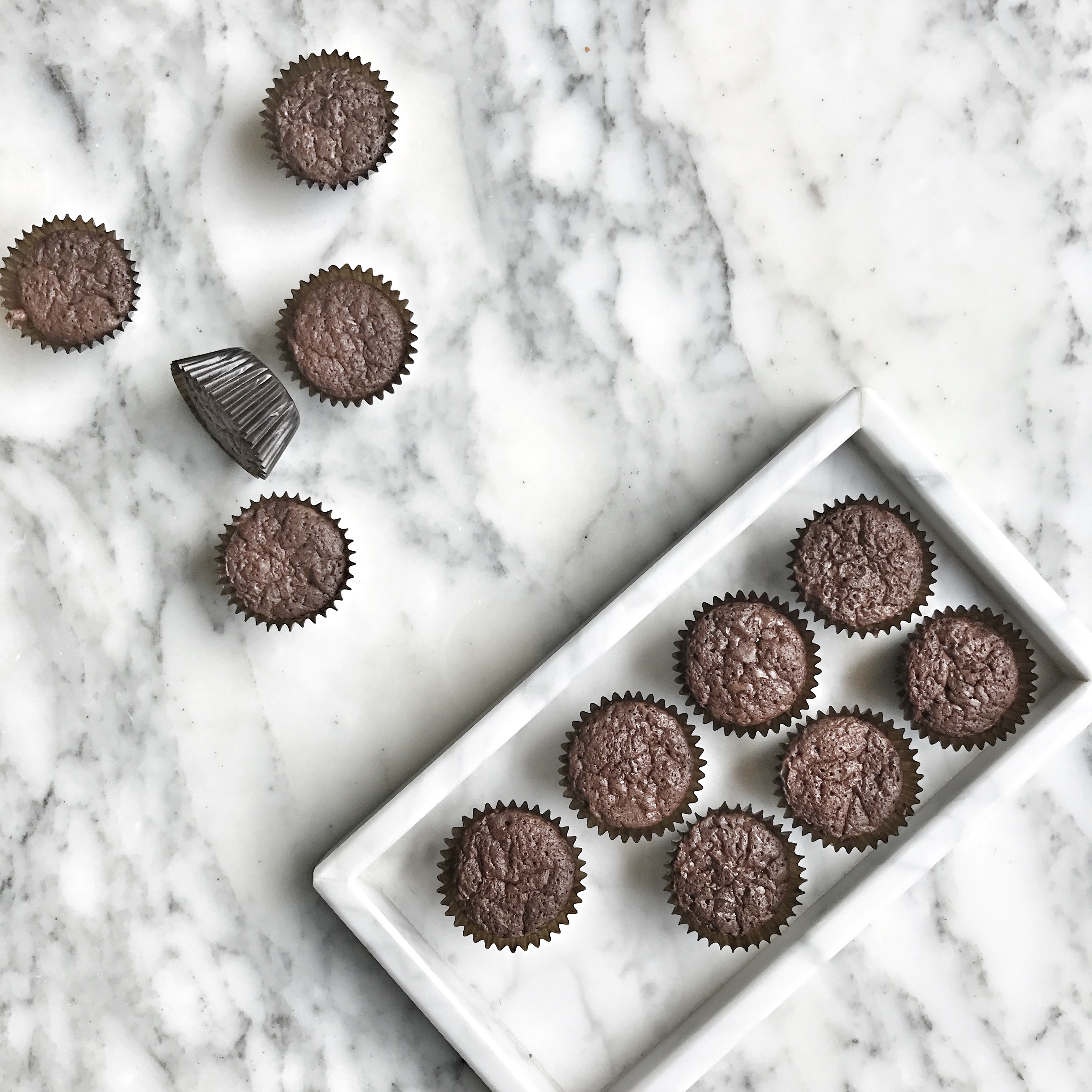 These moist, fudgy one-bowl chocolate brownie mini cupcakes are downright irresistible. I'm sharing this recipe because it's so simple that I can get away with baking these late into the night, with a weary, addled mind. In addition to it requiring minimum clean up, this forgiving recipe delivers delicious bite-size treats perfect for tiny hands and school day snack boxes.
My little chocolate lover adores these cupcakes. And I was so thrilled that my six-year-old nephew inhaled six mini cupcakes at a go when he recently tasted them for the first time.
I've used dark chocolate here because my daughter loves it and consistently chooses dark over milk or white. When I bake them for her, I opt for the friendly profile of Valrhona's Equatoriale Noire because it's a crowd-pleaser for most palates. It ensures that the cupcakes suit most occasions–including play date hostess gifts and class picnic contributions. If I were making these cupcakes for myself, I might go with the darker Tainori or Caraibe. These more intensely dark chocolate cupcakes would be fabulous served warm with homemade vanilla ice cream drizzled with condensed milk & soy caramel.
In terms of Dutch-processed cocoa powder, I love Valrhona's, too. It has a taste profile that I associate with intense, nutty chocolate comfort. I particularly love it in American-style hot water chocolate cake topped with chocolate fudge (akin to our beloved Lana Cake, here in Singapore).
I make such a huge batch of these cupcakes each time because they're popular in my household, and they freeze well. Since I can't always bake them fresh every week, storing some of these cupcakes in the freezer in an airtight container to keep them on weekly snack box rotation is an acceptable compromise for me. We just defrost them in the fridge. They taste fab when reheated for a couple of minutes. Ideal for impromptu get-togethers.
To reduce washing up time, I weigh each ingredient directly in the bowl as I add it, using the tare function on my digital kitchen scales. The No. 100 ice cream scoop helps ensure that I don't end up with overflowing tops and a reliable yield of 72 mini cupcakes. Finishing these cupcakes off with salt flakes before putting them in the oven would also turn them into a grown-up treat.
One bowl chocolate brownie mini cupcakes
Makes 72 mini cupcakes
Ingredients
230g bittersweet chocolate feves or coarsely chopped chocolate
115g unsalted butter, cubed, at room temperature
200g castor sugar
3/4 tsp fine sea salt
3 large eggs
75g all purpose flour
25g unsweetened Dutch-process cocoa powder
Preheat oven on convection setting to 160 degrees Celsius.
Line mini cupcake tins with paper liners.
Place chocolate and butter in a heatproof bowl (large enough to eventually accommodate all the ingredients) set over a simmering pan of water (the base of the bowl should not touch the water) for 4-5 min until melted. Stir, beginning in the centre in an increasingly widening circle with a spatula to combine (pretty much in the same way you would make a ganache).
Remove bowl from heat. Whisk in sugar and salt until smooth. Whisk in eggs one at a time to combine. Whisk in flour and cocoa just until smooth (do not overmix).
Spoon into cupcake tins using a No.100 ice cream scoop. I make a level scoop for each cupcake. (Optional: Finish with salt flakes if you wish)
Bake for approximately 12 minutes. A cake tester inserted into the middle of a cupcake should just have a few moist crumbs stuck to it.
Transfer onto a wire rack to cool completely.
Store for up to 3 days at room temperature in airtight containers. Or freeze.
Su-Lyn is Aun's better half and for many years, the secret Editor behind this blog known to readers simply as S. Su-Lyn is an obsessive cook and critical eater whose two favourite pastimes are spending time with her three kids and spending time in the kitchen. She looks forward to combining the two in the years to come.