The last lasagne that I had was at a potluck party, where a friend SL made the most delicious eggplant, mushrooms, beef, pork and tomato number. It was oozy and comforting and I had no trouble clearing out a hefty portion. The lasagne went down easy. The only problem was that it kinda sat in my stomach like a stone for a rather long while after that. Although I know that the blame falls largely on me for lacking self-control, it got me thinking as to whether I could create a lighter lasagne, that was just as hearty and satisfying.
Ree's recipe hit the nail on the head. I love the lashings of cheese, rich flavours and textures of the different vegetables and especially that I didn't need to make a béchamel  sauce. The beauty of a recipe like this is that you can use any vegetables you fancy, or whatever was freshest in the market that day. Field mushrooms, portobellos, yellow squash, a touch of chilli, all work well here. It was as fuss-free as lasagne recipes come. Having said that, there's a fair bit of chopping and prep involved, on top of a 45-min cooking time. However, the thumbs-up I got from the hubby after his first bite, made it all worth-while. He likes his share with a little tabasco dribbled over, but my daughter and I adore it the way it is, in all its cheesy glory. This is a perfect rainy-day meal and the leftovers taste even better the next day.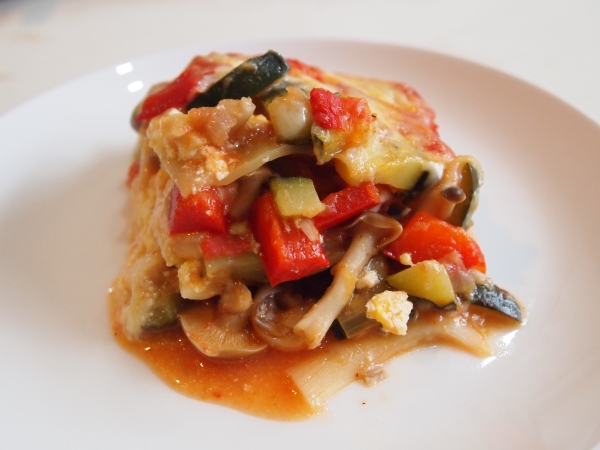 Vegetable Lasagne
adapted from The Pioneer Woman Cooks
2 tbsp olive oil
1 onion, chopped
3 cloves garlic, minced
2 bell peppers, red/orange/yellow, de-seeded and cut into 1-cm dice
2 zucchinis (about 400g total), 1-cm dice
100g oyster mushrooms, cleaned and roughly torn
2 punnets shimeji mushrooms, snipped 1-inch from the base
1 x 14oz tin of tomatoes
½tsp sea salt
¼tsp black pepper
1 pack lasagne sheets (I used instant)
300g shredded mozzarella
250g ricotta cheese
1 egg
Preheat oven at 180°C.
In a large pot, sauté chopped onion in the olive oil until softened.
Add the minced garlic and cook for one minute.
Toss in peppers and zucchini and cook for a few minutes until just softened.
Throw in mushrooms and give everything a good stir.
Pour in the tinned tomatoes, and season with salt and pepper. Bring to a boil and let the vegetables bubble away, uncovered and stirring occasionally, for 5-10min, until the liquids have reduced by half. Check for seasoning after 10-min.
Meanwhile, prepare the cheese mix. In a big bowl, combine half the mozzarella with the ricotta and the egg.
Once the vegetables are ready, spoon a single layer of the mix on the bottom of an 8-inch casserole dish.
Place a single layer of the lasagne sheets over.
Plop half of the cheese mixture over the pasta sheets. Smooth over the pasta. Then spoon another layer of vegetables over the cheese.
Repeat the whole process. Pasta, cheese, vegetables.
Top the vegetables with the remaining half of the mozzarella. Loosely cover with foil and bake for 15-min.
Remove the foil and bake for another 10-min, or until golden brown on top.
Let the lasagne rest for 5-min before serving.
Dawn, a lanky food-crazed lady, started out writing for lifestyle magazines, and later spent several years in banking. When not eating, she's cooking, reading about, hankering after, and writing about food. On her first date with her boyfriend (now husband), they dined at four restaurants across Singapore. He's gained 25lbs since, and their culinary escapades continue after welcoming two rotund angels. Dawn's committed to feeding them with the best, and creating lasting food memories and traditions for her family.