A few weeks ago, I mentioned that, while attending the Noosa International Food & Wine Festival, S and I had eaten one of the best oxtail stews we'd ever had in our lives. It was prepared by Chef Mark Jensen of the very famous Vietnamese restaurant Red Lantern, which is in Sydney, Australia. Traditionally, Bo Kho is made with cuts like brisket or shank. It's also one of those traditional dishes that has no really defined and universal recipe. While certain ingredients might appear in most dishes, all mothers (and grandmothers) and chefs who make Bo Kho seem to have slightly different ways of making theirs. And, of course, every Vietnamese friend you have will swear that his mother's version is simply the best in the world.
Mark Jensen's Bo Kho was wonderfully addictive stuff. The broth was so good that even after we'd finished everything that was given to us, S was still rubbing our empty bowl with a piece of baguette in hopes of savouring just a few more drops of this incredible dish. I knew, within bites, that this was a recipe I simply had to recreate.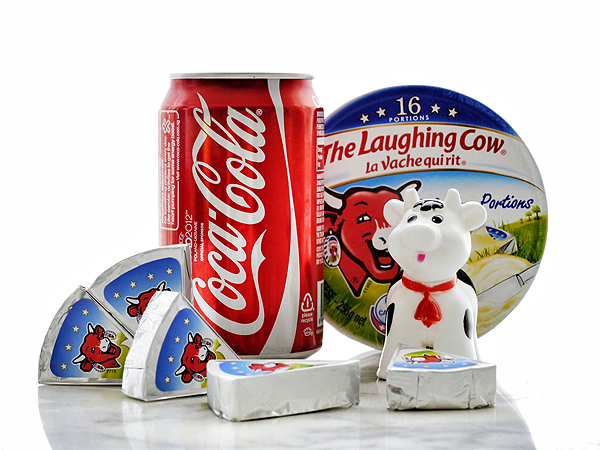 Fortunately, S and I already own the Red Lantern cookbook. But when I looked at the recipe and read the accompanying essay, I think I, in order, went, "huh?", laughed out loud, and then went, "what?" and "huh?" a few more times. You see, two of the main ingredients in the Nguyens' ultra-secret Bo Kho recipe (or at least it was a family secret until the book was published) are a can of Coke and half a box of Laughing Cow cheese! Yup, not quite what you'd expect to find in a traditional Vietnamese recipe.
Of course, that this oh-so-delicious recipe called for such oddball ingredients, I think, only made me want to try making this even more. So, I got to work, whipping up a batch for my family. My father and brother are both oxtail lovers so I knew if I could pull this off, they'd be thrilled. Amusingly, I discussed the recipe with my brother's wife, the impeccable dessert mistress J. Her theory is that authors Pauline and Luke Nguyen's father (who created this recipe) was unable to find certain ingredients after first emigrating from Vietnam to Australia and essentially MacGyvered this recipe together from whatever he could find. She contends that the Laughing Cow cheese is probably a replacement for fermented bean curd. Which is actually a pretty good guess. The Coke, not only adds a wonderfully sweet, slightly herbal note to the marinade, but it is also an excellent meat tenderiser.
Regardless of why these ingredients made it into this version of Bo Kho, I am very happy to report that the results are magical. But please don't just take my word for it. You should definitely try this at home!
Oxtail Bo Kho
Serves 6 persons
Based on a recipe originally published in Secrets of The Red Lantern by Pauline Nguyen.
Marinade
6 black cardamom seeds
3 star anise
1 cassia bark (Chinese cinnamon)
2 cloves
½ teaspoon five-spice
2 teaspoons rice wine
½ box Laughing Cow cheese
1 tablespoon Hoisin sauce
170ml Coca-cola
1.5 kg oxtail
2 tablespoons oil
1 onion, diced
1 tablespoon minced garlic
4 tablespoons tomato paste
2 litres beef stock
2 teaspoons salt
250g carrots, sliced
1 white onion, cut into thin rings
1 handful Thai basil
In a small frying pan, toast the black cardamom seeds, star anise, cassia bark and cloves until fragrant and slightly coloured. Then grind them in a mortar. Pour into a large mixing bowl and add the rest of the marinade ingredients. You'll probably need to mash up the cheese but after stirring it for a while with a wooden spoon, it will integrate with the rest of the marinade. Add your oxtail pieces, mix well, cover with cling wrap and pop in the fridge overnight.
Preheat your oven to 150° Celsius.
Heat up a large dutch oven / cast iron pot over medium high heat and add the oil, diced onion and garlic. Stir-fry until the onion softens, 2-4 minutes. Add the oxtail pieces and increase the heat. Add the tomato paste, stir it around, and fry until the meat has been sealed on all sides. Add the beef stock and salt and bring the liquid to the boil.
Take a piece of`grease proof paper and cut a circle out of it that will fit into your dutch oven. Place that over the meat and liquid, tapping down so that it sits right on the surface. Cover your pot and place in the oven for 3 hours and 30 minutes. After the first hour and half, please take your pot out just so you can turn the oxtail pieces over, and return it quickly to the oven.
I find that oxtail always tastes best eaten the following day. This gives the oxtail time to really absorb the flavours. Also, when allowed to cool down and then reheated, the meat is always more tender than if you ate it straight fr/m the oven.
When the oxtail comes out of the oven, remove the lid and let it cool down. Then pop it into your fridge overnight. The following day, place it on your stove and reheat over medium heat. Throw in your sliced carrots and let the broth simmer for 20 minutes or so before serving so that the carrots are cooked through but not yet mushy.
Serve into individual bowls and garnish with white onion and Thai basil.
Aun has always loved food and travel, passions passed down to him from his parents. This foundation, plus a background in media, pushed him to start Chubby Hubby in 2005. He loves that this site allows him to write about the things he adores--food, style, travel, his wife and his three kids!