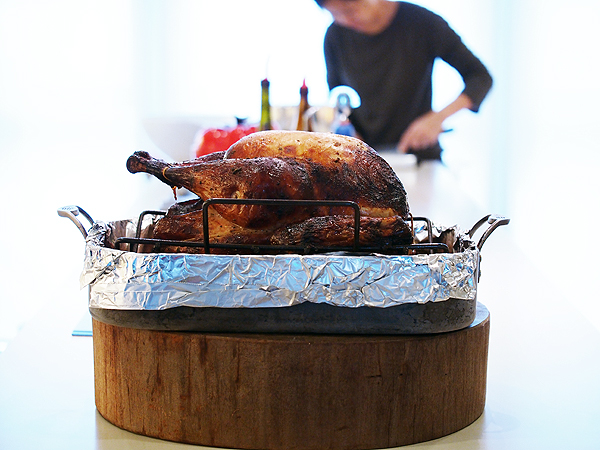 My brined turkey recipe arrives too late for this year, I know. I'm just quickly filing it away here while the memory of how it was made is fresh in my mind because this recipe, a variation on my friend Sujata's, is a keeper. Turkey has never been the highlight of Thanksgiving or Christmas feasting for me. It's almost always dry and often under flavoured. But more than a decade ago, when I tasted our good friend Sujata's brined turkey, I quickly realised that roast turkey doesn't always have to be stringy and sorely lacking in taste. Sujata's turkey was succulent and deliciously savoury. I was pleasantly surprised that I even enjoyed the white meat and didn't feel the need to douse it with gravy or cranberry sauce. I've since tasted a fair number of brined turkeys, but must confess that Sujata's remains the best.
Before she moved to Geneva some years ago, she gave me a copy of her recipe, which I carefully filed away. Along with it, I added a great 2-page brining primer I'd clipped from the November-December 2001 issue of Cook's Illustrated. Over the years, I've recommended Sujata's recipe to anyone I've met who has shown any interest in preparing a brined turkey. And every Thanksgiving and Christmas, I'd think about those three sheets of paper in my files. Yet, I'd never actually applied the information myself until this year. I guess I was a little afraid of missing the mark.
While brining takes time, in reality the magic happens with little effort on the cook's part. I find it quite liberating, actually, because it gives you a greater margin for error when it comes down to cooking your hunk of meat. I must say that I was very happy with the dark meat on our Christmas turkey. It was perfectly tender and juicy. (And I was rather pleased that my brother-in-law polished off a whole drumstick.) The only thing I'd change in this recipe is possibly the oven temperature. While my guests felt the white meat was exceptionally tender for turkey, it didn't match my memory of the splendidly moist white meat on Sujata's turkey—which I must confess I sorely miss now that we don't get to celebrate Thanksgiving together!
Brined Turkey
Largely guided by my friend Sujata's recipe, I added steps such as heating part of the brining liquid to ensure that the salt, honey and sugar would dissolve. I also increased the honey and sugar in the brine, and let the brined turkey sit uncovered in the fridge overnight to promote a crisp skin (based on advice from Cook's Illustrated). And in a nod to my mother's turkey roasting technique, I lay a slab of pork fat across the turkey breast to keep it moist and protect it from premature browning.
The turkey takes just 24 hours to brine. I made the brine about 3 days before I wanted to serve the turkey so that I could ensure that it was cool before I placed the turkey in it and still have an additional day after brining to leave the turkey sitting uncovered in the fridge for a crisp skin.
My 7.5kg turkey took 3 hours to roast. Allow another 30min for it to stand before carving.
Serves 10-12
1 turkey (8-9kg or 18-20lbs)
2 large onions, peeled and quartered
1 head of garlic, halved horizontally
20g (1 bunch) fresh thyme
10g (½ bunch) fresh sage
3 tbsp olive oil
1 tbsp freshly ground black pepper
1 tbsp chopped fresh thyme
1 tbsp chopped fresh sage
1 slab fatback (I ordered mine at Huber's)
720ml (3 cups) low-sodium chicken broth
Brine
7.5l water
550g coarse kosher salt or other coarse salt
325g (1 cup) honey
180g (1 cup) dark molasses sugar (I used Billingtons)
20g (1 bunch) fresh thyme
10g (½ bunch) fresh sage
12 large garlic cloves, peeled and bruised
2 tbsp coarsely crushed black peppercorns
2l ice cubes (meaning enough ice cubes to fill a 2l container)
Defrost your turkey well ahead of time. Mine took 3-4 days to defrost in the refrigerator.
Bring half the water to a boil in a pot large enough to contain all the brining liquid. Add the salt, honey and sugar. Stir until dissolved, top up with remaining water and set aside to cool. I basically did this before I went to bed and left it to cool overnight. The following morning, I placed the pot in the fridge so that the brine would be cold when I placed the turkey in it. Omit this step if it doesn't fit into your schedule.
Prepare a brining container that will accommodate both your turkey and the brining liquid comfortably. I lined a large plastic tub that we use for sous-vide cooking with two large plastic bags, one placed inside the other.
Unwrap the turkey, and remove the neck and giblets. Wash the turkey (including its cavity), neck and giblets well under hot running water. Refrigerate the neck and giblets for the stock you'll need for preparing the gravy.
Place the turkey in the prepared brining container. Add the thyme, sage, garlic and crushed peppercorns. Add the ice cubes then pour the brine over the turkey. Gather the bag up so that the turkey is immersed in brine, then tie to seal. Refrigerate for 24 hours.
Remove turkey from brine, drain well and pat dry (inside and out) using paper towels. Set on a rack placed over a rimmed baking sheet and refrigerate uncovered overnight.
Position oven rack in the lower third of the oven. Pre-heat (using the convection/fan setting) to 175° Celsius (350° Fahrenheit). I plan to try roasting it at 160° Celsius (325° Fahrenheit) next time around.
Stuff the turkey with the onions, garlic, thyme and sage. Combine the olive oil, pepper and chopped herbs to form a paste, then rub all over the outside of the turkey. Truss the turkey (I do it the same way I do a chicken following Jacques Pepin's sans needle technique, but use the method that works best for you). Insert a meat thermometer into the thickest part of one of the turkey's thighs. Place the turkey on a rack set inside a roasting pan, and insert it into the oven. Observe where the turkey is browning most and place fatback over that area. You may also wish to tent it loosely with foil if it is browning quickly elsewhere. Roast for 90minutes before removing fatback and pouring 240ml (1 cup) of broth over the turkey. Reposition the fatback and foil and return to the oven. Continue to baste with 240ml of broth every 30 minutes until the meat thermometer inserted into the thickest part of the turkey thigh registers 80° Celsius (175° Fahrenheit), about 2 hours longer. Transfer turkey to a carving block and whisk the pan away to be deglazed so that the roasting juices can go into your gravy. Discard the fatback. Remove the kitchen twine as well as the aromatics stuffed into the cavity and let the turkey stand for 30 minutes before carving it.
Su-Lyn is Aun's better half and for many years, the secret Editor behind this blog known to readers simply as S. Su-Lyn is an obsessive cook and critical eater whose two favourite pastimes are spending time with her three kids and spending time in the kitchen. She looks forward to combining the two in the years to come.