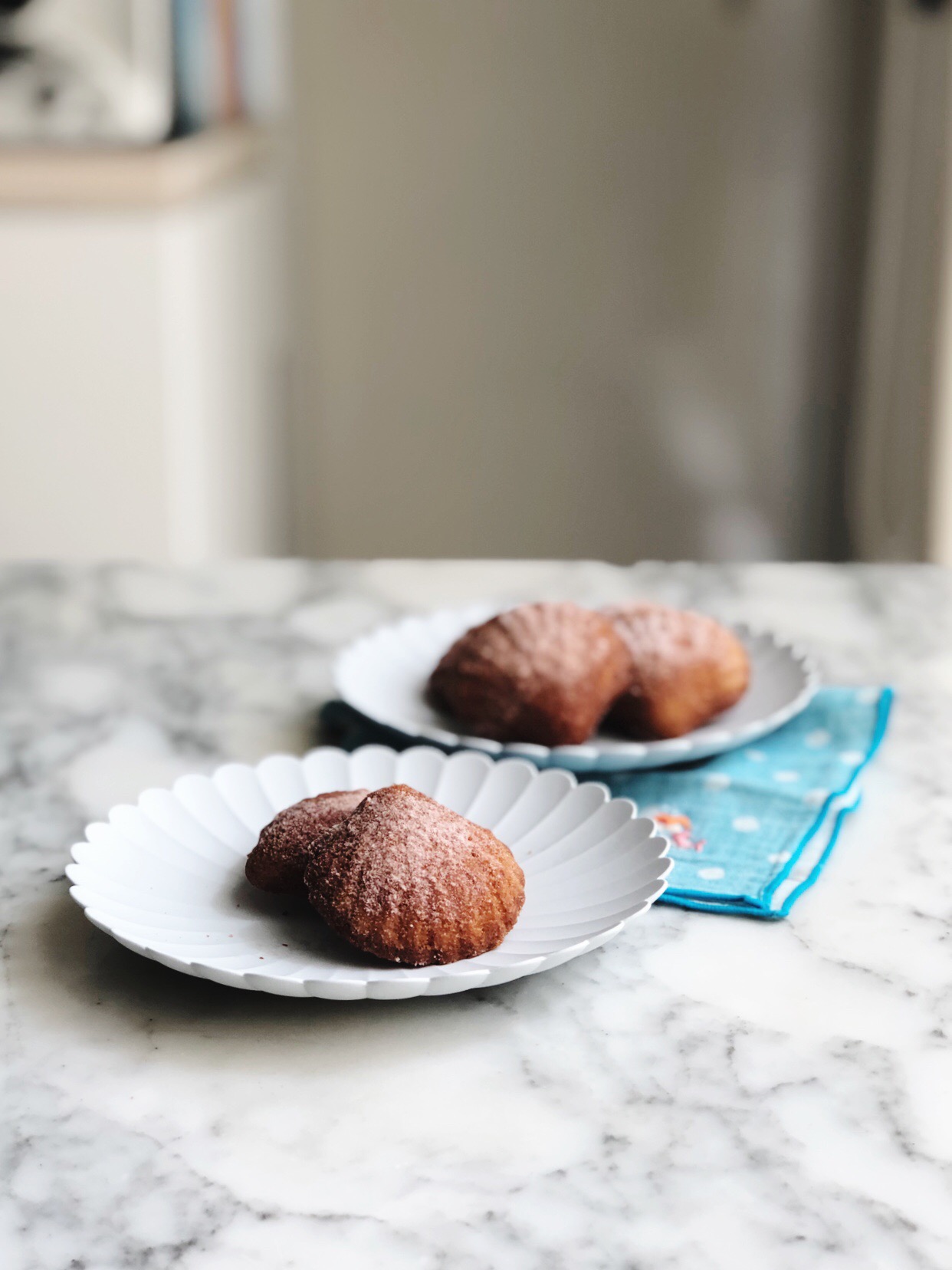 This recipe produces a classic iteration of the madeleine. The madeleines taste of buttery deliciousness and are moist bites that most children will adore. I love that this madeleine recipe is pretty forgiving and can be held in the refrigerator for a few days.
I most frequently add freshly grated lemon zest into ours, but it is also lovely scented with vanilla or even strawberry concentrate. If you prefer something savoury, check out our rosemary-parmesan mini madeleine recipe.
Your pans need to be meticulously brushed with melted butter and dusted with flour. I usually stash the trays in the freezer until I'm ready to portion out the batter and slip them into a pre-heated oven. For these recipe, I used three level No. 100 ice cream scoop portions (aim for the batter to stop just under the rim of the cavity) and only baked what I knew we were likely to consume immediately. You can pipe it if you prefer. I'm just obsessive about equal portion sizes and prefer using a scoop.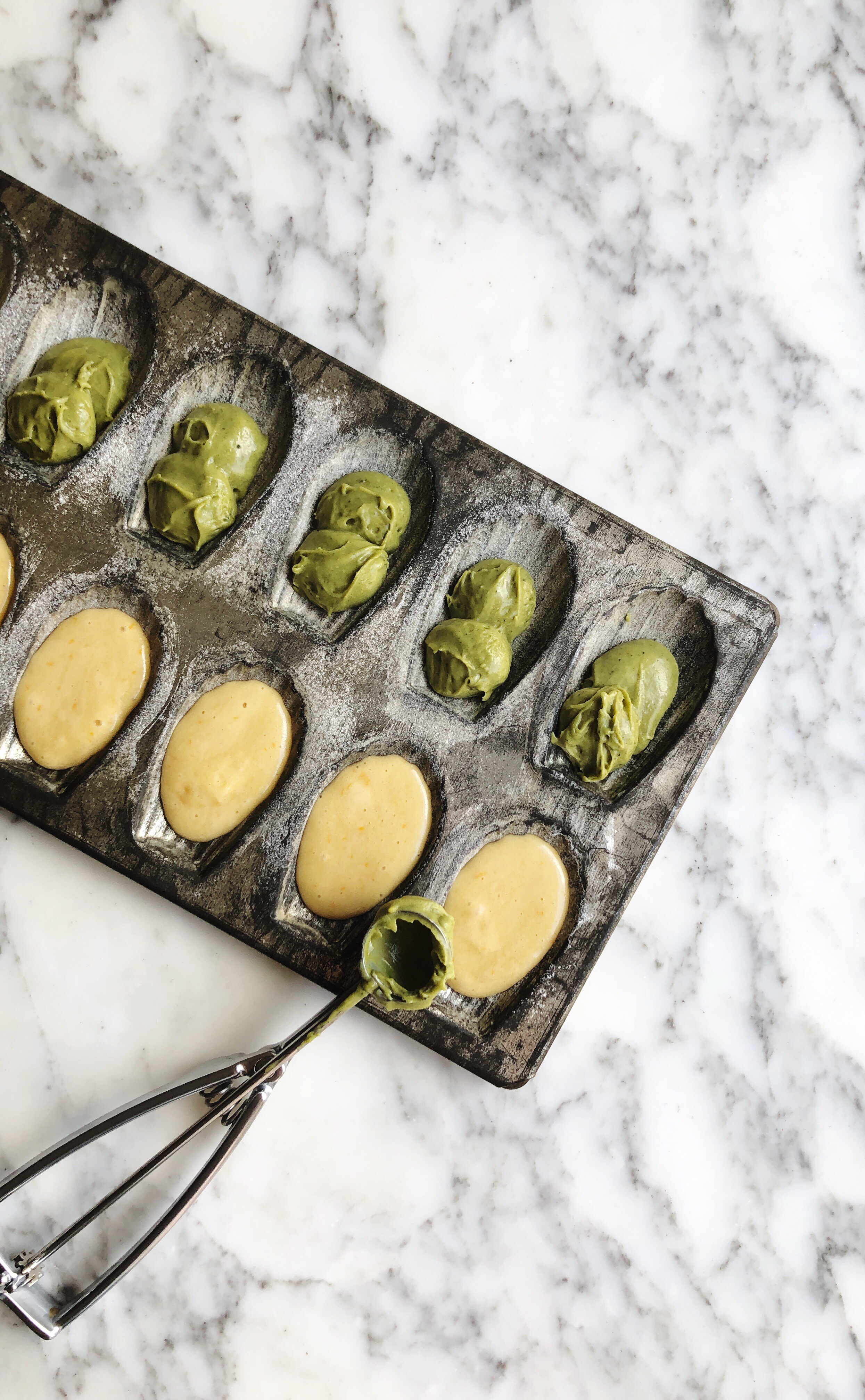 Watch your madeleines like a hawk as they bake. You don't want them to burn. Remove from the oven when they've achieved nice peaks and the edges have begun to brown. Invert onto a rack to cool. Serve warm.
Honey madeleines
Makes 15 madeleines
Ingredients
90g unsalted butter, cubed
20g (2 tsps) clear honey
90g plain flour
1/2 tsp baking powder
pinch of salt
2 large eggs, room temperature
75g caster sugar
10g soft brown sugar
1/4 tsp vanilla paste and zest of 1 lemon or 1/2 tsp strawberry concentrate
Instructions
Combine butter and honey in a small saucepan. Place over heat to melt. Set aside to cool.
Combine flour, baking powder and pinch of salt. Whisk to mix throughly.
Place the eggs in the mixing bowl of a cake mixer. Whisk for 30 seconds. Add sugars and whisk on medium speed for 5-8 minutes or until pale and thick.
Replace whisk with flat beater. Add flour mixture and beat until just incorporated. With the mixer running slowly, drizzle the butter and honey, vanilla and lemon zest or other flavouring into the bowl. Beat until smooth. Cover the bowl with cling wrap and refrigerate for at least 3 hours or overnight.
Grease and flour madeleine pan(s). Place in the freezer.
Preheat the oven to 180 degrees Celsius on convection setting. Fill each madeleine cavity with three level No. 100 ice cream scoops of batter or until batter reaches just under the rim. Place in the oven and bake for 10-15 minutes or until the madeleine edges are golden brown and are starting to pull away from the sides. Remove from the oven and carefully unmold the cakes to cool. I use a cake tester to gently lift them. Serve warm.
Su-Lyn is Aun's better half and for many years, the secret Editor behind this blog known to readers simply as S. Su-Lyn is an obsessive cook and critical eater whose two favourite pastimes are spending time with her three kids and spending time in the kitchen. She looks forward to combining the two in the years to come.