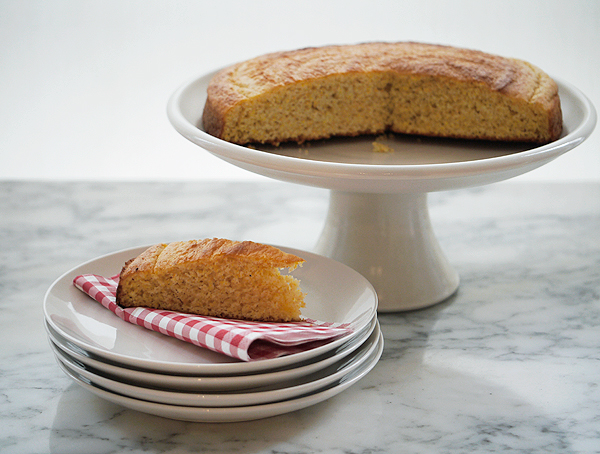 I thought I'd share this splendidly simple cornbread recipe just in case anyone happens to need one for Thanksgiving dinner (although this cornbread is so irresistible that I know that this recipe will going onto my regular, rather than special occasion, baking list). When I tested the recipe earlier in the week, I immediately knew it was a winner because my toddler, T demanded for seconds and was chasing me around the dining table for my slice of cornbread.
In our household, we like our cornbread yellow, light and fluffy–like corn cake or muffins–and with a distinct touch of sweetness. We've since discovered (thanks to the wonderful editors at Cook's Illustrated) that what we prefer is Northern cornbread. Cornbread of the South tends to be made with white cornmeal and contains only trace amounts of flour, if any is used at all. It's thin, crusty and more savoury than sweet. The Northern cornbread recipe below is adapted from The Best Recipe, written by the editors of Cook's Illustrated. I cannot recommend this book enough. We love it. If you happen to prefer Southern cornbread, there's a recipe for it in the book, too.
Happy Thanksgiving!
Cornbread
Adapted from The Best Recipe. To make bacon and cheddar cornbread, fry 110g of finely diced bacon until brown and crisp. Drain and cool. Fold bacon and 50g grated cheddar into the batter after you have stirred in the butter.
Makes a 23cm (9inch) square or round
145g stone-ground yellow cornmeal (I use Bob's Red Mill Fine Grind Cornmeal which is whole grain and stone-ground)
145g all-purpose flour
2 tsp baking powder
½ tsp baking soda
4 tsp castor sugar
½ tsp fine sea salt
2 large eggs
160ml (⅔ cup) buttermilk
160ml (⅔ cup) whole milk
30g unsalted butter, melted
Place your oven rack in the centre position and preheat the oven to 210° Celsius using the convection (fan) setting. Grease a 23cm square or round cake pan. I used a springform pan.
Place the cornmeal, all-purpose flour, baking powder, baking soda, sugar and salt in a deep bowl. Whisk to combine. Then form a well in the middle of the dry ingredients.
Crack the eggs into the well and stir lightly with a wooden spoon. Add buttermilk and milk, and stir briefly until almost combined. Add melted butter and stir until just combined. Do not overwork the batter.
Pour batter into greased pan (it will be very wet) and bake until the top is golden brown and lightly cracked. The edges should have pulled away from the sides of the pan, about 25 minutes.
Place the pan on a rack and let it cool for 5-10 minutes before removing the cornbread. Slice and serve warm.
Su-Lyn is Aun's better half and for many years, the secret Editor behind this blog known to readers simply as S. Su-Lyn is an obsessive cook and critical eater whose two favourite pastimes are spending time with her three kids and spending time in the kitchen. She looks forward to combining the two in the years to come.