This kaya ice cream is awesome served with French toast and drizzled with salted caramel. It would also work well with a toasted coconut pound cake or pandan cake. But of late, it has been so blisteringly hot that a simple scoop of ice cream in a cone thrills me to bits. Here, it's topped with homemade granola and lashings of condensed milk soy caramel (recipe coming soon).
We always have ice cream in our freezer. There are so many things you can do with a tub of vanilla ice cream, for example. Enjoy it on its own; top it with espresso (for an affogato), or root beer or cola (for an ice cream float); whizz it with milk (for a milkshake); sandwich it between choc chip cookies; serve it with a slice of cake. The possibilities are endless.
Imagine what you could do if you had with a range of flavours to play with. I occasionally get into a kitchen-frenzy and bang out a whole a stash in a bunch of flavours. I keep kid-friendly options like strawberry and vanilla on hand along with more crowd pleasing grown up flavours.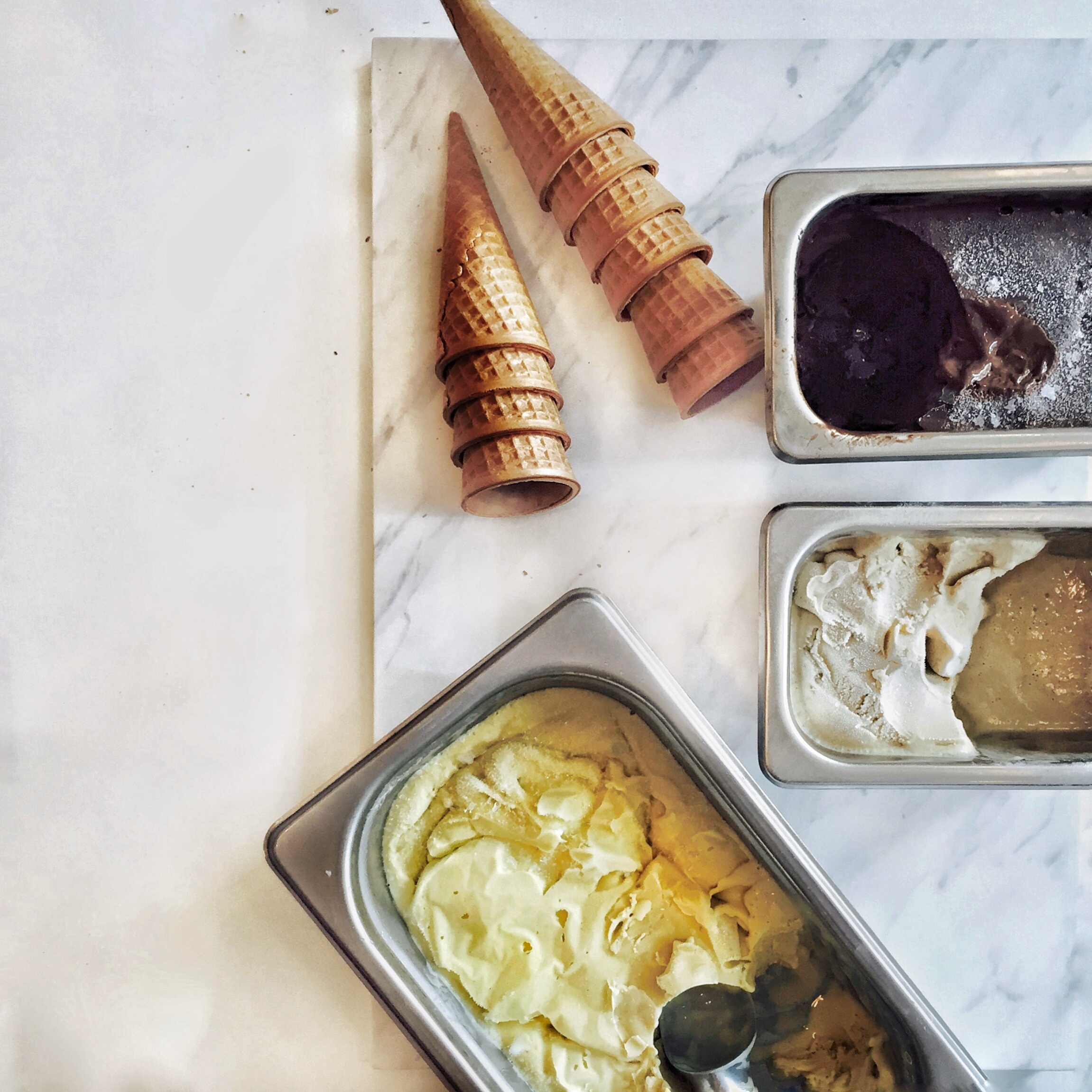 This is my current favourite, which is inspired by a Singapore breakfast staple, kaya (a jam made of coconut milk, eggs and sugar). The ingredients that go into this ice cream are similar to the ones that go into kaya. I use fresh pasteurized coconut milk I buy at Tekka Market (primarily because I just don't have the time to make it the old fashioned way), egg yolks, gula Melaka (palm sugar; I like getting mine from Malacca or Indonesia) and fresh pandan leaves (this grows relatively easily in Singapore and I keep a pot of it sitting on our fire escape). Additional coconut cream powder (I use both Kara and Santan which come in 50g packets) intensifies the rich coconut flavour and light corn syrup and invert sugar (in addition to the egg yolks) help to maintain scoop-ability even after it has been chucked into the freezer. Because the flavour of pandan leaves (old versus young leaves, for example) varies, do feel free to adjust the number of leaves you use to your personal taste.
If you have a Thermomix, it's just a matter of measuring out the ingredients and in 10 minutes you'll have your creme anglaise. Truthfully, I'm slowly falling in love with our Thermomix. It gives me another level of kitchen efficiency that I've hitherto never been able to achieve. But I've also included my preferred stovetop method.
Kaya Ice Cream
Makes about 1 litre
500g coconut milk
220g whipping cream
50g (7tbs) coconut cream powder
35g (2tbs) light corn syrup
100g gula Melaka, grated
4 pandan leaves (cut into 1cm lengths) or to taste
8 large egg yolks
20g (4tsp) invert sugar*
100g castor sugar
1/4 tsp sea salt flakes
*Invert sugar (makes about 400ml)
450g castor sugar
225g water
2 tsp freshly squeezed lemon juice
To make invert sugar, combine the ingredients in a small saucepan. Bring to a boil over high heat then simmer for 30 minutes. There should be no hint of acidity in the mixture by this point. Set aside to cool completely before using. Store in the fridge.
To make ice cream, combine the coconut milk, whipping cream, coconut cream powder, corn syrup and gula Melaka in a saucepan. Whisk to dissolve coconut cream powder. Add the pandan leaves then bring to a simmer. Remove from the heat and set aside, covered, to cool. Refrigerate overnight.
Bring the infused milk and cream mixture to a simmer once again. In the meantime, whisk the yolks, invert sugar, castor sugar and salt in a heatproof bowl until pale yellow.
When the milk and cream mixture is simmering, remove the pan from the heat and gradually whisk about 1 cup of it into the egg yolks to temper them (about 1 min). Scrape it back into the remaining milk and cream mixture in the saucepan and cook, stirring constantly, until the mixture reaches 80° Celsius (175° Fahrenheit). You'll know it's close to done when the colour of the foam on the surface turns the same colour as the mixture, and the mixture coats the back of a wooden spoon. But it's best to use a thermometer.
If using a Thermomix, combine all the ingredients in the machine. Process for 20 seconds at speed 9. Then process for 10 minutes, 80° Celsius at speed 4.
Strain into a medium bowl set in an ice bath (I personally like using a tall metal container set in an ice bath). Return the pandan leaves (with the Thermomix, the leaves will be finely chopped) to the ice cream base. Stir the base frequently and allow it to cool completely.
Cover with cling wrap placed directly on the surface of the ice cream base and refrigerate overnight.
When ready to churn the ice cream base, strain to remove the pandan leaves. Mix thoroughly with an immersion or stick blender then churn following the instructions accompanying your ice cream maker. Transfer into a container and freeze for at least 2 hours before serving.
Su-Lyn is Aun's better half and for many years, the secret Editor behind this blog known to readers simply as S. Su-Lyn is an obsessive cook and critical eater whose two favourite pastimes are spending time with her three kids and spending time in the kitchen. She looks forward to combining the two in the years to come.