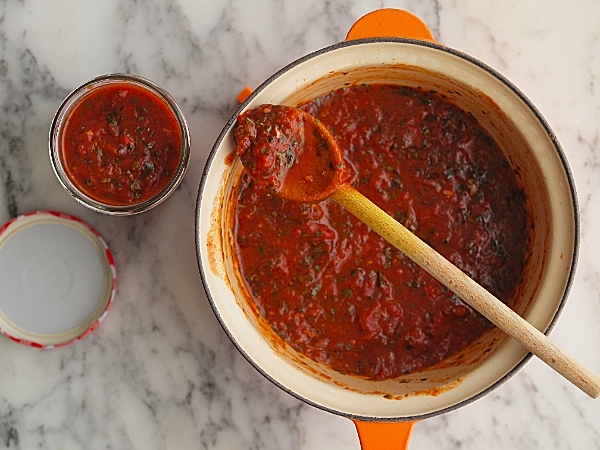 You'll ditch store-bought options once you realise how little it takes to make a seriously yummy tomato sauce of your own! This is my favourite tomato sauce recipe. It's easy to make, incredibly tasty and relatively inexpensive. I'm a firm believer of layering flavours. And with a jar of this tomato sauce sitting in the fridge or freezer, part of the work of throwing a meal together is already done.
I like that this sauce still manages to retain the fresh flavours of basil after sitting in the back of my fridge for a week. The addition of red wine vinegar perks it up and helps it sustain its pizzazz and, depending on my mood, I add a little more or a little less fire to it with my choice of red chilli. I also really enjoy its rustic texture (I chop it up in the pot using the edge of my wooden spoon). Finally, the generous glug of the best extra virgin olive oil I have on hand that goes into the tomato sauce when it's done gives it a generous and easy refinement. There's nothing uptight or overly precise about throwing this tomato sauce together. That's the whole fun of it. I often have it simmering on the stove while I work on my computer in the kitchen.
And once you're done, there are so many ways to enjoy this tomato sauce. In our household, it's primarily used in pizzas. My toddler, T (and CH, actually) likes it tempered with béchamel and buried under cheese. I like enhancing its natural umami by pairing it with lashings of cheese as well as good salami and some mushroom duxelles (preferably an iteration that has been given extra oomph with the addition of dried porcini). It's just as magical layered into lasagne or tossed into a pasta sauce (especially if you make your own pasta). Both will taste like you've slaved over them for hours, rather than mere minutes. I'd use a hint of it to add flavour and colour to fried rice. And it works as a sauce for steak if your taste preferences fly in that direction. Why, it works pretty well in a burger, too!
Homemade Tomato Sauce
Adapted from a Jamie Oliver recipe.
Makes about 600ml of sauce
1-2 cloves garlic, peeled and finely chopped
2 tbs olive oil
1 fresh red chilli, deseeded and finely chopped (I like using a chilli padi) or small dried chilli, crumbled (adjust to taste)
1 tbs fresh oregano, chopped or 2 tsp dried oregano
2 X 400g tins of Italian plum tomatoes (cherry tomatoes are also nice)
1 tbs red wine vinegar (I like the one from Hediard)
1 handful fresh basil leaves, roughly chopped
salt and freshly ground pepper to taste
2-3 tbs extra virgin olive oil
Fry the garlic with the olive oil in a heavy-bottomed pan placed over medium-high heat. (A cast iron lined with enamel is ideal; aluminum will react with the tomatoes, leading to bitter flavours developing.) Once the garlic starts to release its aroma, add the chilli, oregano and tomatoes. Stir gently without breaking up the tomatoes. According to Jamie Oliver, this prevents the pips from causing the sauce to taste slightly bitter. Bring to the boil and simmer for about an hour. Add the vinegar, then stir and chop up the tomatoes in the sauce. I continue to simmer the sauce until it achieves the thick consistency that covers the back of a wooden spoon, which I prefer. Add the fresh basil, season to taste and add extra virgin olive oil. Keeps refrigerated for up to 1 week. Stores in the freezer for a couple of months.
Su-Lyn is Aun's better half and for many years, the secret Editor behind this blog known to readers simply as S. Su-Lyn is an obsessive cook and critical eater whose two favourite pastimes are spending time with her three kids and spending time in the kitchen. She looks forward to combining the two in the years to come.