For the longest time, chard was just something I'd only read about in cookbooks. It was one of those mythical vegetables that I knew of, but never felt was truly part of my culinary repertoire primarily because it wasn't something I could easily pick up at the wet market or supermarket. In other words, it was a vegetable I could live without. That all changed when we recently received an organic Farm Box from SuperNature.
The box was chock full of gorgeous rainbow chard, dandelion greens and kale, as well as other more familiar seasonal vegetal delights like cauliflower and okra (organic okra is a bit of a flavour revelation). For a fortnight, I was challenged—Mystery Box-style—to incorporate them into our daily meals since some of the vegetables we received do not make regular appearances in my shopping basket. It was fun. I attempted new recipes, revisited old favourites, and tweaked some weekly standards. For example, I discovered that chopped kale thrown into Bolognese is an easy and tasty way of incorporating this wonderfully nutritious green into the family menu. I also stumbled upon a great recipe for cauliflower gratin that I'm looking forward to sharing with you soon. But the recipe that has turned me into a chard fan has to be this lamb stew from Sam and Sam Clark's Casa Moro. In fact, I promptly returned to SuperNature and bought more rainbow chard to make this dish again!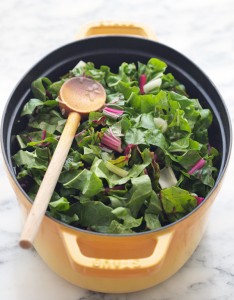 Restaurateur-chefs Samuel and Samantha Clark, who opened Moorish restaurant Moro in London in 1997, call this stew mutumma in their second cookbook. It was something one of their chefs, whose father is Algerian, taught them to make and which appeared on their early menus. It is a heavenly hearty dish that encircles you like the warmth of a soft, chunky cable knit sweater in the thick of winter. Filled with beans, chard and fresh coriander in addition to the tender hunks of lamb, it is a meal in itself. Much like my other favourite, the French cassoulet, all you might want to have with it is a little bread. We've made it quite a number of times in the past, substituting purple Chinese spinach for chard (don't ask me why) since we couldn't find chard, and grew quite fond of that incarnation. However, using chard instead of Chinese spinach transformed the finished dish quite entirely. You'll notice that no stock or water is added to the stew. It cooks entirely in the liquids generated by the ingredients. The rainbow chard gives it an enchanting savouriness and fullness of body that I adore. I would never go back to making this dish without chard. But I will certainly be making it over and over again whenever I can get my hands on some! Especially since it's remarkably easy to prepare.
I must say that after I worked my way through the Farm Box, I checked out SuperNature's range of Farm Boxes and quickly came to the conclusion that while I love sending flowers, a boxful of organic vegetables or fruit might be an equally welcome hostess' gift!
Lamb Stew with Chard, White Beans & Coriander
Based on the mutumma recipe in Casa Moro by Sam & Sam Clark.
Serves 4
1kg boneless lamb shank or a stewing cut, cut into 4cm cubes. I sometimes buy a shoulder and cube it myself.
1-2 large bunches of fresh coriander, leaves and stalks chopped, but kept separate. You have to eyeball this as the size of bunches vary. It also depends on how much you love coriander!
½ medium onion, grated
3 garlic cloves, thinly sliced
3 tbs olive oil
2 tsp sweet paprika
1 tsp hot paprika
750g chard, cut into 2cm pieces
500g canned cannellini beans
salt and pepper
Place all the ingredients except the leafy parts of the coriander, half the chard and all of the beans in a large cast iron pot. Cover with a tight-fitting lid and simmer over low heat until the meat is tender (about 2½ to 3 hours or more). Only add a little water if the stew becomes a little dry. I've never had to. Add the coriander leaves (as much or as little as you like, the recipe calls for half the leaves, we often use almost all of it), the remaining chard and the beans. Cook for 20 minutes, season to taste then serve immediately.
Su-Lyn is Aun's better half and for many years, the secret Editor behind this blog known to readers simply as S. Su-Lyn is an obsessive cook and critical eater whose two favourite pastimes are spending time with her three kids and spending time in the kitchen. She looks forward to combining the two in the years to come.