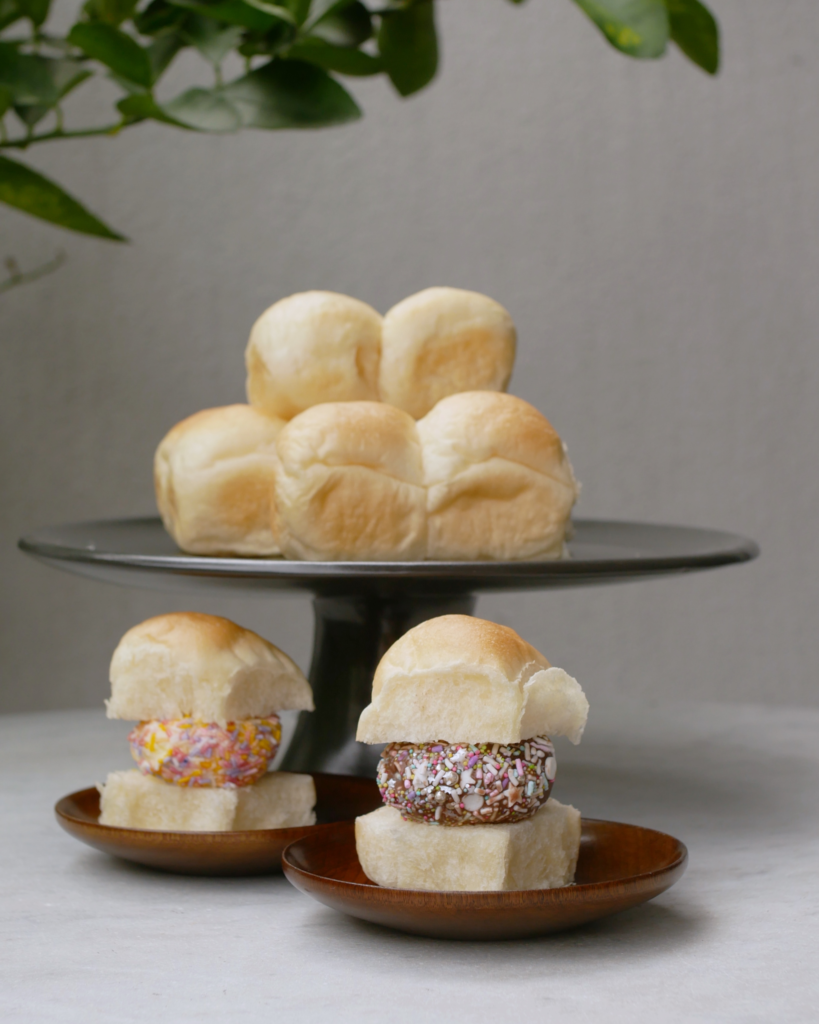 This is the simplest soft milk buns recipe ever. There are plenty of recipes for Japanese soft milk buns or bread rolls online. The ingredients I use are identical to that of popular You Tube channel Cook Kafemaru's recipe for soft and fluffy milk bread. However, I make mine in either a bread machine (my preference as it's a time saver) or a kitchen stand mixer. If you plan on making milk buns by hand, please refer to the Cook Kafemaru recipe.
These buns call for ingredients that you're likely to already have in your kitchen. And if you have a bread machine, the dough for these soft milk buns takes absolutely no effort to put together. It takes the guess work out of bread making if you're new to it. I just remove the ball of dough after its first proofing in the bread machine and roll it into 16 smaller balls. The second proofing happens in loaf pans before they're baked in the oven.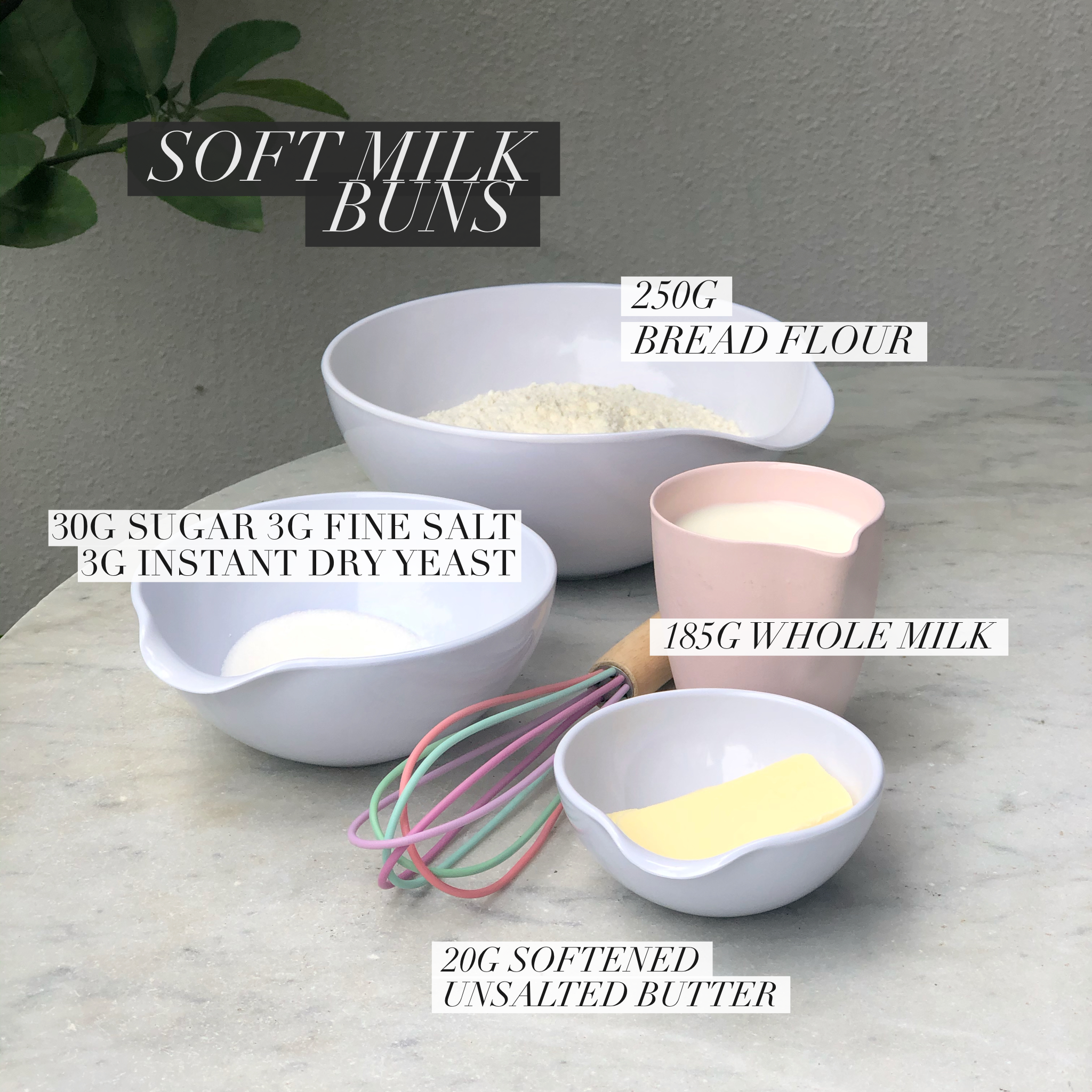 I started off trying to master making small, pale, fluffy buns because I was trying to create lunch box stuffers inspired by Kokoma's adorable creations. These little soft milk buns are perfectly portioned for children and make fabulous buns for sliders (shape them a little larger to yield 12 buns for this purpose). My kids love eating them with cocktail sausages in the morning (yes, processed meat) and scoops of ice cream after dinner.
The remarkably tender crumb of these soft milk buns reminds me of the sweet buns and breads I grew up eating (the rest of the world calls these Asian-style breads). They're perfect with a generous wodge of cold salted butter and a slathering of kaya. I bet they'd be awesome stuffed with a slice of pan fried luncheon meat, too.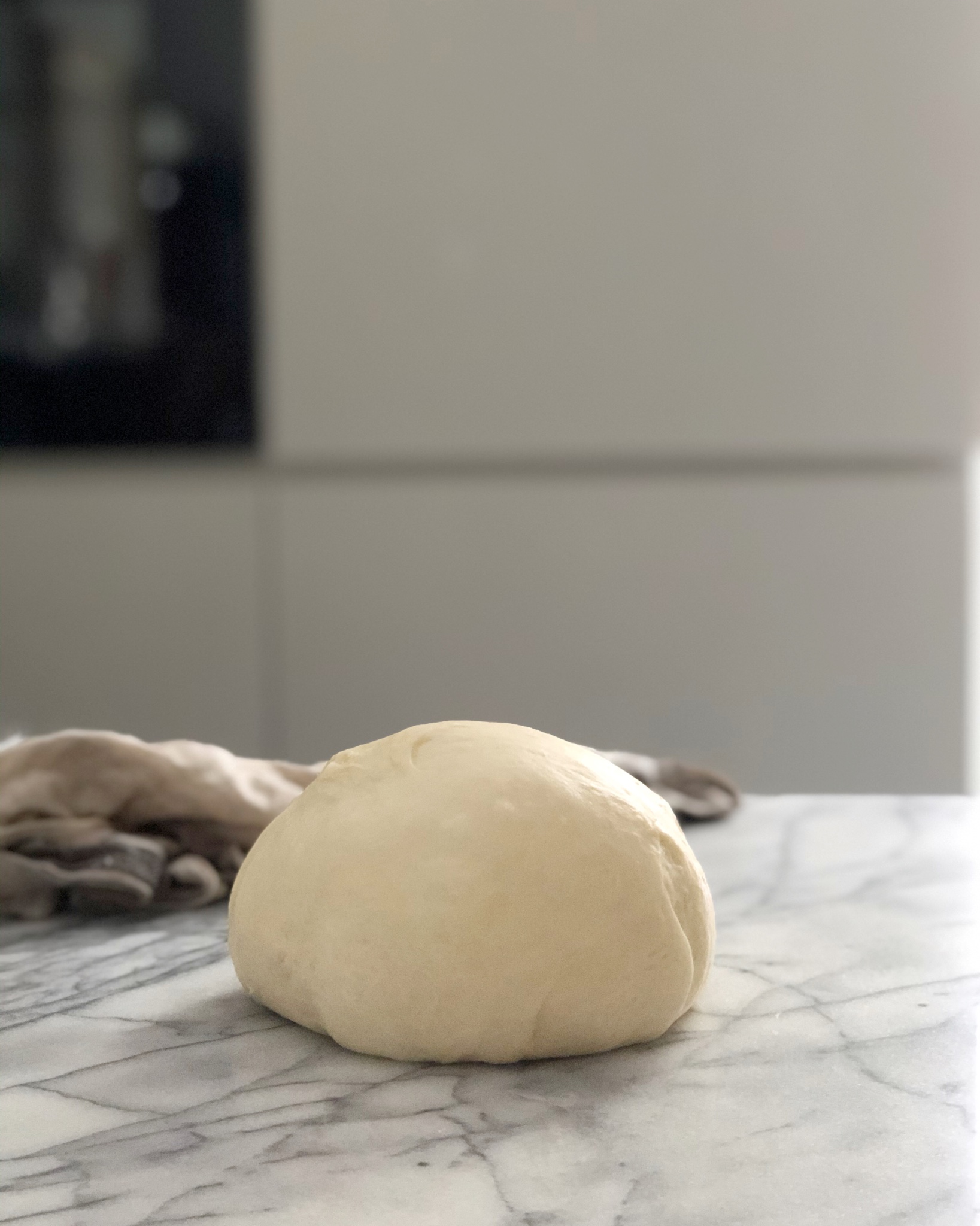 I've included instructions for making these soft milk buns using a kitchen stand mixer if you don't have a bread machine. They can also be made by hand, but you'll need to be prepared to invest a good deal of elbow grease and patience to do this (@rosalindsk has a great series of videos on her IG Stories Highlights on bread kneading. She talks specifically about hand kneading soft milk buns). This high hydration dough is very sticky. I haven't attempted it myself, but this dough can probably be made in your food processor or blender if you are already familiar with making doughs in your machine.
Watch this video to understand the visual clues that indicate when a high hydration dough is ready to be portioned for pre-shaping and how it needs to be handled. Resist the urge to dust it with more flour. The video demonstrates the technique with large boules, but at the final shaping of these soft milk buns, I flatten the dough in a similar manner, perform the business letter/envelope fold and roll the dough up again before I tuck it into a ball. This Chef Steps video offers a good visual explanation for how the bun should be tucked into a ball at the final step before you proof it for the second time.
Also check out the Instagram Stories Highlights for Soft Buns FAQs over at @mummy.3xplorers. She has shared some great videos and tips specific to this recipe. If you're new to baking bread, @mummy.3xplorers also has a series of handy posts to help you understand some of the variables that may affect your results. 
Some considerations
Maintaining the percentage of hydration in this recipe is vital. Avoid adding more flour to reduce stickiness as this will not yield light fluffy buns. Try oiling your fingers and rolling pin instead.
Try to make these soft milk buns in a cool kitchen. I tend to prepare them at night or in an air-conditioned space.
Also avoid making them on an extremely humid day. I suspect that making this in an outdoor tropical kitchen will present issues. I know that when I make them on a warm, humid afternoon here in Singapore, the texture is affected. If you work in an air-conditioned space, then this isn't an issue. 
If you prefer to eyeball your ingredients, this isn't the recipe for you. Precise measurements are what ensures consistent results with this specific recipe. I use a weighing scale that is accurate to 0.1g because the percentage of liquids in this recipe is finely balanced. When I have been less conscientious and let a couple of extra grams of milk find their way into the dough, I've noticed that the texture of the dough gets thrown off and can become impossible to work with.
This is a mom tip from @mummy.3xplorers. Once you work out how to make these buns (and especially if you're doing this by hand or with a kitchen stand mixer), it helps to note down the amount of time it takes for you to mix and knead the dough. It increases your chances of reproducing the buns with your equipment and in your kitchen every single time. Plus, if you're using a stand mixer, it frees you up to tackle another task. But don't leave your machine unattended.
If the yield of 16 buns is too large for your family, bake just half the dough balls and hold the second half tightly wrapped in cling wrap in the refrigerator. Refer to my note below for more details on how you can do this.
I tend to gravitate towards efficient recipes that yield tasty results which I know will appeal to most of my family members. My schedule doesn't allow for protracted active time in the kitchen, so these days I tend to only cook to nourish rather than to entertain.  To achieve predictable outcomes every time I attempt to make these soft milk buns, I count on precise measurements (and reliable equipment). This is why my recipes are tiresomely detailed.
Once you understand the necessary steps, preparing these soft milk buns become incredibly easy. I weigh the ingredients and pop them into the bread machine before my children's bedtime. The rest of the baking process happens in-between the work and housework I tend to toggle between at night. It's uplifting to work to the scent of freshly baked bread in the air.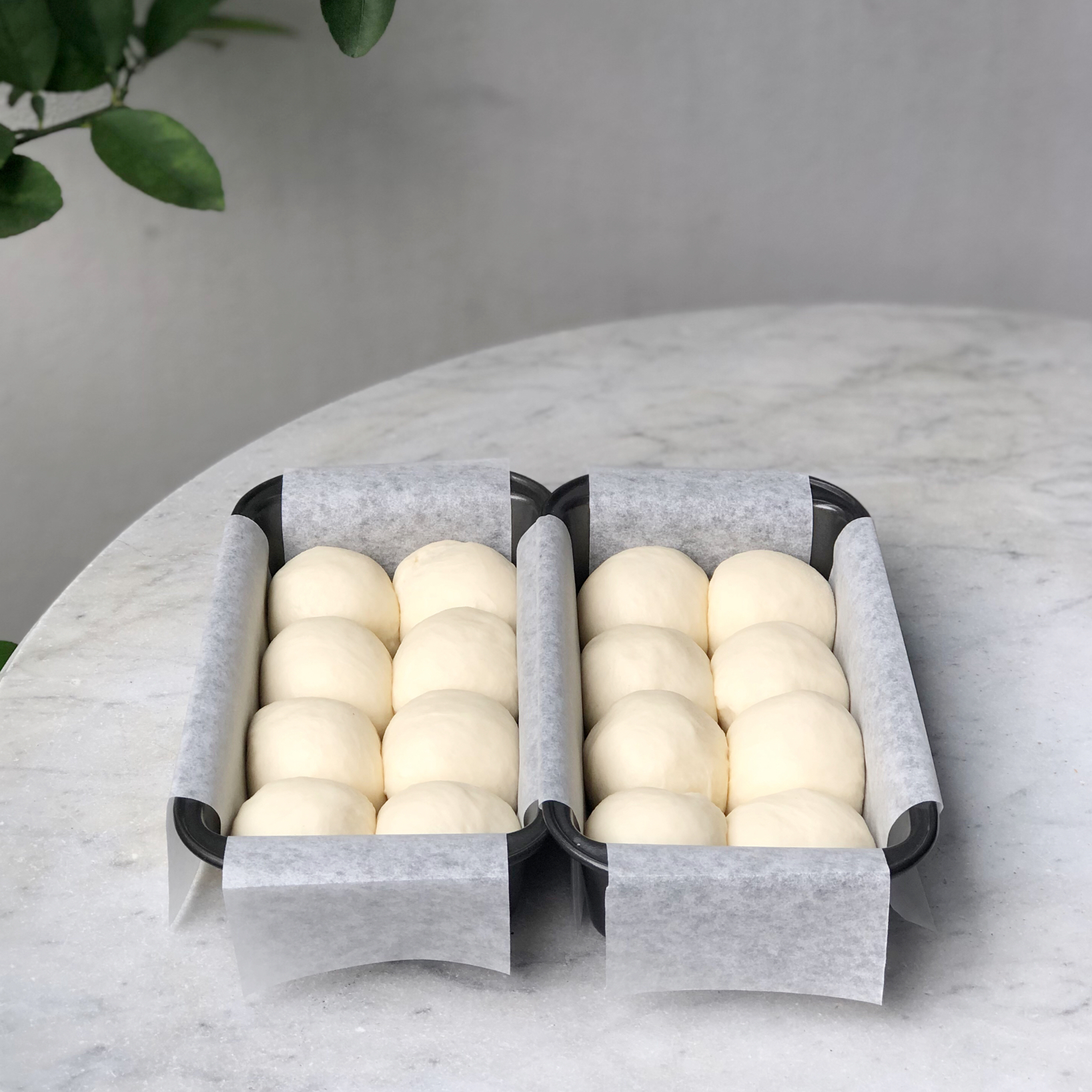 Soft milk buns
Makes 16 small buns
Ingredients
250g bread flour 
30g castor sugar
3g fine salt
3g instant dry yeast
185g cold whole milk
20g unsalted butter, softened
Bread machine dough setting method
Place all the dry ingredients in the bread machine bowl. Whisk to combine. Add the butter and milk. Activate the dough kneading function. My machine's dough function takes the dough through to its first proof.
[UPDATE: Prima or Redman type bread flour seems to work best when using this method.
If you find that the dough is very sticky after doing this, you might want to consider the following steps in the bread machine:
Place all the DRY ingredients in the bread machine bowl (i.e. hold back the butter). Whisk to combine. Add milk. Activate a dough kneading function that does not include proofing. 
My machine has a cookie and pasta dough kneading setting. It kneads for a total of 13 minutes.
When the kneading is done, make a well in the dough and insert the butter. Knead again. I activate the bread kneading function that runs for 1 hour 45 minutes for this second kneading step. It includes proofing.
Alternatively, you can opt to knead your dough the second time without proofing in the machine. Remove it at the end of the second 13 minute cycle, place in an oiled bowl and cover tightly with cling wrap or a damp towel. Leave it to rise until it doubles (about 40 minutes to 1 hour).]
Kitchen stand mixer method
(NOTE: This method is preferable if you're using harder to find specialty, organic or artisanal bread flours.)
Place bread flour, sugar, salt and instant dry yeast in the bowl of your stand mixer. Whisk to combine.
Add milk. Combine using the dough hook on low. Increase to medium-low speed until dough passes the windowpane test (approximately 10 minutes). You'll know you're on the right track when the pool of sticky dough at the base of the bowl eventually gets incorporated and the dough starts slapping the sides of bowl. Resist the urge to add more flour.
[NOTE: On the subject of the windowpane test we can run the risk of overworking the dough, too. I have gone up to 18 minutes prior to adding the butter myself. This isn't necessary. And you may end up with an impossibly gloopy dough.
Based on multiple bakers' feedback, 10 minutes is a reasonable guideline. You may find it useful to watch this video 揉面技巧 Dough Kneading Techniques on this subject.]
Once you've achieved your window pane, make a well in the ball of dough. Insert butter and wrap it up so that the butter is encased in dough (or not, you can opt to dump it all in — whatever works best for you). Continue working it using the dough hook on medium-low speed, scraping down the sides of the bowl regularly, until it becomes a smooth ball (about 2-3 minutes). There is no need to test for windowpane again.
You'll know you're on the right track when the pool of sticky dough at the base of the bowl eventually gets incorporated again and the dough starts slapping the sides of bowl. Do not add more flour. You're done when the butter is incorporated and the dough comes together.
The dough may feel like a gloopy ball of slime — sticky, forming stretchy strands when extended, but still one piece of dough.
[Note: Food processor/blender short-cut. If you are familiar with preparing bread doughs in your food processor or blender, you can probably use it to get you up to this step.
I hesitate to do this because the friction does impact a high hydration dough of this nature. It may mean that you need to add extra steps to autolyse the flour and water first, or refrigerate the dough in between. I try to avoid recipes that extend the process. But feel free to explore this if you like.]
Shape dough into a smooth ball (the dough will still be tacky, but smooth and elastic). Lightly oiling your hands helps with handling. I like using the gather up technique illustrated at the end of this post to shape the dough.
Drizzle the same mixer bowl with a touch of oil if necessary. Set the dough inside the bowl. Cover with a damp towel or cling wrap. Set aside in a warm place until the dough doubles in size (around 1 hour).
Second proofing (same for both methods)
Note: My bread machine completes the first proof within its dough program.
Transfer the dough onto a clean surface (do not dust with flour) and gently flatten the dough with your fingertips to deflate. Oil your finger tips if needed to help make handling the dough more manageable.
Divide into 16 equal pieces using a pastry cutter (weighing the dough ensures that they're the same size). Each ball of dough should weigh close to 30g. 
Pre-shape
Shape into taut balls (explanation of technique here). Use the pastry cutter to lift the dough cleanly off your work surface if necessary. Resist dusting with flour. If need be, oil your fingers. Cover with a damp cloth or cling wrap and set aside for 15 minutes.
Bakers do this to give the gluten time to relax, making the dough easier to roll out and shape after.  In the meantime, line two pound cake tins (base measuring 7.5 by 3.5 inches) or one square baking pan (ideally 8 inches) with baking paper.
Shape
Flatten each ball into a disc to release trapped gas (I use a small rolling pin. You'll hear squeaks as the gas is released). Then reshape the dough into a taut ball. Pinch to seal.
Line up eight balls in two rows of four balls in each pound cake tin or place them in a four-by-four grid in a square baking pan (8-inch). You can also divide the original dough mass into nine equal balls. They also fit nicely into an 8-inch square baking pan. 
Cover with a damp cloth or cling wrap and set aside until the dough balls double in size (approximately an hour). If you oven has a dough proofing function, this time can be reduced significantly. 
[Note: Bake it later. You can opt to wrap the pan/s in cling wrap and pop them into the fridge for a slow rise and bake them at another time (I've only ever held them this way for about 12 hours). Here's a link on retarding bread dough. I bring the dough back to room temperature before baking (but some people seem to just leave it out for as long as it takes for their ovens to pre-heat).
In my personal experience, the dough balls may look like they've collapsed into themselves. Once they've reached room temperature, they should have smooth domes.]
To bake
Preheat the oven to 150 degrees Celsius using the convection (fan) setting. 
You can gently brush the tops of the dough with your preferred bread wash. I keep mine bare because I want aim for the palest crust. My kids like to draw faces on these buns using a food marker.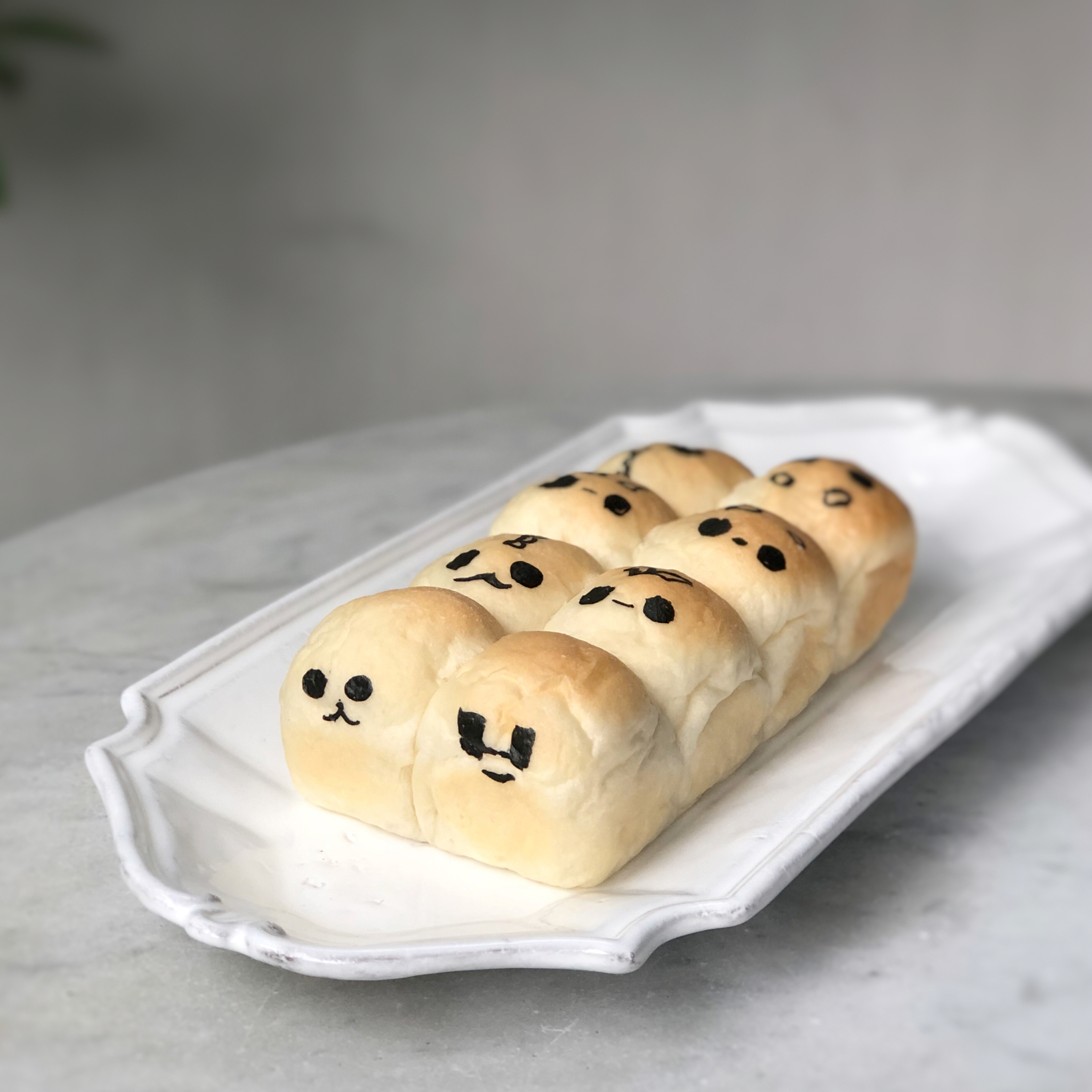 If your oven has a moisture function for bread baking, activate it at the start of the baking process to inject a burst of steam into the oven cavity. This enhances the dough's final rise in the oven.
Bake for 17min. The tops of the buns should only just begin to brown a little. If you prefer your buns a little more browned, adjust the baking time. 
Cool in baking pan placed on a rack for 15 minutes. Remove and place directly on a wire rack to cool further. Gently pull buns apart and enjoy.
Su-Lyn is Aun's better half and for many years, the secret Editor behind this blog known to readers simply as S. Su-Lyn is an obsessive cook and critical eater whose two favourite pastimes are spending time with her three kids and spending time in the kitchen. She looks forward to combining the two in the years to come.