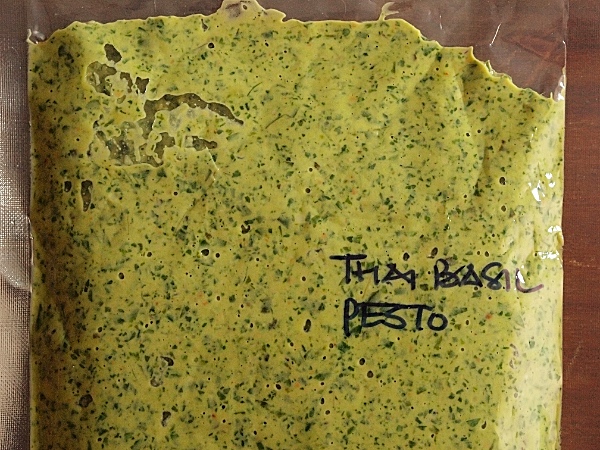 I make this Thai basil laksa leaf pesto in large batches when we have to prune our Thai basil and laksa leaf (Vietnamese mint) plants. It doesn't contain any cheese, but the fish sauce (I like Red Boat) provides the umami kick that you'd otherwise get from the parmesan in a traditional pesto. I store some in the fridge and freeze the rest so that there's always some close at hand.
For very little effort, this simple Thai basil laksa leaf pesto adds an instant party of flavours to pastas and noodles, stir-fries (prawns, squid, fish or beef), and sandwiches. It's great slathered over barbecued meat or seafood. And I wouldn't be averse to the idea of having it with a nice hunk of steak served Japanese-style, in bite-sized pieces, either. Even though the recipe calls for significantly less laksa leaf than Thai basil, the distinct flavour of laksa leaf is quite prominent. When the occasion calls for it, I add some chilli and ginger sambal or sriracha to give it a more assertive heat.
If you're looking for a more classic pesto recipe, check out Dawn's cashew nut pesto here.
Thai basil laksa leaf pesto
As with most recipes of this nature, you'll need to adjust quantities and seasoning to taste. But that's part of the fun of cooking, I reckon.
Makes about 350ml
80g raw peanuts or cashews
1-2 large red chillies (add more to taste), seeds removed and sliced
1 garlic clove, peeled
½ tsp grated young ginger (I prefer young ginger, but you can use old ginger if you like)
1 tbsp fish sauce
2 tbsp freshly squeezed calamansi (or other lime) juice
3 cups tightly packed Thai basil leaves
½ cup tightly packed laksa leaves
125ml (½ cup) peanut or other vegetable oil
sugar and salt to taste
chilli & ginger sambal or sriracha (optional) to taste
Toast the nuts in a pan over medium-high heat, stirring occasionally. Watch that they don't burn. Place the nuts, chillies, garlic, ginger, fish sauce and lime juice in a food processor. Add a handful of basil and laksa leaves, drizzle with some oil and blend. Continue adding herbs and oil, and blend until smooth. The laksa leaves are fibrous and may clog up the blades, so use a spatula to stir the pesto in-between processing it. Season to taste with sugar and salt. You may opt to stir in some sambal or sriracha for added heat. Store covered with a layer of vegetable oil. Keeps refrigerated for up to 2 weeks.
Su-Lyn is Aun's better half and for many years, the secret Editor behind this blog known to readers simply as S. Su-Lyn is an obsessive cook and critical eater whose two favourite pastimes are spending time with her three kids and spending time in the kitchen. She looks forward to combining the two in the years to come.