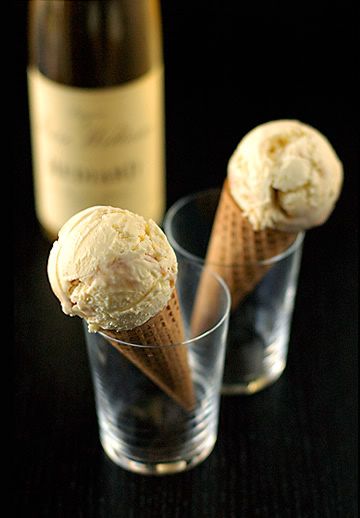 I only became obsessed with making my own ice cream after I set eyes on the Musso Lussino Pro, a sexy, 38-pound stainless steel ice cream-churning R2D2 with its own built-in refrigerator unit. After reading the glowing review in Burt Wolf, Emily Aronson and Florence Fabricant's The New Cook's Catalogue ("makes superb ice cream of the exceptionally smooth and creamy sort you might have thought you'd never enjoy outside of Italy….chills 1½ quarts of ice cream in 25 to 35 minutes; 15 to 25 minutes quicker than the Simac"), I decided that I simply had to make my own ice cream and I couldn't do it unless I had my own Musso Lussino Pro (yes, I'm like that when it comes to shoes too). For nearly half a decade now, my gleaming Musso has served me well.
The fantastic thing about ice cream is its versatility. It takes well to being under the spotlight and can be a fabulous headlining soloist. Yet, it is equally great at helping to pull an ensemble cast together. Whether it's served in a cone or an elegant coup, it is usually greeted with enthusiasm. I love that ice cream can be both wholesomely simple and decadently sophisticated.
I have been dying to try Emily Luchetti's pear-caramel swirl ice cream recipe in A Passion for Desserts. As it turned out, last week my fruiterer had received a gorgeous delivery of South African pears he called sugar pears. I couldn't resist the pale green beauties dusted with a hint of blush pink. Armed with two bagsful of them, I decided that they would be perfect for Ms Luchetti's tempting frozen confection. All I had to do was to wait for them to ripen.
I reckon that the ice-cream was well worth the wait. But then, I've always enjoyed eating cooked pears. As a toddler, my mother tells me, I was fond of eating spoonfuls of steamed pear. Spiked with a little pear liqueur (I used a Poire Williams one), this ice cream has subtle, yet unmistakable pear flavours. Coupled with swirls of caramel sauce I had strongly accented with vanilla salt, it made for a delish after-lunch snack on a blisteringly hot day! I can't wait for my copy of Ms Luchetti's latest book, A Passion for Ice Cream, to arrive with my next Amazon delivery.
Pear-caramel swirl ice cream
(adapted from A Passion for Desserts by Emily Luchetti)
Makes roughly 2 litres
1.5kg ripe pears
265g castor sugar
1 tbs freshly squeezed lemon juice
½ cup pear liqueur
6 large egg yolks
1/8 tsp salt
2 cups milk
2½ cups whipping cream
1 cup cold caramel sauce (see below)
Peel, halve and core the pears. Cut them into 1.5cm thick slices. Cook the pears with 65g sugar, the lemon juice and 2 tbs of the pear liqueur over medium-high heat in a large sauté pan until the pears are soft and the juices have evaporated. Be sure to stir constantly. This step is important because if your puree is too moist, it will affect the texture of the ice cream. Let the pears cool before pureeing them in a food processor or blender. I passed them through a sieve at this point. Refrigerate until cold.
Whisk the egg yolks, salt and 100g sugar together. Heat the milk, cream and remaining 100g of sugar in a saucepan, stirring occasionally. Slowly whisk the cream mixture into the eggs. Pour the liquid into a bain-marie and cook over simmering water, stirring continuously, until the liquid coats the back of a wooden spoon. Strain and cool. Refrigerate overnight.
Combine the pear puree, the cream mixture and the remaining pear liqueur. Freeze in an ice cream machine according to the manufacturer's instructions. Immediately after removing the ice cream from the machine, fold the caramel sauce into the ice cream, creating a swirled pattern. Freeze until firm.
Caramel sauce
Makes 1¾ cups
1½ cups sugar
½ cup water
1 cup whipping cream
40g unsalted butter
½ tsp vanilla salt
In a medium saucepan, stir the sugar, salt and water together. Cook over medium heat until the sugar has dissolved. Brush the insides of the pan with a wet pastry brush to prevent sugar from sticking to the sides of the saucepan. Once the sugar has dissolved, increase to high heat and cook, without stirring, until the sugar turns amber. Remove the pan from the heat.
Carefully add ¼ cup cream (be careful, the caramel will splutter). Using a wooden spoon, stir the rest of the cream into the caramel. If the cream splutters, stop stirring. Let the bubbles subside before you continue stirring in the remaining cream. Stir until well combined then cool for another 5 minutes before whisking in the butter.
Let the caramel cool to room temperature before refrigerating it. (This caramel sauce can be made up to a week in advance and kept refrigerated.)
Aun has always loved food and travel, passions passed down to him from his parents. This foundation, plus a background in media, pushed him to start Chubby Hubby in 2005. He loves that this site allows him to write about the things he adores--food, style, travel, his wife and his three kids!