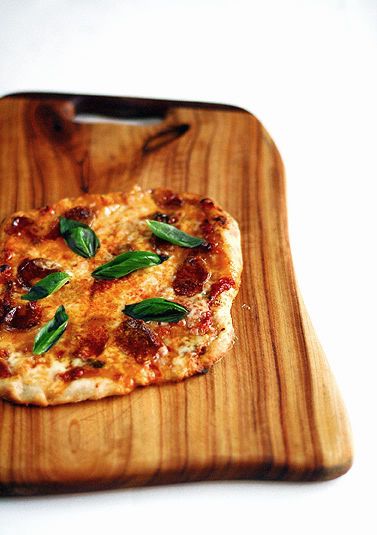 Having spent 14 years of my life in New York City, I, like most New Yorkers, consider myself a pizza aficionado. In the mid 1970s, my family lived in the East 70s, in an old apartment building that was fortuitously just a few steps away from what I'm told was one of the very first Original Ray's Pizza parlors in the city. Even now, I can see that corner building, painted the colors of the Italian flag, and smell the amazing aromas of freshly baked pies coming out of the ovens. Those wonderful pies were my first. And since then, I've happily and unhappily eaten my way through hundreds of slices, good and bad, all over the planet. Fortunately, my wife S enjoys pizza as much as I do.
While I was away in Hong Kong, S, her friend Baker L, J and my brother W decided to try their hands at making their own pizzas. Because a friend had reported success using a pizza dough recipe from Martha Stewart's Baking Handbook, they gave it a go. They also tried a recipe for Napoletana pizza dough from a pretty amazing book, Peter Reinhart's American Pie: My Search for the Perfect Pizza. This book, which I've since flipped through, chronicles Mr Reinhart's search across Italy and the United States for the perfect pizza. The first third of the book is pure editorial. The rest of the book contains fantastic recipes culled together by this talented baking instructor and award-winning cookbook author.
With these two pizza bases, a tomato sauce made from a Jamie Oliver recipe, a mushroom medley made from a Chez Panisse recipe, a huge variety of cheeses (taleggio, asiago, parmigiano reggiano, buffalo mozzarella, Danish blue) and toppings, S and her fellow bakers made several pies. The gals, I'm told, enjoyed the pies made with both Reinhart's and Stewart's bases, but for very different reasons. S reports that the Martha Stewart recipe "yielded a reasonably thin crust that was forgivingly resilient, making it the perfect base for pizza-lovers who can't resist overloading their pies. Peter Reinhart's base was ultra-thin, yet just thick enough to deliver a hint of chewiness rather then a pure, crisp snap. The unbaked dough was also light and airy, and a pleasure to work with."
This past weekend, S and I hosted a few friends for dinner. One of them is a passionate young food blogger whose posts we've enjoyed reading this past year and whom we've enjoyed getting to know via email. We were really looking forward to cooking for her. Another of our guests, a really close friend who very sadly will be moving from Singapore to Switzerland later this year, is a fellow pizza lover. Like us, he likes crispy pizzas with a thin crust. Eager to put her newly-acquired Miele baking stone to the test, as a second course of our dinner, S put together a lovely pizza margherita with some piquant Spanish pork sausage that a colleague had generously carried back for me from a recent work trip to Madrid. (S had a little bit of trouble getting the sticky Reinhart base to slide of the peel, but the crust turned out crisp and mouthwateringly browned.) The rest of the dinner was also good. We started the meal with a very retro prawn cocktail. After the pizza we served a deboned milk-fed veal osso buco, made with a recipe from Joyce Goldstein's Italian Slow and Savory, plated over some risotto a la Milanese. For an avant-dessert, we made Michel Richard's egg soufflé, followed by an orange cake with some amazing ice cream flavored from a spice mix amusingly called "abracadabra". I'll write more about both the ice cream and the cake in a future post.
I've decided not to copy the Reinhart pizza dough recipe. While easy to make and using very few ingredients, the recipe itself is lengthy. Because of the number of steps required, it covers almost two and a half pages. I'd also encourage all of you to buy a copy of Reinhart's book for yourself.
Aun has always loved food and travel, passions passed down to him from his parents. This foundation, plus a background in media, pushed him to start Chubby Hubby in 2005. He loves that this site allows him to write about the things he adores--food, style, travel, his wife and his three kids!