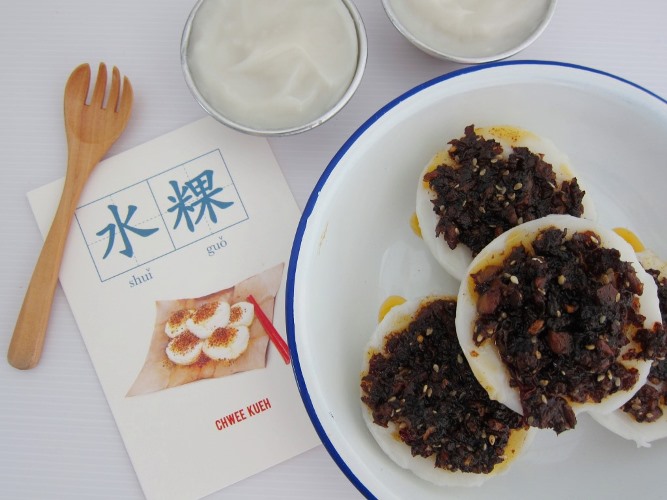 At the beginning of the year, I volunteered my services to test the recipes for an upcoming cookbook called Plusixfive: A Singaporean Supper Club Cookbook. At that time, I barely knew anything about Plusixfive–a supper club that is based in London and started by a very enthusiastic young man named Goz Lee. The story behind plusixfive is simple–man craved for authentic Singaporean food in London, man could not find good Singaporean food, and so man learned how to cook delicious Singaporean food. And one thing led to another–with confidence and help from a few friends, Goz Lee shared his love for Singaporean food by starting a supper club.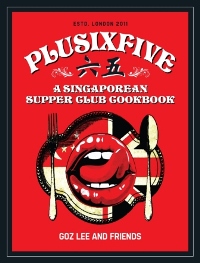 With the success of the supper club, Goz continues to expand his love for Singaporean food by documenting the recipes that he and his friends have created for plusixfive, and giving overseas Singaporeans access to food that they love and crave. More importantly, it allows readers to understand the Singapore's food culture and hopefully help preserve our hawker history.
In plusixfive, the readers will be taught the basics like cooking rice to easy, impressive dishes such as ayam buah keluak. Humour, doodles and illustrations are peppered throughout the book which make it a fun and enjoyable to read and to cook from. What I like most about the book is the snippets of stories behind each recipe. They not just provide a context, but also a connection between a cook and a dish. And these are stories that one can relate to.
Chwee Kueh
(Adapted from
Plusixfive: A Singaporean Supper Club Cookbook
)
For this particular recipe, I have made a few changes and you will realise that making your own chwee kueh is not that difficult. The chwee kueh tastes very different from what you get from the hawker centres. The "kueh" itself is tender and bouncy while the chye poh is spicy and garlicky. I have made these for a few friends and they suggested to me that I should sell chye poh (read: the chye poh is that awesome).
Makes 14 3" chwee kueh
Ingredients
Rice cakes
250g rice flour (Do not get glutinous rice flour; it's different from rice flour)
60g tapioca flour
510ml water, room temperature
510ml water, boiling
2 tablespoons vegetable oil plus extra for greasing the chwee kueh moulds
2 teaspoons salt (I used kosher salt; you can use fine sea salt or table salt)
Topping
200g preserved turnip (chye poh), soaked in warm water for 10 minutes and finely chopped (if you like a saltier topping, you can cut down on the soaking time)
200g vegetable oil (I have cut down a fair bit of oil from the original recipe hence I would not recommend reducing the oil any further)
1 tablespoon sesame oil
1 head garlic, crushed and finely chopped
10 dried red chillies, soaked in warm water for 1 hour, deseed and finely chopped*
3 teaspoons white sesame seeds
2 teaspoons light soya sauce
2 teaspoons dark soya sauce
2 teaspoons fish sauce (if you want to keep this vegan, switch the fish sauce for soya sauce)
1 tablespoon light brown sugar (if you do not have brown sugar, you can use white sugar)
1 tablespoon sambal tumis belachan (if you want to keep this vegan, switch to normal chilli sauce or hot sauce)
(An hour before making chwee kueh, soak the dried chillies needed for the topping.)
In a wok, add in water and place the steamer tray, and set aside. Using a pastry brush or paper towel, grease the chwee kueh moulds and set aside.
In a large saucepan (preferably non-stick), add in both types of flour, water (boiling and room temperature), oil and salt. Using a whisk, mix all the ingredients together and ensure there is no lump. Place the saucepan over a low heat, and continue to whisk. In less than a minute, the mixture will start to thicken–so do not walk away, just stay at the stove. As the mixture starts to thicken, you can off the heat and continue to stir. You should get a wet gluey paste. If your mixture is too thick, add in a bit of warm water to loosen it. If you are really worried that the mixture will thicken too much, use the bain-marie method (bowl over a pot of boiling water)–the heat is gentler and you will have better control.
Once the flour mixture reaches the right consistency, spoon it into the moulds and fill them to the brim. At this point, turn on the fire for the wok (medium heat). You should place a tea towel underneath the mould so you do not scald your hands while filling up the moulds. You can use the back of a spoon or a palette knife to smoothen the top. You need to fill the moulds while the mixture is warm. As the mixture cools, it will become one big lump and hence become difficult to fill into the moulds. If the mixture cools, splash a bit of hot water to loosen it.
Once the moulds are filled, place them on the steamer tray. The water in the wok should be boiling.  Steam the rice cakes for 15-20 minutes.
While the rice cakes are cooking, prepare the topping. In a small bowl, add in the light soya sauce, dark soya sauce, fish sauce, sambal tumis belachan and sugar, and mix well. Set aside.
In a wok or frying pan, over medium heat, add in the vegetable oil and sesame seed oil. Once the oil is heated, add in the minced garlic and chillies, and fry them until fragrant. This should take around 3 minutes. Reduce the heat to low and add in the chye poh. Using a spatula, mix the chye poh well with garlic and chillies and let them fry for 15 minutes. You will need to stir-fry the mix occasionally, and be careful as the oil might spit. Once the chye poh is fried until fragrant, add in the small bowl of sauce and white sesame seeds, and fry for another 5 minutes. Taste and season accordingly. Once cooked, place them in a bowl and set aside.
To check if the rice cakes are done, insert a skewer or toothpick in the middle and it should come out clean. Remove the steamer tray. To remove the rice cake from the mould, run a palette knife or spoon around it. You should be able to gently scoop it out. If not, you can turn the mould upside down and gently tap the bottom.
To serve, top each warm rice cake with a generous spoon of the chye poh topping.
*To deseed the chilli, once soaked, use a pair of scissors and cut the head off. Slide one side of the scissors into the chilli, cut it open and remove the seeds. You can chop the chilli together with the garlic.

Plusixfive: A Singaporean Supper Club Cookbook (S$44.90 w/o GST) is available at all good bookshops. Published by Epigram Books, Oct 2013.
Photo of the book cover is courtesy of Epigram Books

Mandy's journey into the culinary world began out of necessity–a means of survival whilst she was at university. She believes cooking should be simple and fun. Besides spending time in the kitchen whipping up hearty meals, Mandy also dreams of having a bottomless stomach that she can fill with all kinds of delicious things.