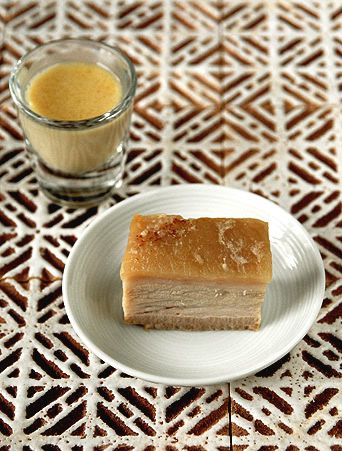 There's nothing so sinfully satisfying as a perfectly cooked portion of pork belly. Whether it's been (slow) roasted or braised, if done properly, the fat on this great cut of meat should melt gorgeously in your mouth and the lean meat should be deliciously tender. Recently, S and I tested a recipe from Cocina Nueva by Jane Lawson. I've previously written about another of Ms Lawson's cookbooks, Yoshoku. Yoshoku is a fantastic book filled with Japanese-Western recipes. It's one of S' and my favourite cookbooks, especially when we're just cooking for each other. Cocina Nueva is subtitled The New Spanish Kitchen and is filled with both great, modern, easy-to-use Spanish recipes and beautiful photographs by Steven Brown. When we saw this book at our local Borders a few months back, having already been fans of Yoshoku, we were quite excited to flip through it. When we spied Lawson's recipe for pork belly braised in almond milk, I knew we had to buy it.
The recipe is, I have to say, a tad fiddly. But the effort is worth it. The finished dish is delicious, suprisingly light, but immensely satisfying. The pork came out very tender. Because it was marinated for 24 hours in herbs and spices and then braised first in stock and water, and then the almond milk, it had a lovely savouriness. The almond milk (finished off with a dash of amaretto) was perfect served both as a sauce or as an accompanying soup.
While I do admit that the above photo might be a tad cheesy, I like it a lot. It took me a good 20 minutes to convince my darling wife S to pose for this (only took a minute or two to shoot). To me, this dish is so sensual that I just had to create a little bit of food porn in its honour. I hope you like it as much as I do.
Pork belly in almond milk
from Cocina Nueva by Jane Lawson
makes 12 small pieces
1kg piece of boneless pork belly
1 tablespoon sugar
1 tablespoon finely chopped thyme
4 garlic cloves, finely chopped
2 fresh bay leaves, torn into small pieces
large pinch of freshly ground white pepper
1 tablespoon salt
1 litre low-salt chicken stock
amaretto
almond milk
250g blanched almonds
500ml milk
375ml cream (whipping)
1 large strip of lemon zest
aromatic sprinkle
1.5 teaspoon finely chopped thyme
2 teaspoons finely grated lemon zest
1 teaspoon ground cinnamon
Put the pork belly in a non-metallic baking dish. Mix the sugar, thyme, garlic, bay leaves, white pepper and salt in a bowl. Rub this mixture over the pork, then cover with plastic wrap. Weigh the pork down with another baking dish (filled with water) to flatten it. Pop this in the fridge for 24 hours.
Rinse the pork off and pat dry. Put it in a large saucepan. Pour in the stock plus 1 litre of water. Bring to the boil, then reduce the heat and simmer for 90 minutes, turning the pork occasionally.
Make the almond milk. Finely grind the almonds in a food processor, then transfer to a saucepan with the milk, cream and lemon zest. Bring to the boil and allow to boil for 5 minutes to infuse the flavours, then remove from the heat and allow to come to room temperature. Strain into a large saucepan.
Transfer the pork, rind side-up, to the saucepan with the almond milk. Then strain the stock over the pork and stir gently to combine the liquids. Bring to the boil and then reduce the heat. Cover and cook for 75 minutes. Lift the pork out of the sauce, cover to keep warm and set aside. Reduce the sauce for 30 minutes or until you feel it tastes good as a soup/sauce. Add a dash of amaretto to the sauce.
Slice the pork into 12 rectangular portions. In a bowl, mix the ingredients for the aromatic sprinkle. To serve, place a slice of pork on a plate. Sprinkle some spice mix on top of each slice. Either spoon the sauce over the pork or pour it into a small glass or bowl and serve as a soup.
Technorati tags: pork belly, spanish food, jane lawson
Aun has always loved food and travel, passions passed down to him from his parents. This foundation, plus a background in media, pushed him to start Chubby Hubby in 2005. He loves that this site allows him to write about the things he adores--food, style, travel, his wife and his three kids!