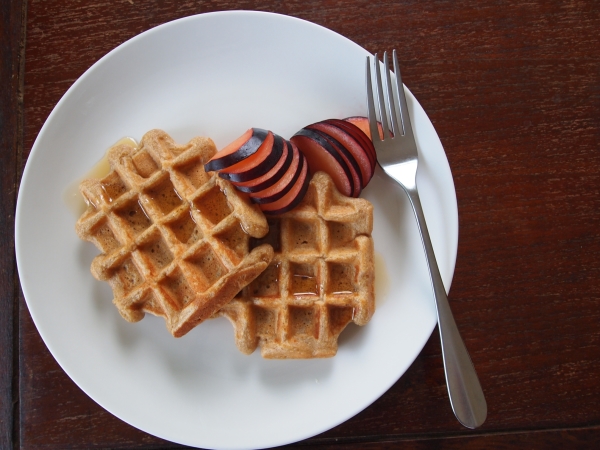 On lazy weekends or holiday mornings, I like to make my family a more indulgent breakfast. Something they don't get to enjoy everyday, but a recipe that's still quick and easy to put together. When my cheeky son, A, gets a choice, he very often asks for waffles. I've had many a good waffle in my younger days, but oh, how they seethed with butter. It wasn't an issue back then, because calories seemed to melt away miraculously, just by my breathing. Sadly, as age caught up with me, and after two babies, that has ceased to be the case. So I researched on healthier recipe alternatives, and started making and eating my own. Today I can tell you that nothing out there, however much butter they shamelessly throw in, is more delicious than home-made waffles. Give this recipe a shot, and while you're waiting for your breakfast to brown to perfection, the smell alone will be enough to win you over.
A waffle iron is a worthwhile investment. Everyone loves warm, fluffy, freshly-cooked waffles. It is a cinch to make them from scratch, they are a lot tastier and more wholesome than the frozen supermarket varieties, and the flavour possibilities are endless. You could kick it up a notch by adding finely-grated orange zest, a generous dusting of ground cinnamon, plump golden sultanas, white chocolate chips, or whatever else you fancy. If you enjoy entertaining and having friends over, how about a throwing waffle brunch party? Guests can have their waffle cooked à la minute, and personalise it with all sorts of toppings and condiments. Let them pick from plates piled high with crispy streaky bacon (crazy good eaten with the waffle, and maple syrup poured over), an assortment of berries, gula melaka (palm sugar syrup), and perhaps also kaya (coconut jam), for a Singaporean twist. They'll leave well-fed and very happy, with minimum effort on your part. If you have young children, making your own waffles saves you the pain of hauling hungry, cranky tots, plus strollers and diaper bags in the car, possibly battling traffic enroute to the nearest cafe, and all of you standing (not so patiently) in line for a table.
As a real weekday morning time-saver, you could freeze the cooked waffles after they've completely cooled down, and briskly warm them up in a toaster oven before packing the kids off to school (they could eat them in the car/school bus as a sandwich, with peanut butter in the middle), or rushing off to a meeting yourself. A re-heated waffle also makes for a luscious mid-afternoon snack or dessert after dinner, topped with macerated strawberries and whipped cream.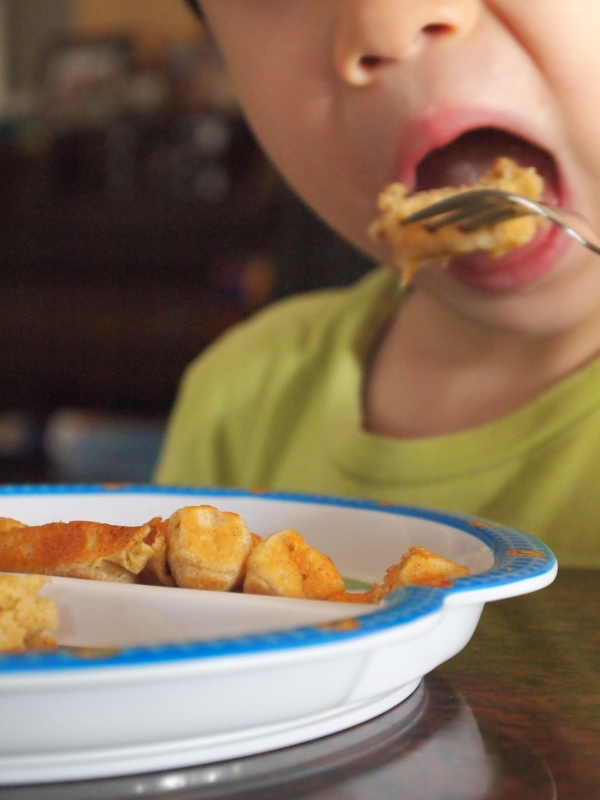 Basic Whole Wheat Waffles
Adapted from Weelicious by Catherine McCord
170g (1 ½ cups) whole wheat pastry flour (I use Bob's Red Mill)*
2 tsp aluminium-free baking powder
½ tsp salt
250ml (1 cup) milk/unsweetened soy milk
120ml (½ cup) plain Greek yogurt
1 large egg
60ml (¼ cup) canola oil, plus more for the waffle iron
30ml (2 tbsp) honey/maple syrup
5ml (1 tsp) vanilla extract
Preheat waffle iron.
Sift flour, baking powder and salt into a bowl.
In a separate large bowl, whisk together the all wet ingredients.
Slowly add the dry ingredients to the wet ingredients, stirring just to combine.
Lightly grease the waffle iron, ladle in the batter, and cook until waffle is golden brown and slightly crisp on the outside. This should take between 3-5 minutes, depending on your waffle iron.
Serve immediately, drizzled with maple syrup or honey, topped with fresh fruit, or slathered with Nutella or fruit preserves. The husband especially likes it with a pat of butter melted over top.
*You can substitute whole meal pastry flour for plain flour. Or use half regular wholemeal flour, and half plain flour. I have also tried it with gluten-free all-purpose flour, and it turned out great. Just remember to put an additional ½ tsp of xanathan gum to the mix.
Dawn, a lanky food-crazed lady, started out writing for lifestyle magazines, and later spent several years in banking. When not eating, she's cooking, reading about, hankering after, and writing about food. On her first date with her boyfriend (now husband), they dined at four restaurants across Singapore. He's gained 25lbs since, and their culinary escapades continue after welcoming two rotund angels. Dawn's committed to feeding them with the best, and creating lasting food memories and traditions for her family.