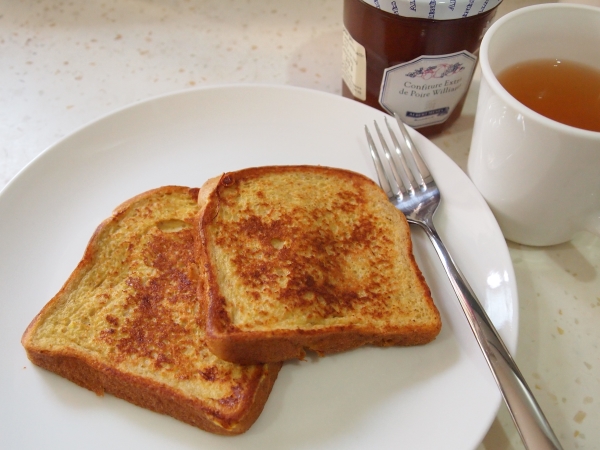 One of the things I'm most fussy about as a mother, is that my kids start their day right every morning, with a healthy and nutritious breakfast. I try to instill the good habit in my children to gear up for the day ahead by fueling their brain and body. Together with their cup of milk and fruit, the breakfast menu at our house rotates between whole-grain toast, waffles, pancakes, granola, yogurt, oatmeal, muffins, scones, crepes, and my son's most recent favourite – this French toast.
Although French toast is featured on most breakfast and brunch menus in cafes, it is very easy to make them at home. A great way to use up stale bread, this is a weekend treat that I'm sure everyone will love. I say weekend, because it is important to cook the toasts slowly over a medium-low flame. This way, the toasts get golden and crispy, and the insides are cooked through while retaining a lovely custardy texture. You can't really rush this, otherwise they might burn on the outside and stay under-done within.
A sturdy, thickly-sliced sandwich loaf is necessary here, so that the bread will not disintegrate after soaking in their eggy bath. I added maple syrup and vanilla directly to the egg mixture, so the toasts are tasty enough to eat on their own. But they are also fabulous with more maple syrup, caramel, stewed fruit or conserves. Keep leftovers in the fridge, and simply reheat them briskly in the toaster oven the next morning. I hope this delicious family recipe will feature soon at your breakfast table, and that you enjoy it as much as we do.
Maple vanilla French toast
serves 2 adults and 2 children
2 eggs
¾ cup whole milk
½  tsp vanilla extract
2 tsp pure maple syrup
a pinch of salt
4 -6 slices thick toast
canola oil for cooking
In a shallow dish, beat the eggs, milk, vanilla, maple syrup and salt together.
Heat up a non-stick pan on the heat, and add enough canola oil to lightly coat the base of the pan.
Soak two slices of toast in the egg mixture at a time, for about 30 seconds each side.
Using a medium-low flame, cook the bread on the pan on one side until golden brown before turning (3-min or more). Cook on the other side until golden brown.
Repeat with the other slices, and serve hot.
Dawn, a lanky food-crazed lady, started out writing for lifestyle magazines, and later spent several years in banking. When not eating, she's cooking, reading about, hankering after, and writing about food. On her first date with her boyfriend (now husband), they dined at four restaurants across Singapore. He's gained 25lbs since, and their culinary escapades continue after welcoming two rotund angels. Dawn's committed to feeding them with the best, and creating lasting food memories and traditions for her family.