On August 9, 2010 our first dog, Sascha, passed away. We were in Sri Lanka for a wedding at the time and received the news just as we checked onto our flight home. Her departure was sudden. I can still remember my disbelief. After all, she had been full of energy and vitality. As we left for the airport just days earlier, she had gazed down at us from the top of the stairs with that mix of imperious aloofness and doleful sweetness that made her special in our eyes. She was 11, but had not shown any signs of slowing down.
On the same day we lost Sascha, we also discovered that I was pregnant. It had only occurred to me because I felt nauseous on the long drive from Bentota to Colombo. I almost never get carsick. As you may well imagine, life has been a whirlwind of activity since that fateful day. As we mourned the loss of one family member, our excitement grew around the arrival of another. Throughout this bittersweet milestone, one silent member of our family remained a steadfast, unquestioningly faithful presence–our younger dog, Alix.
To assuage her loss (she had never known life without Sascha), we made it a point to walk her together every morning. We felt that it helped reaffirm a sense of pack for Alix and it was good exercise for me. While she demanded nothing of us, Alix blossomed as an only dog. She came into her own.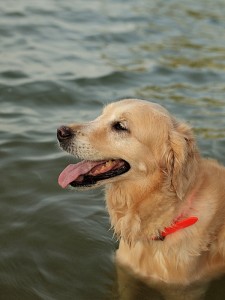 Then along came baby. CH continues to make it a point to walk Alix every morning. When T was tiny, all four of us would go for walks together. But with T's schedule changing over time, our family walks have dwindled down to once or twice a week. They usually happen over the weekend, when we can stop for breakfast at a café. Alix's affection for T is apparent. She enjoyed spending time in his nursery when he was an infant. And would try to lick him at every opportunity. When he started to crawl, she would let him drape himself over her. Now, he tries to stick his little finger into her nostril or eye, and pats her with far too much enthusiasm. T adores her, but chases after her with his little wooden trolley. Through it all, she remains sweetly patient and accommodating. She remains unquestioningly faithful. I am humbled by the depth of Alix's love and inspired by her capacity for acceptance. I learn from her every day.
Now that T is old enough to appreciate the beach, we've started to take both of them to Sentosa in the morning. It has been heartwarming to watch our timid Alix finally venture into the sea and even give in to her instincts to take a roll in the sand. Alix is now nine. Yet, she continues to go into fits of 'puppy crazies' and shows us ways of seeing things in new light. I am thankful for her and thankful that she is part of our family.
I have made Alix treats on occasion, but have generally bought most of them. However, I flagged this recipe in Keiko Ishida's book, Okashi, some time ago because it's gluten-free and contains sweet potato, which is a great source of nutrients. That said, I am not an expert on dog appropriate diets, so please check with your vet if you're unsure about whether these ingredients are safe for your dog. According to this, mould on old sweet potatoes can contain harmful chemicals. Too much sweet potato can also potentially make your dog gain weight (but so would too many store bought dog treats). And while I haven't found anything definitive against feeding sesame seeds to your dog, nuts and seeds are generally not recommended. So, omit the sesame seeds in this recipe if you wish. We managed to rustle up a batch of them this week. They took very little time to make. And most important of all, Alix loves them.
Sweet Potato Balls
Adapted from Keiko Ishida's Okashi.

Makes about 16 balls using a No.100 ice-cream scoop

100g Japanese sweet potatoes
1 tbsp roasted soy powder/flour (kinako)
1 tbsp black sesame seeds, toasted and ground (optional)
3 tbsp rice flour
3 tbsp soy milk

Preheat the oven to 160° Celsius using the convection/fan setting.

Peel the sweet potatoes and dice into ½ cm cubes. Cover with cling film and microwave at 600W for 3 minutes or until potatoes are tender and cooked.

Process the sweet potatoes, pulsing them into small pieces (I used a hand blender). Add the remaining ingredients (start with 2 tbsp of soy milk) and blend until a dough is formed. Add the remaining soy milk if the dough doesn't come together.

Gather the dough into a ball and knead lightly on a floured surface. Divide the dough into even portions of your preference and shape into balls. I used a No.100 ice-cream scoop to create 16 portions and hand rolled them. But just doing everything by hand gives you larger sweet potato balls that haven't been compressed by a scoop.

Bring a pot of water to the boil. Cook the balls until they float to the surface. Drain them in a sieve and place them on a baking sheet lined with parchment paper. Bake for 10 minutes then leave to cool on a wire rack.

Sweet potato balls can be stored in an airtight container in the refrigerator for up to one week, or frozen for up to one month.
Su-Lyn is Aun's better half and for many years, the secret Editor behind this blog known to readers simply as S. Su-Lyn is an obsessive cook and critical eater whose two favourite pastimes are spending time with her three kids and spending time in the kitchen. She looks forward to combining the two in the years to come.