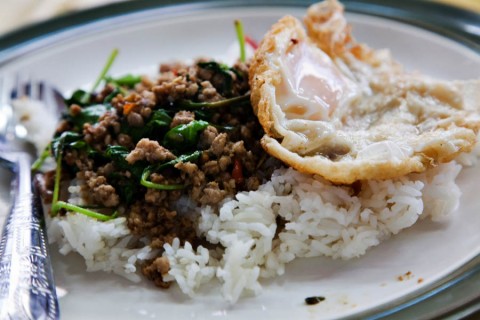 I lived in Thailand for two years and in that short time, I learned a lot about Thai food and Thai cooking. I had the opportunity to meet a lot of amazing chefs and learned to cook some Thai staple dishes in their kitchens. I started with curries and green papaya salad – in fact, these were the first dishes I tasted in Thailand. And then I decided I needed to master the iconic Thai soups like tom kha (coconut milk soup) and tom yum goong (sweet and sour soup with shrimp).
Over time, I began to realise that somehow these Thai dishes were becoming my new comfort food. Whereas I might have made a meaty lasagna previously when trapped inside on a rainy Sunday, I was now turning to green curry and tom kha soup.  In fact one of the most popular and traditional Thai dishes, and my personal favorite, was becoming a kitchen staple in my house – Krapow Gai.
I must have tried a million different preparations for this – a little less fish sauce, a few more chilies – until I was able to more or less replicate the Krapow Gai from my favourite neighborhood restaurant in Bangkok. Much like all Thai cooking, it's amazingly fast and simple to make – all the work really is in the chopping prep. So whether it is a quick weeknight meal or a rainy Sunday when I am craving comfort food, this is the recipe I turn to time and time again.
The traditional way to eat it is to serve it hot with jasmine rice and a Thai fried egg. What's a Thai fried egg? It's an over easy fried egg with crispy fried edges. Break the yolk and then mix it all up with the Krapow Gai. Aroi mak mak (Thai for very, very tasty!)
Pad Krapow Gai
(Stir-fried chicken with holy basil)
Ingredients:
12 ounce  minced or ground chicken*
6 cloves garlic, peeled
6-8 each Thai red and/or green chili peppers
½ tsp salt
4 tbsp vegetable oil
½ cup onion, diced small
1 tbsp fish sauce
1 tbsp oyster sauce
½ tsp sugar
1 cup thai holy basil (Thai or sweet basil works too in a pinch)
* You can use any protein (e.g. chicken, pork, beef, or seafood, as well as tofu).
Pound the garlic, Thai chili peppers and salt together. Reserve.
Heat up the wok until very hot and add vegetable oil.
Add the pounded garlic and Thai chili peppers and stir-fry until fragrant. Add the chopped onion and stir.
Add the chicken to the wok, quickly stir-fry until the meat is partially cooked, then season with fish sauce, oyster sauce and a bit of sugar. Stir to mix and cook. Turn off heat.
Before plating the dish add the basil leaves, and toss in the pan to wilt.
Joanna Hutchins is a culinary travel blogger based in Shanghai, China.. In 2009, Joanna founded Accidental Epicurean, a culinary travel blog focused on Asia. Joanna is also a contributor to CNNGo, Look East magazine, SE Asia Globe and Two magazine.