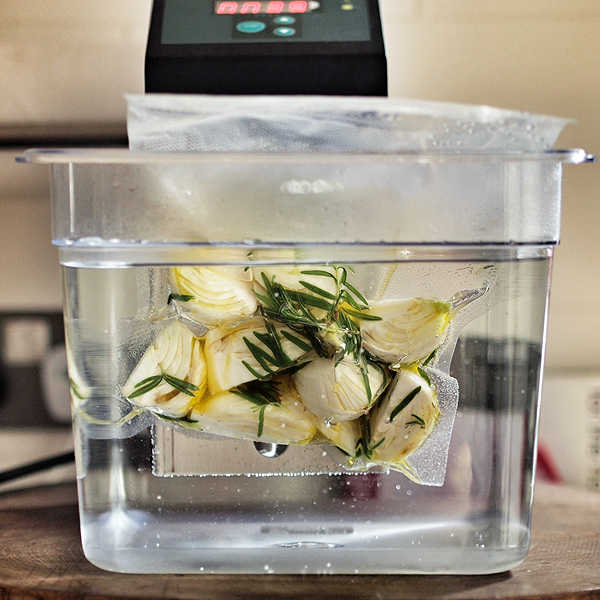 It's no surprise to regular readers that I often use sous-vide techniques when cooking at home. I have regularly gushed about my sous-vide equipment, especially my recently acquired Vacmaster VP112EU chamber vacuum packer and my Addelice swid immersion circulator (distributed by my buddy Paul). I have, over the past few years, found that cooking by sous-vide not only allows you to control the doneness of foods perfectly but that the process is very clean and fuss-free. For me, the best value of using this method is to produce really amazing food that would otherwise have been rather fiddly to produce so well.  
One of my favourite ingredients to cook via sous-vide is fennel. Truth be told, growing up, I was never really a big fan of this vegetable. But as I've aged, I've learned to appreciate its taste, and today, really like it a lot, if cooked/prepared properly. My favourite way to serve fennel comes from a Thomas Keller recipe, from Under Pressure, his book on sous-vide cooking. The preparation is super simple. Clean and quarter the fennel. Toss with olive oil, a touch of salt and vacuum bag this with herbs of your choice — I like to use tarragon. Cook this in a water bath for 40 minutes at 85° Celsius. When done, you can dunk the bagged fennel in ice water and store in the fridge until you need to use it again, or move on to the final stage, which is gently braising the cooked fennel in a nice, rich, hot chicken stock for 5-8 minutes. The results are gorgeous.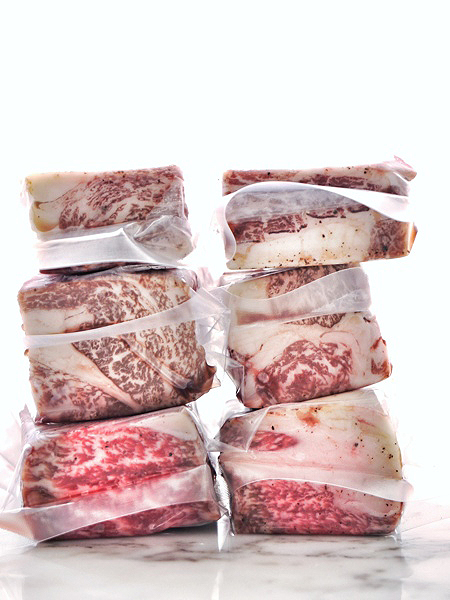 Cooking steak using sous-vide is always a touch controversial. Leave your bagged steak in a water bath for too long and you'll end up with a hunk of meat with an odd, unappetizing texture. Further, different cuts of steak and different kinds of beef require slightly different temperatures and times. The beef pictured above is some gorgeously marbled Kagoshima wagyu ribeye, purchased from a supplier buddy of mine (for almost 300% cheaper than retail!). With beef as beautiful as this, all I had to do was season it with a bit of salt and pepper. I then bagged two pieces at a time. The vacuum bagged wagyu went into a 58.5°C water bath for 30 minutes.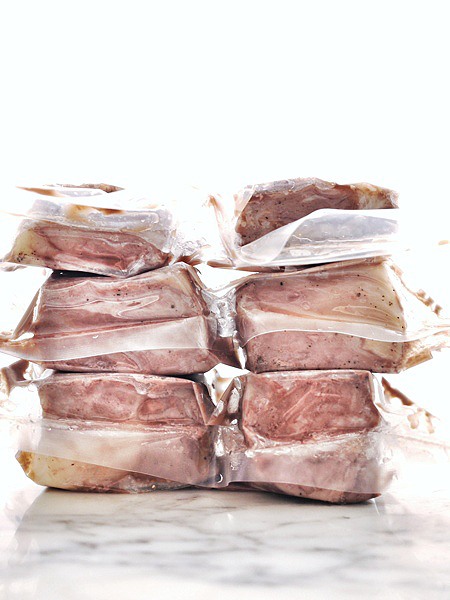 The above picture shows the beef immediately after it came out of the water bath. As you can tell, it's cooked all the way through but nice and pink. Right before serving, I heated up a cast iron pan and seared each piece of beef on two (opposite) sides over really high heat. The end result was a beautiful chunk of steak, with a nice brown crust on top and bottom, cooked to a perfect doneness between medium-rare and rare. Because of the quality of this wagyu, it was super-soft and simply luscious.
If you have sous-vide equipment, experimenting with steak is always something fun. I wouldn't personally go over 30 minutes in the water bath with steak, and instead of a using a hot cast iron pan, you could also blowtorch the meat, which is really fun.
Aun has always loved food and travel, passions passed down to him from his parents. This foundation, plus a background in media, pushed him to start Chubby Hubby in 2005. He loves that this site allows him to write about the things he adores--food, style, travel, his wife and his three kids!