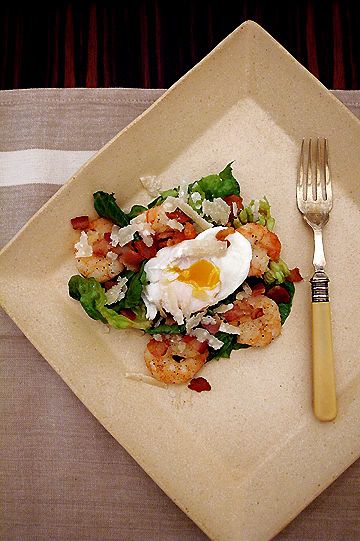 I'm not a big fan of salads. A plate full of raw vegetables just doesn't do it for me. That said, I really like Caesar Salads. My wife S, of course, likes to complain that a Caesar, like a Cobb, is hardly healthy and I really shouldn't be pretending that by ordering one I'm watching my ever-increasing weight.
The Caesar, for fascinated food historians, was reportedly invented by Caesar Cardini, an Italian restaurateur in Tijuana, Mexico, and first served on 4 July, 1924 to a group of vacationing Hollywood stars. Also noteworthy is that the original Caesar didn't have any anchovies in it. The original contained just Romaine (Cos) lettuce, coddled eggs, garlic, Worcestershire sauce, lemon juice, olive oil, freshly grated Parmesan cheese, croutons, salt and pepper. When the achovies were added is kind of a culinary mystery. These days, the classic Caesar uses an achovy-accented dressing and often includes bacon. Many restaurants also top their Caesars with pan-seared salmon, chicken or prawns. My favorite Caesars in town are the ones made by Project Shop Café and the garlic prawn version that chefs Jimmy Chok and Anderson Ho used to make at Fig Leaf restaurant, way back when it was in Central Mall.
The great thing about a Caesar Salad is that once you've made your dressing, it's actually a cinch to make. We like to use Thomas Keller's dressing recipe, found in his French Laundry Cookbook (and transcribed below). Keller's Caesar, of course, is tres chic. But this dressing works just as well on simpler versions. For our weeknight quick fix, S and I used baby Romaine, maple-smoked bacon, poached eggs, freshly grated parmesan, and prawns dusted in salt and flour and then quickly fried. Easy, healthy (well, healthier than a slab of pork belly at least), and quick.
Thomas Keller's Anchovy Dressing
(makes 2 cups)
1.5 tablespoons chopped garlic
1.5 tablespoons chopped shallots
1/4 cup balsamic vinegar
2 tablespoons Dijon mustard
1 teaspoon fresh lemon juice
2 salt-packed anchovy filets, deboned, soaked in milk for 30 minutes, drained and patted dry
1 large egg yolk
1 cup extra virgin olive oil
1 cup canola oil
freshly ground pepper
Purée the garlic, shallots, vinegar, mustard, lemon juice and achovies in a blender until smooth. Transfer to a mixer with the paddle attachment and beat in the egg yolk. With the machine running, slowly drizzle in the oils. Season with white pepper. Cover and refrigerate. This can be stored for up to 3 days.
Aun has always loved food and travel, passions passed down to him from his parents. This foundation, plus a background in media, pushed him to start Chubby Hubby in 2005. He loves that this site allows him to write about the things he adores--food, style, travel, his wife and his three kids!