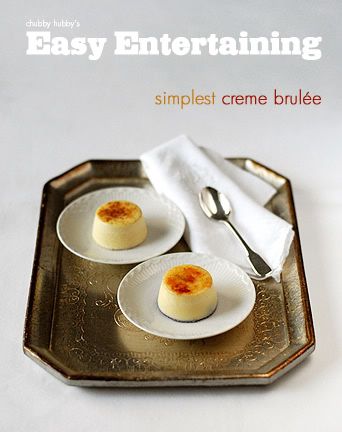 One of my all-time favourite desserts is crème brûlée. It's also a dish that I've found challenging to perfect. As many of you know, my wife S and I have an insane number of cookbooks, close to 400 at last count. We've tried a huge host of crème brûlée recipes written by some of the world's best chefs. Most fall into two categories, i.e. two cooking methods. The first, most common method is to prepare a custard on your stovetop that you pour into ramekins and then cool until set. The other way is to combine your ingredients, divide them into ramekins and then bake them in a water-bath. Both work, but I've always found that the crèmes made with the first method tend to be a tad heavy. And because I tend to be a bit of a klutz, I get a tad nervous working with preparations that require me to not only balance large trays of water but also put them in and pull them out of an oven.
Recently, however, I've discovered what may be the easiest way of preparing a perfect crème brûlée. Over the past year, my wife S has been helping Chef Justin Quek write his first cookbook, which is being released later this year.

the cover of Justin's first cookbook
Justin is an icon in Singapore. For almost a decade, he was the head chef of Singapore's top French restaurant, Les Amis. Trained in France and England, Justin is today considered one of the world's best chefs by both his customers and by many of his peers–including Tetsuya Wakuda, Michel Roux Jr, Ferran Adria, Neil Perry, Charlie Trotter and Pierre Hermé, all of whom contributed glowing endorsements to Justin's book. Currently, Justin is based in Taipei, where he runs a small, very well-reviewed restaurant called La Petite Cuisine. At the end of the year, he'll be embarking on his most ambitious project to date, a super high-end, fine-dining restaurant in Shanghai, near Xintiandi, called Le Platane.
Justin's crème brûlée recipe is notable because it follows neither of the two preparations described above. It's closer to the second method but doesn't call for a water-bath. His secret is that he bakes his crèmes on very low heat for an hour. The resulting custards are sinfully silky and delicious.
S and I have tested Justin's recipe a few times, with fantastic results. The recipe that apears in Justin's book includes wild blueberries. We tried this one first and when it worked perfectly, we started experimenting, using different fruits and then eventually infusions. My latest favourite version was made with cream and milk that had been infused with Gryphon Tea Company's delicious Straits Chai tea.
One thing that you may notice from the photographs above is that S and I have also been playing with unmolded crème brûlées. We've found that serving a crème brûlée that's been released from the confines of the usual ramekin surprises and delights our guests. Pulling this off is actually pretty easy. Follow the recipe (below) but instead of using ramekins, bake your crème brûlées in small, non-stick silicone molds. When the custard has cooled sufficiently, pop the molds in your freezer. At least 6 hours before you serve them, unmold them onto the plates you intend to serve them on. Put these into your refrigerator so that the custards defrost slowly. The custards should hold their shape, even when you blowtorch them.
Justin Quek's crème brûlée
Serves 10 to 12
8 egg yolks
600 millilitres fresh cream
100 millilitres milk
100 grams sugar
150 grams fine brown sugar
Preheat the oven to 100 degrees Celsius.
Combine the egg yolks, cream, milk and sugar in a mixing bowl. Whisk and pass through a fine sieve into a jug. Pour the egg mixture into small ramekins.
Bake in the oven for 1 hour. Remove, cool and refrigerate for a minimum of 3 hours.
Just before serving, sprinkle the top of each portion with a thin layer of brown sugar. Caramelise the sugar with a blowtorch and serve immediately.
Technorati tags: Justin Quek, creme brulee, recipes
Aun has always loved food and travel, passions passed down to him from his parents. This foundation, plus a background in media, pushed him to start Chubby Hubby in 2005. He loves that this site allows him to write about the things he adores--food, style, travel, his wife and his three kids!