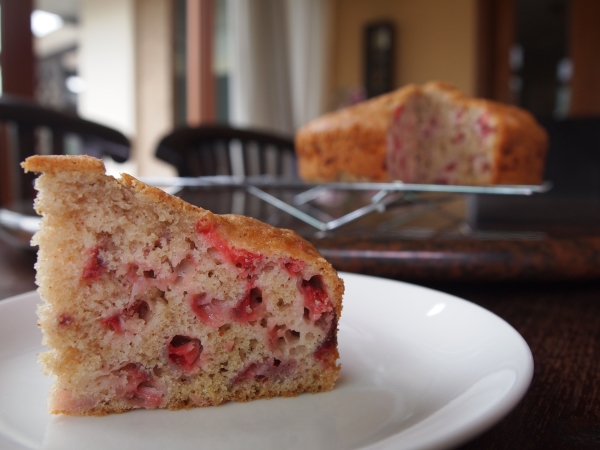 My darling aunt celebrated her 50th birthday recently. I understand that women generally prefer to not discuss their age, much less have it revealed to the world via a blog post. For this disservice, I'm prepared to receive a phone call from her right about now, to holler threats about cutting me out of her will. But hey, she looks better than most women a decade younger, so where's the shame? If I turn out half as good as her when I reach this milestone, I'd be unabashedly shouting my age from rooftops. Anyhow, me being her favourite (read: only) niece, I decided that she deserves a splendid dinner and of course, a brilliant cake.
The problem was, when the day finally rolled around for my kids to help with blowing out the candles, it was to be her fourth birthday cake, after celebrations at work, and with different groups of friends. She was definitely caked-out and could hardly bear the thought of another smear of frosting or cream. But I wasn't going to give in. Afterall, what's a 50th birthday without a cake, or four? Since strawberries are in season, it struck me to bake something light and fresh with this wonderful fruit.
This fluffy strawberry bread, inspired by this recipe from Saveur, is delicious. Chock-full of fresh strawberries with a hint of cinnamon, it is a welcome sight at breakfast, slathered with butter, perfect with a cup of tea in the afternoon, or in our case, devoured as post-dinner dessert. Even though it's not your typical birthday cake with decorations, ganache or icing, we really enjoyed it. It hit the right spot without being too cloying and didn't end up sitting in our stomachs like a brick. If you're looking to jazz it up, it'd be great warm, with a scoop of vanilla ice-cream or freshly-whipped cream on the side. But for an indulgent treat, and perhaps for it to look like a proper traditional birthday cake, it would be heavenly topped with strawberry, cream cheese, white chocolate or buttercream frosting. Bon appetit!
Strawberry Bread
adapted from Saveur
1½ cups plain flour
½ tsp baking soda
¼ salt
½ tsp ground cinnamon
½ tsp vanilla extract
⅔ cup sugar
2 eggs
½ cup vegetable oil, or melted butter
2 cups strawberries, hulled and chopped
Preheat oven to 350°F, or 180°C. Line a non-stick 9-inch cake tin with parchment paper.
In a large bowl, whisk together flour, baking soda, salt and cinnamon. Set aside.
In a separate bowl, whisk oil/melted butter, sugar, vanilla and eggs.
Pour wet ingredients over dry ingredients and mix until just combined
Stir in chopped strawberries and pour batter into cake tin.
Bake for about 40-min, until tester comes out clean.
If frosting, leave cake to cool completely beforehand. This cake also freezes well.
Dawn, a lanky food-crazed lady, started out writing for lifestyle magazines, and later spent several years in banking. When not eating, she's cooking, reading about, hankering after, and writing about food. On her first date with her boyfriend (now husband), they dined at four restaurants across Singapore. He's gained 25lbs since, and their culinary escapades continue after welcoming two rotund angels. Dawn's committed to feeding them with the best, and creating lasting food memories and traditions for her family.