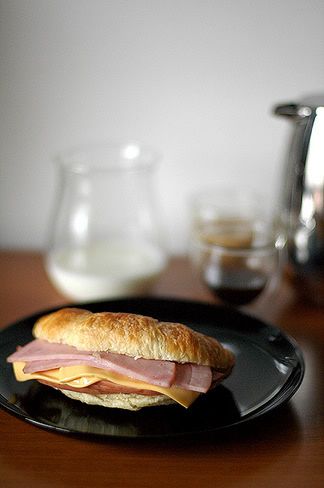 Andrew, over at Spittoon Extra has proposed a fun once-off food meme, posting the details of breakfast today, Sunday the 20th of November. More info on this can be found here.
S and I had a late, lazy but small breakfast this morning. We were going off to a friend's place for a homemade pizza lunch at 1pm, so we didn't want to stuff our faces too much. Also, by the time we had rolled out of bed and washed up, it was already almost 10am, so we didn't want to spend too much time in the kitchen. Our solution? A couple of Sara Lee croissants (from the freezer to the oven to the plate in 11 minutes) with some honey-baked ham and Kraft Singles.
Of course, we couldn't have breakfast without coffee. We're Illy espresso addicts. And, while our wonderful Francis Francis espresso machine is in the shop being serviced, we've taken to grinding the beans fresh and making coffee with one of our new Bodum Columbia "thermo press" makers. We love this coffee maker. In fact, we love its design so much we bought both the large and small versions of it. To serve, we used another new Bodum line we're quite taken with, the Pavina espresso cups.
It was a quick and casual brekkie, eaten at our dining table with our two hungry pooches circling around us, hoping (unsuccessfully) for table-scraps.
On another topic entirely, I've been getting some emails recently from people asking for the recipe to the pumpkin custard pie S made for me a while back. Must be a Thanksgiving thing. Anyway, here it is, as written by S:
Pumpkin Custard Pie, adapted from
The Perfect Pie by Susan G. Purdy.
It's actually very simple. You need a partially prebaked 10-inch pastry shell (just use your favorite flaky pastry recipe, or buy a frozen pie shell at the supermarket).
For the filling:
2 large eggs plus 1 large egg yolk
2 cups canned unsweetened pumpkin puree (or cooked and mashed fresh sugar pumpkins)
½ to ¾ cup granulated sugar, to taste
1½ cups milk or cream (the heavier the cream, the richer the pie)
2 tablespoons unsalted butter, melted
½ teaspoon salt
¾ teaspoon ground cinnamon
½ teaspoon ground nutmeg
½ teaspoon ground ginger
1/8 teaspoon ground cloves
Preheat the oven to 400 degrees Fahrenheit. Place a flat baking sheet in the oven to get hot.
In an electric mixer or in a bowl with a whisk, beats the eggs and yolk, then add the pumpkin and beat well. Beat in the sugar, milk or cream, melted butter, salt and spices. Set the pan containing the pastry shell on a flat baking sheet for ease in handling. Pour the filling into the prepared pastry shell, and set it on the preheated flat baking sheet in the centre of the preheated oven for 40 to 50 minutes, or until the top is golden brown and a knife inserted into the custard 1 inch from the edge comes out clean. Do not overbake. The internal heat of the pie will complete the baking out of the oven. Cool the pie on a wire rack and serve at room temperature with whipped cream.
If you're using a pre-made piecrust, the filling from this recipe may exceed what you'll actually need. I also used organic pumpkin pie puree which was exceptionally sweet and tasty.
Happy Thanksgiving!
Aun has always loved food and travel, passions passed down to him from his parents. This foundation, plus a background in media, pushed him to start Chubby Hubby in 2005. He loves that this site allows him to write about the things he adores--food, style, travel, his wife and his three kids!