I'm one of those guys that doesn't really buy into the whole Valentine's Day shtick. For two reasons. First, I believe that if you're with someone you really care about, then every day together should be a special day. Which leads me to the second reason. I consider Valentine's Day to be an artificial, commercial creation used to con you into spending extra money on overpriced meals by restaurants you normally wouldn't patronize to begin with. I'm one of those oddball romantic yet cynical blokes that scorns Valentine's Day but likes buying his wife gifts for no reason at all. Why should she have to wait for a birthday, anniversary, or other so-called special occasions for me to do something especially nice? In fact, it's a hell of a lot more fun when she doesn't expect anything. And it doesn't have to be big. My latest present to S, in fact, was a gorgeous walnut wood clutch (purse), handmade by a wizard artist named Tadd Sackville-West, that I discovered while surfing design sites. While I briefly considered waiting till Valentine's Day or her birthday (which is in a few weeks) to give it to her, I decided to give it to her as soon as it arrived in the mail. (It was, quite simply, gift from me for no other reason than that I adore her.)
As an anti-Valentine's Day person, most years I eat dinner on the 14th with S at home. Which is something I would advocate to anyone and everyone, regardless of your views of the day in question. I say this because, as alluded to above, restaurants like to sell Valentine's Day packages. Unfortunately, these are usually rather bland, over-priced set menus, with a few cheesy, romantic items–rose petals on the table, a glass of bubbly upon arrival, an annoying violinist in the corner of the room, etc–thrown in to justify the hefty price tag. Maybe I'm strange, but I don't find the idea of sitting in a room filled with other couples, all of us eating the same over-priced food, very romantic.
Instead, consider cooking a small, light dinner for your loved one. He or she will appreciate the effort. Eating at home means you can tailor the mood to your exact specifications, i.e. you can pick the music, the table settings, how bright or how dim the lights should be, etc. I suggest a light menu because after a romantic dinner you want to have the energy for a little romping around. Big dinners are great for greedy gourmands but suck if you're trying to get jiggy with someone. Because I know all I ever want to do after having eaten till bursting is lie down and take a nap. A light dinner ensures that both you and your companion have the energy for some good old-fashioned cardiovascular fun.
Also, don't kill yourself in the kitchen. Cooking a meal from French Laundry is fine if you have a team of kitchen elves, but for the solo home-chef, it's hell. You want to look your best on Valentine's Day. You want to feel and look rested. The last thing you want to do is to exhaust yourself before you even sit down to eat.
For those of you in search of a fast, easy but delicious and very, very sexy Valentine's Day menu, I've taken the liberty of suggesting one. (Regular readers will recognize two of the three dishes and the images, which have appeared in previous posts.) The whole dinner shouldn't take you much more than an hour or two of prep and each of the two savory dishes only requires a few minutes to cook. I'd serve the whole dinner with a bottle of bubbly. I recomend a bottle of Krug Grand Cuvée or a bottle of Taittinger Comte de Champagne.
Scallops with bacon and parmesan, grilled in their own shell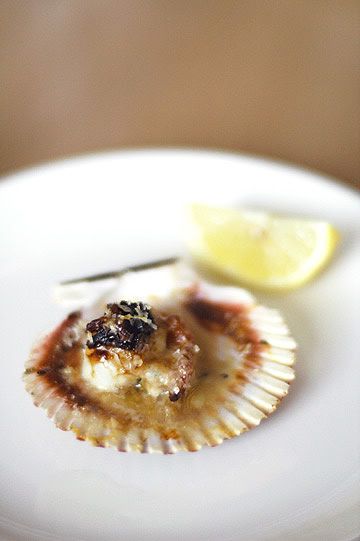 This recipe is inspired by one from Nobu's second cookbook, Nobu Now. You'll need to buy some good, fresh scallops. Make sure they come with their shells. In addition, you'll need soy sauce, garlic, butter, lemon, bacon and parmesan. The bacon should be chopped into tiny pieces and fried ahead of time. The parmesan must be fresh. Grate a little and set it aside as well.
Clean your scallops, disconnecting them from their shells and then after patting dry, place each back on a shell. Add a tiny amount of butter on the scallop, a drop of soy, a little grated garlic, and a little bit of bacon. Sprinkle the scallops with the freshly grated parmesan and pop them into a preheated oven and cook at 200 Degrees C for 4-5 minutes or until the cheese is nicely browned. Please note that if using a convection oven, place your scallops on the highest rack, so that the cheese is nearest the hot metal conductors. Serve the finished scallops with a wedge of lemon.
Confit of Salmon topped with hijiki and ikura, served with mushrooms
This dish is a variation of Tetsuya's famous confit of ocean trout–the cooking method is the same. You'll need some sashimi-grade salmon, grapeseed oil, fresh coriander and basil, some chopped garlic, an orange, shiso-flavored hijiki (which you can buy in packets at Japanese grocery stores), ikura, nameko mushrooms, mirin, butter, salt and pepper.
Marinate the salmon for a day in a bowl that's been filled with grapeseed oil (the oil should just cover the fish). In the oil, add some coriander, basil, garlic, pepper, and the zest of one orange. When ready to eat, take the salmon out of the oil, pat dry and then place on a baking tray or baking dish. Cook the salmon for 7 minutes at 100 degrees Celsius. Chop the hijiki into tiny pieces and then cover the top of the salmon with it. Then add a small spoonful of ikura.
The mushrooms are really easy. Melt a pat of butter in a sauté pan over medium heat. Toss in your mushrooms, and stir. After a minute of cooking, add a splash of mirin and cook for another minute or two. Add salt to taste.
Chocolate Red Wine Soup with Strawberries
This recipe comes from Michel Richard, a French chef based in Washington DC, where I lived between 1984 and 1990. It's an utterly sexy, easy-to-make and yummy dessert that needs to be made ahead of time–it needs to chill for 4-6 hours before serving. This was my favorite "date night" dessert for years.
You'll need 1/2 cup sugar, 1 cup dry red wine, 1 tablespoon vanilla extract, 1 pint strawberries (hulled and thinly sliced lengthwise), 2 ounces bittersweet chocolate (finely chopped) and some strawberries for garnish.
Mix the sugar, red wine and vanilla in a large bowl. Add the strawberries and marinate for 2 hours. Melt the chocolate in the top of a double boiler above gently simmering water and stir until smooth. Strain the strawberry mixture, reserving the strawberries. Heat the marinating liquid in a medium saucepan to the same temperature as the chocolate. Whisk several tablespoons of the marinating liquid into the chocolate and stir until smooth. Then whisk in the remaining liquid. Strain back into the bowl through a fine sieve. Cool to room temperature. Add the reserved strawberries and refigerate until well chilled, 4-6 hours.
To serve, ladle into a small cup or soup bowl and garnish with 1 strawberry.
After dinner, if your companion's looking a little sleepy, serve him or her an espresso. If s/he doesn't need it, grab an extra bottle of bubbly and adjourn to a much more comfortable room for some post-dinner fun.
Aun has always loved food and travel, passions passed down to him from his parents. This foundation, plus a background in media, pushed him to start Chubby Hubby in 2005. He loves that this site allows him to write about the things he adores--food, style, travel, his wife and his three kids!