What do you do when a friend gives you a couple boxes of uni (sea urchin) and a jar filled with not one but two and a half summer truffles? Well, after whooping for joy for a good half an hour, you call some equally greedy friends and invite them over for a super-decadent Sunday lunch. It also turned out to be one of the longest lunches S and I have ever hosted. We started a little after 1pm and only served dessert (which was very kindly provided by the gorgeous, skillful and (annoyingly) skinny J of Kuidaore) a little after 5pm.
We started our meal with bellinis and plates of cappelini with a yummy, spicy sea urchin sauce. S whipped up the sauce following a recipe from Kimiko Barber's The Japanese Kitchen, using a wonderful homemade chili bean paste that J had given us. The sauce was actually made by J's grandmother. It's delicious and we've been telling J for yonks that she and her gran should start bottling it and selling it. I'm confident she could retire on this sauce. I know that I'd never want to go without a bottle in my fridge. The pasta was excellent — and I'm not usually a fan of sea urchin dishes. Now, here's where I admit a bit of stupidity and foolishness on my part. Despite having my camera next to me, I was so eager to eat the pasta when it was served that I totally forgot to snap a few photos of it.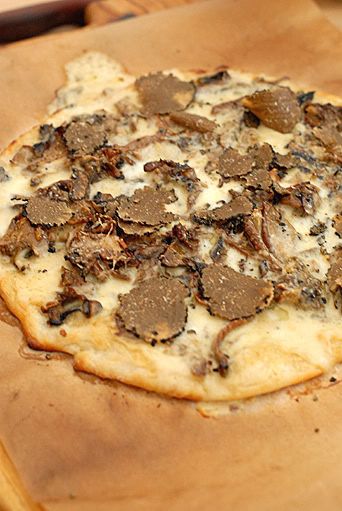 I didn't forget to shoot the pizzas though. In total, 6 of us ate 5 pizzas. (S had prepared 6 portions of pizza dough so boy were the dogs happy when I made them a pizza as part of their dinner.) S followed the Napoletana pizza dough recipe from Peter Reinhart's American Pie. It's a good, easy to follow recipe that yields a beautifully thin and tasty crust. We decided that instead of a red (tomato-based) sauce, we would make the pizza with a porcini cream sauce. It was essentially a bechamel made with cream as well as the water that was used to rehydrate a batch of porcini mushrooms. We prepared two toppings. The first was a mix of button and porcini mushrooms with some sauteed garlic. The second was some bacon mixed with sauteed nameko mushrooms, over which we cracked some eggs. Over each pizza, we shaved a bounty of summer truffle. The pizzas made with both toppings were delicious. But we quickly realized that the best combination was lots of sauce, just a small portion of the mushrooms and lots and lots of truffle. When we made the pizzas this way, my brother (who was one of our guests) was reduced to making loud, pleasurable grunting noises.
Even if you don't have access to a treasure trove of truffles, making (and eating) pizza can be a pleasure. All you need is Reinhart's recipe, a good pizza stone and a hot oven. I've asked S to transcribe Reinhart's recipe for all of you. She's made several comments and notes as well, in hopes of making this even easier. Enjoy!
Napoletana Pizza Dough
(as transcribed and appended by S)
Adapted from Peter Reinhart's American Pie. I highly recommend buying this book. He offers plenty of additional tips (such as Ten Tips for Making Pizza Dough, a must-read) in other parts of the book which I haven't inserted into this recipe.
Makes six 6-ounce dough balls
22½ ounces unbleached all-purpose flour (I used Gold Medal)
1¾ teaspoons table salt or 3¼ teaspoons kosher salt
1 teaspoon instant yeast (or 1¼ teaspoons active dry yeast)
1¾ cups plus 2 tablespoons chilled or ice water (roughly 40ºF)
Chill the flour for 1 hour or overnight (in The Bread Baker's Apprentice, Reinhart says that this improves the dough, as does using chilled water).
If using active dry yeast, dissolve it in a few tablespoons of the water that you will be using for the dough.
Place all the ingredients in the bowl of an electric stand mixer fitted with the dough hook (Reinhart provides instructions for doing this by hand as well, but I've found it easiest to do it in my KitchenAid). Mix on low speed for about 4 minutes, or until all the flour gathers to form a coarse ball. Let the dough rest for 5 minutes, then mix again on medium-low speed for an additional 2 minutes, or until the dough clears the sides of the bowl and sticks just a little to the bottom. If the dough is too soft and sticky to hold its shape, mix in more flour by the tablespoonful; if it is to stiff or dry, mix in more water by the tablespoonful (of the times I've followed this recipe, I've never had to do either). When the dough is ready, you should be able to pinch off a small piece of it and stretch it out (turning it as you go) to form a paper-thin, translucent membrane. Reinhart calls this the windowpane test. I usually have to mix the dough for a lot longer than 2 minutes for my dough to pass this test. But it's well worth being patient and keeping at it until your dough achieves this consistency.
Transfer the dough to a floured countertop, dust the top of the dough with flour and then working from the 4 corners, fold the dough into a ball. Place the ball in a bowl that has been brushed with olive oil, turn the ball to coat it with oil, and cover the bowl with plastic wrap. Let the dough sit a room temperature for 30 minutes, then place it in the refrigerator overnight. (If you are making the pizzas on the same day, let the dough sit at room temperature for 1½ hours, punch it down, reshape it into a ball, return the ball to the bowl, and then cover and refrigerate for at least 2 hours.)
Remove the bowl of dough from the refrigerator 2 hours before you plan to make the pizzas. The dough will have expanded somewhat and the gluten will be very relaxed. Using this delayed-fermentation technique, according to Reinhart in The Bread Baker's Apprentice, results in "a naturally sweet, thin, golden crust that crisps on the bottom and the edges but retains enough moisture to taste creamy in the mouth". Using a plastic bowl scraper dipped in water, or wet hands, gently transfer the dough to a floured counter, trying to degas the dough as little as possible. Using a pastry blade that has been dipped in water, divide it into 6 equal pieces. Gently round each piece into a ball and brush or rub each ball with olive oil. Line a sheet pan with baking parchment or non-stick silicone baking liner and brush with olive oil. Place each dough ball on the pan and loosely cover the pan with either plastic wrap or a food-grade plastic bag. Allow the balls to sit at room temperature for 2 hours before making the pizzas.
To make the pizzas, I inserted our baking stone and preheated our oven to its maximum temperature for at least 1 hour.
Reinhart offers multiple methods and loads of tips on shaping pizzas. But I prefer to stretch the dough gently on a sheet of Gladbake, trying to make it as thin as possible (no pressing down on the dough at all, just a careful lift and stretch motion). Layer on the toppings and bake for 7 to 9 minutes (this varies depending on what you've topped it with as well). It should be ready when the cheese has melted and is starting to brown, and the exposed crust is golden brown.
Technorati tags: truffles, pizza,recipe
Aun has always loved food and travel, passions passed down to him from his parents. This foundation, plus a background in media, pushed him to start Chubby Hubby in 2005. He loves that this site allows him to write about the things he adores--food, style, travel, his wife and his three kids!