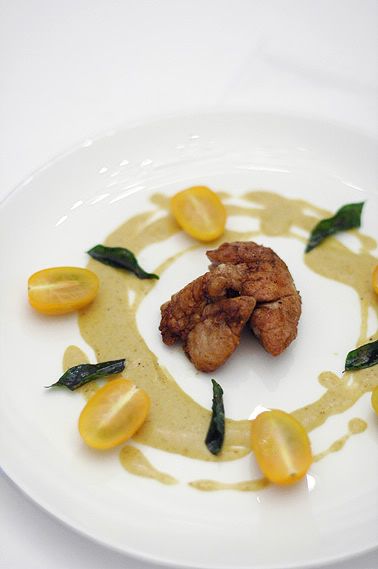 I really love sweetbreads. I love them most when they're sautéed in butter, served crispy on the outside and tender (and sometimes creamy) on the inside. I love that duality of textures and I love their taste, somewhat meaty but also somewhat nutty. That said, while I've always eagerly ordered them in restaurants, I've always been a little terrified of trying to prepare them at home.
First of all, while I know that sweetbreads come from either the pancreas or thymus gland of calves or lambs, I have no real idea what these organs do or really even look like. Not knowing much about them makes knowing how to prepare them a bit of a mystery. Further, from all I'd heard, cooking internal organs was a somewhat tedious and exact process. Unlike working with the more popular cuts of meat, you can't just grill, roast or braise cuts like sweetbreads. Preparing them would mean learning a whole new series of cooking processes, which a lazy boy like me wasn't about to do. Especially not when these cuts aren't cheap and chances are high that I'd ruin my first few attempts.
This past week, however, I became inspired to try making them for two reasons. The first was a quick conversation with J of Kuidaore. She's as passionate about sweetbreads as I am and, like me, hadn't yet tried her hand at it. The second was the latest copy of Gourmet magazine. To celebrate their 65th anniversary, the magazine's editors decided to select their favorite recipes from each of their 65 years, recreate them and run them in one beautiful issue. The recipe representing 1973 was Sweetbreads Meuniere. And reading it, they seemed remarkably simple to prepare.
Inspired, I consulted a half dozen cookbooks and discovered that the process is easier than I thought. You just need to soak the sweetbreads in cold water, poach them in water or court bouillon, and then clean them properly. Once you've done this, you can then cook the sweetbreads in a variety of ways. As mentioned, I like them best browned in butter.
Ready to give it a go, I called my favorite butcher last Friday afternoon and reserved 500g of milk-fed veal sweetbreads. I also, despite S shaking her head incredulously at me, decided not to follow one of the many recipes I'd read, but try and amalgamate what I'd learned and come up with one of my own. A simple one, of course. The recipe I came up with was Sautéed Sweetbreads with Curry.
Essentially, I'd fry my sweetbreads–dusted very lightly with flour, curry powder and salt–in brown butter. I'd plate this with some beautiful, tiny yellow tomatoes we'd just bought at Tekka market and some fried, crispy curry leaves. I based my curry–again, much to S's shaking head–not on an Indian or a Southeast Asian recipe, but on the recipe for curry made at Harry's Bar in Venice. It's more of a curry-enhanced sauce than it is an Asian curry, chock full of ingredients; it's creamy, clean, subtle and (to me) utterly delicious.
Fortunately, the recipe seems to have worked. I'd even go so far as to say it was delicious. S, who approached the dish a tad skeptically, wiped her plate clean… so at the very least it was edible. Most importantly, though, I feel that I've just managed to clear a personal culinary hurdle, learning to cook something I'd always been afraid to make at home.
Sautéed Sweetbreads with Curry
Serves 4
Sweetbreads
500g milk-fed veal sweetbreads
1 small onion, chopped
2 bay leaves
1 whole clove
salt
flour
curry powder
curry leaves
2 tablespoon butter
Soak your sweetbreads in cold water for 2-3 hours, changing the water frequently until there's no pinkish color in the water. Fill a large pot with 2-3 litres of water; in this, place the onion, bay leaves and clove. Bring this to a gentle simmer. Drain the sweetbreads and poach them in the pot for 20 minutes. After 20 minutes, quickly take the sweetbreads out of the bouillon and plunge them in a bowl filled with ice water–this is to stop them from cooking. Pat them dry and then remove any obvious bits of skin or membrane. Cut the sweetbreads up into small pieces, around 3 inches across. If you can, flatten the sweetbreads a little. Mix together some flour, curry powder and salt (to taste) and use this to dust the sweetbreads. Melt the butter in a very hot frying pan. When it begins to brown, fry your sweetbreads and curry leaves. You should cook the sweetbreads on each side for roughly 2-3 minutes, or until they take on a lovely golden brown color. Drain on paper towel of a metal rack before serving.
Curry Sauce
1/4 cup olive oil
1 small onion, chopped
2 leeks, white part only, washed and thinly sliced
1 carrot, peeled and thinly sliced
1 green apple, peeled, cored and thinly sliced
3 tablespoons brandy
salt
pepper
sugar (optional)
3-6 teaspoons curry powder, to taste
1/4 cup flour
2 cups chicken stock, heated
1/2 cup sweetbreads poaching liquid
1/2 cup heavy cream
Heat the oil in a large saucepan over medium heat. Cook the onion, leek and carrot in the oil for 6-8 minutes, or until the onions are soft. Add the apple, lower the heat a little, and cook for 20-30 minutes, or until the apple slices are very soft. Pour in the brandy and carefully flambé the ingredients in the pan. Then mix in the flour, curry powder (which should be adjusted to your own taste–because I like a slightly stronger flavor, I add 6 teaspoons), some salt and pepper (again, to taste) and cook for 2-3 minutes, stirring frequently. Whisk in the chicken stock and sweetbread poaching liquid. I like to add a teaspoon or two of sugar, but this is optional. Cook uncovered over very low heat, again stirring frequently, for 30 minutes. Then strain the liquid into another saucepan. Stir in the cream and simmer for another 10 minutes.
Aun has always loved food and travel, passions passed down to him from his parents. This foundation, plus a background in media, pushed him to start Chubby Hubby in 2005. He loves that this site allows him to write about the things he adores--food, style, travel, his wife and his three kids!