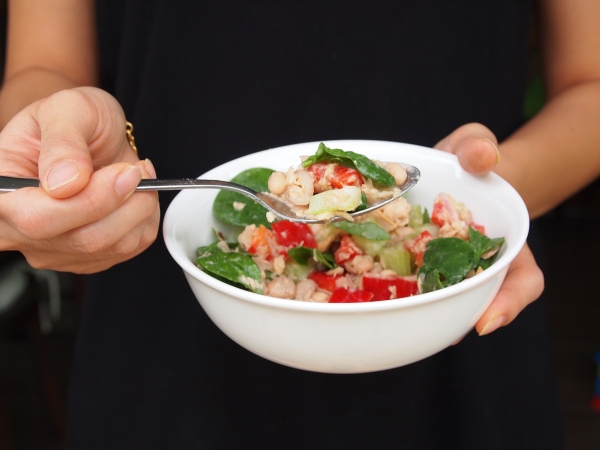 This salad was inspired by a very simple one that I used to take away from a deli a few times a week, way back when I was still working in the CBD. If my memory doesn't fail me (it's been almost ten years), all the salad had in it were cannellini beans, onions, celery and a good amount of olive oil and lemon juice. Tangy, crunchy and creamy, it was delicious. I've added a few more ingredients to the original, so my version is more substantial and colourful. Since the bulk of the ingredients are permanent residents in my pantry, this is a really convenient and effortless meal to put together as a fresh and healthy weekday lunch.
Although I usually omit onions from salad recipes, I feel that this salad needs some to balance the rather strong flavour of tuna. Having said that, raw onions are still a no-no for me. So I lightly pickle them in salt and lemon juice first, before adding them in the salad later. This mellows the onion's otherwise pungent sting and makes it taste so much sweeter.
Please also feel free to substitute the ingredients in this recipe with anything you have on hand.You could throw in some halved cherry tomatoes, use flat-leaf parsley instead of baby spinach, sprinkle over some finely chopped red chilli, a handful of diced cucumber for more crunch, maybe a few pitted olives, garlic croutons at the end for added texture… it's all good. The idea is to use whatever's your favourite veg, or whatever's left in your fridge at the end of the week. This salad keeps well, so you can make it the night before, and bring some to work the next day. It'll be a refreshing change from your regular order at the sandwich joint.
Tuna, celery and cannellini bean salad
serves two generously
1 small red onion, or two shallots, very thinly sliced into half moons
1 large pinch of sea salt
juice of 1 lemon
1 x 185g tinned tuna chunks in brine, drained
1 x 400g cooked cannellini beans, drained and rinsed
2 large stalks of celery, cut into 1-cm dice
1 red capsicum, cut into 1-cm dice
2 tbsp extra virgin olive oil
sea salt and black pepper to taste
50g baby spinach leaves, washed and roughly torn
In a small bowl, combine the sliced red onion, salt and lemon juice. Stir and leave the onions to steep for 15-min.
In a large bowl, pour in the drained tuna, and cannellini beans, and add the celery and red capsicum.
Add the extra virgin olive oil, the pickled red onion and the lemon juice it was soaking in, plus some salt and pepper.
Stir very gently to combine, taking care not to break up the tuna and beans too much. Let the salad sit in the fridge for at least 30-min. Taste again, and add more seasoning or lemon juice as needed.
Toss in the baby spinach leaves just before serving. Best eaten cold or at room temperature. Consume by the next day.
Dawn, a lanky food-crazed lady, started out writing for lifestyle magazines, and later spent several years in banking. When not eating, she's cooking, reading about, hankering after, and writing about food. On her first date with her boyfriend (now husband), they dined at four restaurants across Singapore. He's gained 25lbs since, and their culinary escapades continue after welcoming two rotund angels. Dawn's committed to feeding them with the best, and creating lasting food memories and traditions for her family.