My wife and I recently hosted dinners on back to back Saturdays. Because we wanted to save some prep time–and because a lot of our ingredients could be made ahead and frozen or stored in air-tight containers–we served the same menu on both nights. With one exception. For one group, we served an uni pasta using a recipe by Kimiko Barber and for the other, I followed an Eric Ripert Le Bernadin recipe.
Both recipes are quite simple to make and both are fabulous. Which one you choose depends on whether you think your friends would prefer a spicier dish or one that is more classic French. Kimiko Barber's dish, pictured above, is a noodle tossed in a spicy uni sauce. The sauce is quite simply the sea urchin, blended with Chinese chilli bean sauce, light soy sauce and sake.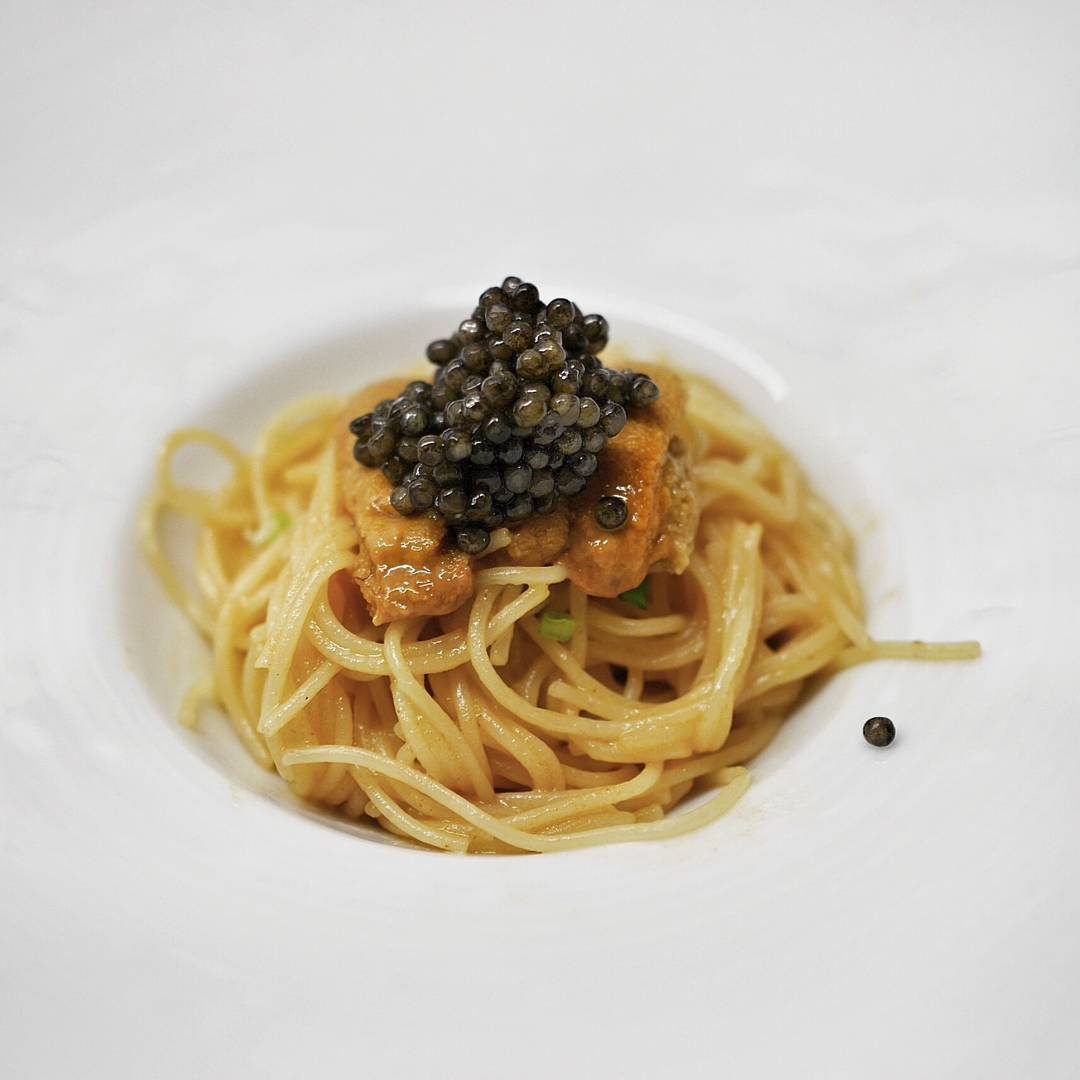 Ripert's recipe, pictured above, on the other hand, asks you to blend the uni with a mountain of butter, after which you emulsify the sauce with one tablespoon of boiling water. You drizzle a touch of lemon juice on the dish just before service. Of course, Ripert's dish is a tad more expensive and luxurious as it calls for caviar to be spooned over the top of the pasta.
Here are the recipes for your enjoyment. Both of these are quite different from the uni pasta recipe I had posted in July 2014. That recipe suggests you make a tasty stock-based sauce that complements the uni. These two recipes ask you to blend the sea urchin into the sauce. There is, of course, no better recipe. It just comes down to what you enjoy more.
Soba no karashi uni ae (Soba noodles with spicy sea urchin sauce)
Serves 4
400g dried soba noodles
200g fresh uni
1 tablespoon Chinese chilli bean sauce
1 tablespoon light soy sauce
2 tablespoons sake
2 spring onions, finely chopped
Mix together the uni, bean sauce, soy, and sake.
Cook the noodles and drain well. Return the noodles to the (now empty) pan/pot in which you had boiled them in (basically you want to use the residual heat of the pan).
Pour in the uni sauce and stir well.
Portion and garnish with spring onions before serving.
Caviar Sea Urchin Pasta
Serves 2
The Sea Urchin Sauce
½ cup sea urchin roe
8 tablespoons (1 stick) unsalted butter, softened
1 tablespoon water
fine sea salt
Espelette pepper powder
The Pasta
2 ounces dried linguine
To Finish
1 ½ teaspoons thinly sliced chives
1 tablespoon freshly grated Parmesan cheese
fine sea salt and freshly ground white pepper
½ lemon
The Garnish
1 ounce Iranian Oscietra caviar
For the sea urchin sauce, puree the sea urchin roe in a blender. Pass it through a fine-mesh sieve, and return to the blender. Blend the puree with the softened butter.
To finish the sauce, bring the water to a boil in a small saucepan. Gradually whisk in the sea urchin butter, about 1 tablespoon at a time. Season with salt and Espelette pepper and keep warm.
When ready to serve, cook the pasta in a large pot of boiling salted water until al dente. Drain.
Put the chives in a medium stainless steel bowl, add the warmed sauce and Parmesan cheese, and mix well. Season with salt and white pepper if necessary. Gently toss the pasta with the sauce.
To serve, use a meat fork to twirl one-quarter of the pasta and mound it in the center of a small bowl. Repeat three times. Drizzle 1 tablespoon of the sauce remaining in the stainless steel bowl around each mound. Squeeze the lemon juice over the pasta and place 1 ½ teaspoons of the caviar on top of each mound of pasta. Serve immediately.
Aun has always loved food and travel, passions passed down to him from his parents. This foundation, plus a background in media, pushed him to start Chubby Hubby in 2005. He loves that this site allows him to write about the things he adores--food, style, travel, his wife and his three kids!