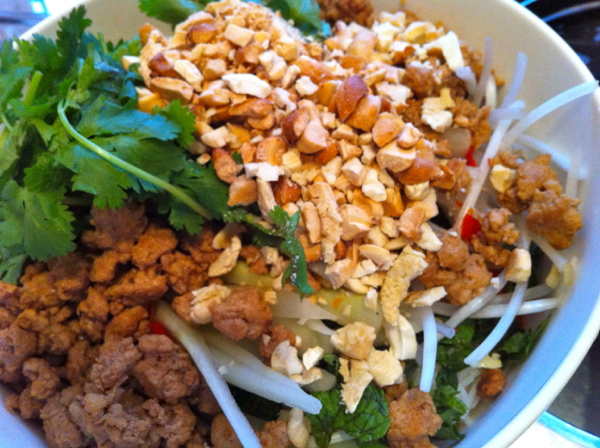 Like most people who love eating, I also love reading about eating. And sometimes, a particular chapter from a book or an article would trigger a very specific craving, one that begs to be scratched. So when I came across this article last year about bun thit – cold Vietnamese rice noodles – it became the immediate trigger for more research into this healthy and delicious recipe that can be easily adapted to whatever meat, seafood or veggie option you happen to have in your fridge.
When I made bun thit for the first time, I was delighted at how deliciously flavourful it turned out, and how simple it was to make. I should add that typically, my only gripe about bun thit is that it's too heavily garlicky, so I left out garlic completely in my adapted recipe below.
The time consuming part of making bun thit is really in the prior preparation of the ingredients, as there is no actual cooking involved apart from your topping of choice and the cooking of the noodles. The sauce can also be made ahead of time and fridged.
Lightly stir-fried minced pork is my favoured topping, and I've also had it with lemongrass shrimp. It's also delicious just on its own. The crunch of fresh sprouts, cucumbers, chopped nuts, mint and basil somehow beautifully come together into a medley of refreshing tastiness that is just addictive.
This is a single (large) bowl meal – I often prepare the ingredients (including the  vermicelli noodles) ahead of time and stash them in the fridge. When it's time to eat, I cook up my preferred topping and just throw everything together into the largest bowls I can find for J and I, and we gobble up everything up together with our favourite TV program. I hope you enjoy it as much as I do.
Bun thit – cold Viet vermicelli noodles
Adapted from finecooking.com
Serves 4
Noodles
8 oz dried vermicelli
Garnish (it's fine to approximate the amounts of the garnish to your taste as well)
2 cups fresh, crisp bean sprouts, with the ends removed
1½ cups peeled, seeded and julienned cucumber, about 3" in length
½ cup roughly chopped or hand torn whole mint leaves (I grow my own mint leaves in the garden, they grow easily and you can use them in a cinch)
½ cup roughly chopped or hand torn Thai basil leaves (I also grow these in the garden)
4-5 tbsp chopped roasted cashews (for more healthful nuts, I use raw cashews, and pop them in the oven for roasting with a light sprinkle of salt, and break them into small pieces using a pestle and mortar afterwards) or peanuts
½ cup fresh cilantro (coriander)
Nuoc Cham* (the sauce)
2-3 fresh chilli padi/Thai bird chilli, cored, seeded, minced (adjust spice level to taste accordingly)
½ ground chilli paste (buy this in a jar from any supermarket)
⅔ cup (approx – add more water at the end if needed, adjusted to taste) hot water
¼ cup granulated sugar
¼ cup fish sauce
2 tbsp freshly squeezed lime or lemon juice
*Note – most bun thit recipes call for the use of garlic – if you prefer, ½-1 clove of minced is plenty
Using a pestle and mortar, pound the fresh chilli (and garlic, if using) to a paste. Combine the pounded chilli with the chilli paste, hot water and sugar. Stir well to ensure the sugar has dissolved. Add the fish sauce and lime juice to the mixture and stir well.
Let the sauce sit for at least 15 mins before serving. This can be made ahead of time and fridged for 2 weeks. Remove from fridge 10 mins before serving.
To serve
Set nuts aside. Make 1 recipe nuoc cham. Divide the sprouts, cucumber, mint, and basil among four large bowls.
For the vermicelli
Bring a potful of water to boil. Add rice vermicelli and stirring often, cook till strands are soft and white, yet still resilient, ~3-5 minutes. Don't be tempted to undercook them, as they must be fully cooked to absorb the flavors of the dish. Rinse them under cold water just until they're cool and water runs clear. Drain noodles and set them aside for up to 2 hours.
For the topping
This is what I love about bun thit – it's somehow delicious no matter what you decide to put on top. I've had it with minced or sliced pork, chicken, shrimp, as well as cubed tofu. I simply stir-fry whichever topping using a dash of fish sauce plus dark soya sauce to taste (you may want to add a dash of minced garlic if you prefer your stir-fries with), at times adding some spices and herbs such as lemongrass.
Assembly
The greens are best served slightly cool or at room temperature, but not overly chilled. Fluff up the noodles with your fingers and divide them among the prepared salad bowls, beside the greens and herbs. Place the cooked topping on the noodles and garnish each bowl liberally with cashews (I often overdo it for the nuts because I love my bun thit with lots of extra crunch) and cilantro.
Eat
Pass around the nuoc cham at the table; each diner should drizzle about 3-5 tbsps over the entire bowl (depending on how well soaked you like it) and then toss the entire mixture  evenly in the bowl before slurping. 

Charmaine considers gluttony the most beautiful sin, and enjoys exemplifying it as she goes about her daily activities. Luckily for her, she currently lives in Hong Kong, the purported greatest city in Asia for everything to do with food (it's a close fight with Singapore, where she was born and bred). These days she can be found (over)eating, thinking of what and where to eat next, and attempting various recipes in her kitchen.