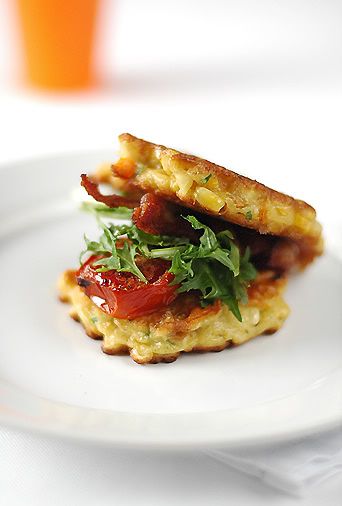 Now that I'm married, one of the things I most enjoy doing is waking up before my wife (which, since she likes sleeping in, is relatively easy) and fixing breakfast for her. There are a couple great things about doing this. First, she's always appreciative of this relatively simple gesture. Secondly, because we've gotten to know each other pretty intimately over the past 7 years that we've been together, I have a really good idea of the kind of foods that she'll appreciate me preparing. Which makes making breakfast easy. What I mean by that is that there's very little risk involved. I don't have to worry about making something she won't eat or won't like. That's one of the wonderful things about being married. You build up such a wealth of information about someone you love that you know instinctively what they'll think of something.
Cooking for someone you don't know, however, can be unnerving. There's no way of knowing if what you're making will appeal to them. In a worst-case scenario, you might even serve them something he or she's allergic to. Cooking breakfast for a new special someone the morning after a "big night" (how you interpret "big night" I'm going to leave to you, but the very fact that you're making breakfast should tell you something) is possibly the most challenging home-cooked meal you could ever be faced with making. Do you make scrambled eggs? Does s/he like them runny or set? How about just toasting a few pieces of bread? Cold pizza could make you look like an unsophisticated clod. A fantastically elaborate and perfect fritatta could give your new lovemuffin the wrong idea about your inclinations. Throwing a few frozen croissants into the oven is easy and safe but is it too easy and safe? Or do you forget making anything at all and suggest going out for breakfast?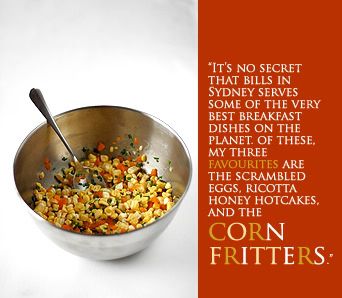 I suggest making something simple but delicious. It should be something you can easily whip up from scratch in under an hour. It should also be something impressive, something that looks fantastic and tastes even better. It should be brimming with classic flavours, full of familiar tastes that everyone loves. One of the best sources for such recipes is Sydney Food, Bill Granger's first cookbook. It's no secret that bills in Sydney serves some of the very best breakfast dishes on the planet. Of these, my three favourites are the scrambled eggs, ricotta honey hotcakes and the corn fritters. And of these, I'd recommend making the corn fritters, served with roasted tomatoes and bacon, the morning after.
My own personal favourite is the scrambled eggs. But the amount of butter and cream in this dish might scare off health-conscious companions. The hotcakes are tasty but heavy. The corn fritters, on the other hand, are deliciously fresh. They're sweet and savory at the same time. And they're relatively healthy, what with the amount of vegetables and herbs in the dish. They're also easy to make. Just roast the tomatoes while you prepare the corn mixture and the batter. There are no real elaborate steps in this recipe. Just stirring and then frying. You can pretty much get the fritters done by the time the tomatoes are done.
While S enjoyed an extra hour of shut-eye yesterday morning, I whipped up a batch of these fritters. It was really nice to be able to start the week by trying to make her happy.
Sweetcorn Fritters with Roast Tomato and Bacon
from Sydney Food
1 cup plain (all-purpose) flour
1 teaspoon baking powder
1/4 teaspoon salt
1/4 teaspoon paprika
1 tablespoon sugar
2 eggs
1/2 cup milk
2 cups fresh corn kernels, cut from the cob
1/2 cup diced red capsicum
1/2 cup sliced spring onions
1/4 cup chopped coriander and parsley combined
4 tablespoon vegetable oil
to serve
4 Roma tomatoes
1 bunch rocket, washed and dried
4 rashers grilled bacon
olive oil
salt and pepper
Serves 4
Pre-heat your oven to 180ºC. Slice tomatoes in half. Place tomatoes (cut-side up) on a baking tray, drizzle with olive oil and season with salt and pepper. Roast for 40 minutes.
Sift flour, baking powder, salt and paprika into a large bowl, stir in sugar and make a well in the centre. In a separate bowl, combine eggs and milk. Gradually add the egg mixture to the dry ingredients and whisk until you have a smooth, lump-free batter.
Place corn, capsicum, spring onions and herbs in a mixing bowl and add just enough batter to lightly bind then. Heat 2 tablespoons vegetable oil in a non-stick frying pan over medium heat. Drop in 2 tablespoons of batter per fritter and cook 4 fritters at a time. Cook for 2 minutes or until the underside is golden-brown. Flip and cook on the other side. Transfer to a plate and keep warm and cook the remaining fritters.
To serve, place one fritter on each plate. Top each with 2 halves of roast tomato, a small handful of rocket and a rasher of bacon. Finish with a second fritter and drizzle a little olive oil around the base of the stack.
Aun has always loved food and travel, passions passed down to him from his parents. This foundation, plus a background in media, pushed him to start Chubby Hubby in 2005. He loves that this site allows him to write about the things he adores--food, style, travel, his wife and his three kids!