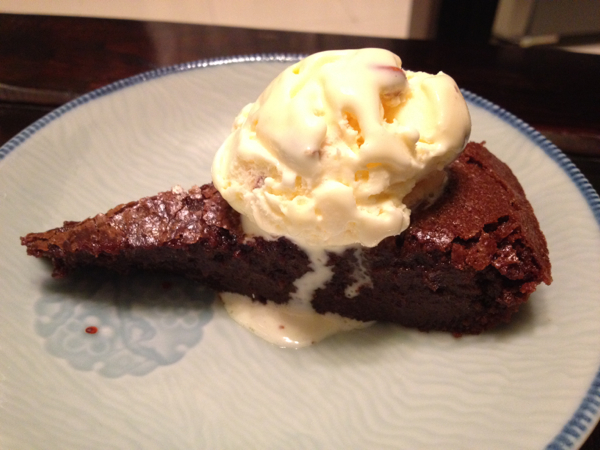 I picked up Molly Wizenberg (of Orangette)'s book over a year ago when I was preggers, following J around on his work trips and doing nothing very much apart from putting away spectacular amounts of food (especially cakes and sweets) and devouring large quantities of food narratives, which often come with lovely recipes.
As it turned out, I finished reading A Homemade Life in one sitting over several hours during one of those idyllic afternoons.  Molly's recipes have won her fans all over the world, because the recipes are not too complicated, and the stories behind them are simply engaging. One of my favourites that I return to whenever I get the urge for something indulgent and seriously chocolatey is her winning-hearts-and-minds cake.
It brings to mind the flourless chocolate molten cake that has been uber popular since the 90s, but with somewhat less molten in it – heck, it's really just chocolate and butter! Best of all, the recipe has just five ingredients (all of which you're very likely to already have in your pantry), making it a cinch to whip up when that must-have-chocolate-cake craving comes around or when you're looking for a easy yet decadent afternoon tea or dessert item.
Make sure you use the best chocolate you can get hold of. To serve, I find that it's imperative to warm the cake up, and pair with large scoop(s) of vanilla ice-cream, preferably one that comes with chopped nuts (you can of course add your own). This particular combination works best for me, as the cold ice-cream goes perfectly with the warm chocolatey sweetness and intensity of the cake.
Seriously Chocolatey Chocolate Cake
From Orangette
7 ounces (200g) best-quality dark chocolate
7 ounces (200g) unsalted butter , cut into ½-inch cubes
1 ⅓ cup (250g) granulated sugar
5 large eggs
1 Tbs unbleached all-purpose flour
Preheat the oven to 375°F or 180°C, and butter an 8-inch round cake pan. Line the base of the pan with parchment, and butter the parchment too.
Chop the chocolate into small chunks with a knife and melt it gently with the butter in a double boiler or in the microwave, stirring regularly to combine. Add the sugar to the chocolate-butter mixture, stirring well, and set aside to cool for a few moments (I put mine in the fridge to speed up the process, especially when the weather is sweltering despite the blasting ac). Add the eggs one by one, stirring well after each addition, and then add the flour. The batter should be smooth, dark, and utterly gorgeous.
Pour batter into the buttered cake pan and bake for approximately 25 minutes, or until the center of the cake looks set and the top is shiny and a bit crackly-looking. Let the cake cool in its pan on a rack for 10 minutes.
Put a sheet of aluminum foil over the cake, then place a plate, upside down, on top of the foil. Using oven mitts, hold the cake pan and the plate together and quickly flip them. Remove the pan, leaving the cake upside-down on the foil covered plate. Put a second plate upside-down on top of the cake (put your fingers between the plates to prevent squashing of the cake), and flip the plates, so that the cake is once more facing up. The cake will deflate slightly as it cools.
Serve warm, with lots of ice-cream.

Charmaine considers gluttony the most beautiful sin, and enjoys exemplifying it as she goes about her daily activities. Luckily for her, she currently lives in Hong Kong, the purported greatest city in Asia for everything to do with food (it's a close fight with Singapore, where she was born and bred). These days she can be found (over)eating, thinking of what and where to eat next, and attempting various recipes in her kitchen.